linocuts on tea-stained Fabriano paper
Artwork date: 2005
Signature details: each signed, dated and numbered Workshop Proof 1/1 in pencil in the margin
Exhibited: Norval Foundation, Cape Town, 'Wim Botha: Heliostat', 29 September 2018 to 21 January 2019.; Stevenson, Cape Town, 'Wim Botha: Cold Fusion, Gods, Heroes and Martyrs', 17 March to 30 April 2005.
Literature: Kirsten, R. (ed). (2018). 'Heliostat: Wim Botha'. Cape Town: Norval Foundation, illustrated in colour on pp.52-53.; 'Wim Botha: Cold Fusion, Gods, Heroes and Martyrs'. (2005). [Exhibition catalogue]. Stevenson, Cape Town, an example from the edition illustrated in colour, unpaginated.
(4)
sheet size: 98 x 73.5 cm each; image size 48.5 x 49 cm each; framed size: 101 x 71 x 3.5 cm each
Provenance:
Private collection, Pretoria.
Stevenson, Cape Town.
ABOUT THE ARTWORK
In Blast Wave (2005), Wim Both presents a set of four linocuts that evidently imitates a classic graphic work from the 1930s by master landscape artist J.H. Pierneef (1886 - 1957), the doyen of the Afrikaans artistic canon. Arranged in sequence, the work reads pictorially as a progressing scene of blowing devastation. A typical Pierneef-like Acacia tree, first depicted solely as strong and graceful, is sequentially torn to pieces by a seemingly gushing wind.
Indirectly referencing former British premier Harold Macmillan's speech about the "winds of change" in 1960, the work construes a dark comedy – canonical art turned upside down, probing challenging questions about power structures, established norms and cultural identity. The work stands as a metaphor of a cultural revolution, the previously stately here turned comical in a bid to visually bend history.
Blastwave is indicative of Botha's practice to engage complex socio-cultural issues by combining classical, religious, historical and contemporary elements, juxtaposed with unexpected objects or contexts. His works retain intellectual depth, technical mastery, and the ability to evoke contemplation and dialogue.
In 2010, Botha translated the conceptual theme of this work into a monumental sculptural installation consisting of four steel trees, as a special commission for the Nedbank Headquarters in Sandton, Johannesburg. This phenomenal installation earned him the Helgaard Steyn Award for sculpture in 2013.
Marelize Van Zyl
COLLECTOR'S NOTE
Wim Botha won the Standard Bank Young Artist award for Visual Art in 2005, the same year in which this work was produced. The following year, he exhibited work at Dak'Art, 7th Dakar Biennale in Senegal. Recent solo exhibitions have taken place at the 21c Museum Hotel in Louisville (2020); North Carolina Museum of Art in Raleigh, and the 21c Museum Hotel in Durham (2019). In 2018, the Norval Foundation presented Heliostat, a retrospective exhibition of his work spanning two decades.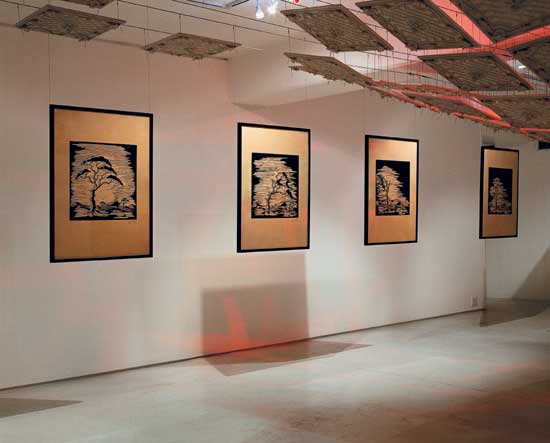 Exhibition Installation View: Wim Botha: Cold Fusion, God, Heroes
and Martyrs, Stevenson Cape Town, 2005. Image Courtesy: Stevenson
J.H Pierneef, Doringbome, Pietersburg, Northern Transvaal, 1936