acrylic, pastel and collage on canvas
Signature details: signed top right
(1)
80.5 x 120.5 cm; framed size: 91.5 x 131.5 x 9 cm
Provenance:
Private collection, Johannesburg.
Aspire Art X PIASA, Paris, Modern & Contemporary African Art, 14 February 2020, lot 123.
Private collection, Viterbo, Italy.
COLLECTOR'S NOTE
Born in 1983, the internationally acclaimed artist Aboudia works between his studios in Abidjan in his home country of Cote d'Ivoire and Brooklyn, New York.
First gaining widespread acclaim shortly after the conflict that followed Côte d'Ivoire's presidential elections in December 2010, Aboudia's brutally energetic, urban landscapes gave testimony to the fighting at this time. Many fled the civil war but he remained, staying in his studio where he took refuge from the bullets outside. When the artist ventured into the city, he painted what he saw, and 21 canvases were born out of the experience.
Aboudia, however, views himself as an artist creating a visual archive and trying to understand what is happening in our world, rather than a war artist. To him, there are not many things more important than children, and the artist's enduring subject has become children on the streets of Abidjan and by extension, everywhere else.
The artist's distinctive canvases echo graffiti and children's murals on the streets. Aboudia's works are heavily layered using charcoal, oil stick and acrylic paint and incorporate found objects like newspaper and magazine cut-outs. He finds these objects on the street – out of rubbish bins and off the pavement. This material reflects the reality of children on the street and is important to Aboudia as it helps him to stay close to them.
While his vibrant and phantasmagorical canvases can be dark and even chilling, often incorporating imagery of oversized skulls and menacing weapons, the children are happy. Their faces retain an innocence. Aboudia speaks of unthinkable trauma whilst reinforcing the enduring innocence of children living amongst chaos. Creating provocative visions the artist tells a story for the next generation, while constantly questioning; 'But what is wrong'?; 'If we are capable of creating war, why are we not capable of creating peace'?
Aboudia is, today, a leading name in contemporary art. He held his first solo show in London at Jack Bell in 2011 and made his debut in New York at the Ethan Cohen Gallery in 2014. The artist was included in both of the Pangaea exhibitions at the Saatchi Gallery in 2014 and 2015 and has exhibited at major art fairs from Art Basel in Basel and Miami to 1:54 in London, New York and Marrakech.
Highly sought-after by private collectors, in 2014 Bonhams sold Aboudia's, I remember when all this was trees for $15 800. His pricing increased rapidly after this. In 2018, Bonhams sold a work for $42 000; the following year, Piasa sold a set of drawings for nearly $79 000; in 2020, Sotheby's fetched $99 000 for a large canvas and in March 2021 Christie's reached $223 000.[1] Christies also held a single artist sale, Noutchy in New York City, in March 2021 and in July 2022, sold Untitled (2008) for a record-breaking $607 361.
With success, Aboudia has also maintained a strong sense of responsibility, especially to the children – living on the streets – who inspire him. In 2018 he created the Aboudia Foundation in Bingerville, Abidjan to support children in accessing health and education and encourage them not to lose hope.
[1] Hyper-Inflation on African Artists: e.g. Aboudia, Artprice.com, 24 October 2022, Available at: https://www.artprice.com/artmarketinsight/hyper-inflation-on-african-artists-e-g-aboudia (Accessed: 16 August 2023).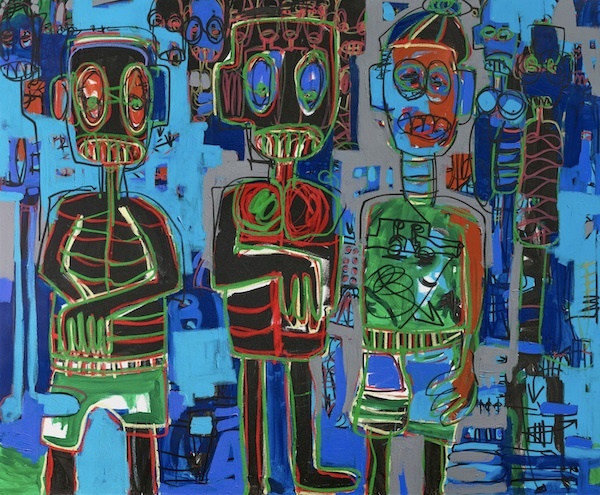 Untitled (2008), sold for a record-breaking $607 361, July 2022
COLLECTIONS
The artist is represented in numerous local and international collections, notably, the Tiroche DeLeon Collection, Israel.; Modern Art Museum, Ecuatorial Guinea.; CAAC Pigozzi Contemporary African Art Collection, Geneva, Switzerland.; Embassy of Ivory Coast, Conakry, Guinea Conakry.; Governor of Abidjan, Ivory Coast.; Saatchi Gallery, London, UK and Museum of Contemporary Art – Murcia, Spain.