oil on board
Artwork date: c. 1942-45
Signature details: signed bottom right; inscribed with the artist's name and the title and adhered with an M. Wolpe framers sticker on the reverse
(1)
49 x 39 cm; framed size: 57 x 48 x 2.5 cm
Provenance:
Private collection Cape Town.
Acquired by the late Advocate Gerald Gordon, from Max Wolpe Senior, in the early 1970s.
ABOUT THE ARTWORK
Early paintings such as this gem by celebrated artist Gerard Sekoto rarely come to market. And seldom do they have such impeccable provenance. As affirmed in the notes on the reverse of the painting, the work was acquired directly from the framing company of Max Wolpe senior, father of the incomparable connoisseur and beloved art dealer, Joe Wolpe.
Sekoto's extraordinary talent as an artist was recognised at a very early stage in his career. His paintings stood out even within the ground-breaking New Group. An influential and progressive artist's group founded in 1937, early members included Gregoire Boonzaire, Lippy Lipshitz and Freida Lock in the Cape and Walter Battiss, in what was then the Transvaal. The group fast gained critical appreciation and, according to The Cape Argus, a leading source of art criticism and appreciation at the time in a 1940 New Group exhibition, Sekoto showed, "work of independence and much promise".[1] What is noteworthy is the critic's favourable impression of the artist in that Sekoto is discussed third, after Alexis Preller and Harry Trevor. In the context of both the social milieu and the art scene of the 1940s, this is particularly remarkable.
Similarly, a critic in The Cape Times noted that his canvases were good enough to attract favourable attention in their own right "next to a hundred others by 20 of the Union's best painters". He goes on to observe: "His pictures, mostly in strong colours, purples, reds and yellows, but sometimes delicately toned in pearly greys – are of street scenes, people around huts or women drawing water. They fetch anywhere between 15 and 40 guineas each."
Sekoto moved to District Six in 1942 and this is one of his earliest urban subjects. In Street Corner, he has chosen to depict a meeting at night on a street corner between friends or perhaps, a gathering of comrades. The 1940s were characterised by changes that had a profound effect on the political landscape in South Africa and District Six was at the heart of political foment. Cissie Gool, a local resident and an anti-apartheid political and civil rights leader, became the president of the Non-European United Front (NEUF) in 1940 [2]. One can imagine the influence of such political activism on the young Sekoto and how he may have been inspired to capture something of it for posterity.
Street Corner reveals evidence of his early mastery of the medium of oil paint in the atmospheric effects employed to convey the mood of the occasion. With painterly skill and an intuitive understanding of human relations, Sekoto captures this small group huddled together to exchange views.
It may also have been the sheer intimacy of a group of adults gathering together while a mother rocks her child to sleep that caught the artist's eye. An intuitive understanding of human relations and a sincere empathy with his fellow human beings, allowed Sekoto to explore the nature of the scene which might equally have been an occasion to discuss the issues of the day. Either way, this gathering of people to share views on the day's developments or help soothe a child to sleep, is one of profound humanity, for which Sekoto is rightfully celebrated.
Emma Bedford
[1] ERP. Artists Break with Tradition, The Cape Argus, South African National Gallery Press Cutting book E1(b), p.12, dated 10.6.40.
[2] Liberation History Timeline 1940-1949. Available at: https://www.sahistory.org.za/article/liberation-history-timeline-1940-1949 (Accessed: 10 August 2023).

COLLECTOR'S NOTE
The painting is evidence of the artist's growing artistic confidence during the early 1940s which is also visible in other important works from the period such as Evening in the Corner (1942/43) from the Homestead Collection and recently exhibited in When We See Us at Zeitz MOCAA in Cape Town, Basking (c.1942) which is in the collection of the Iziko South African National Gallery, Street Bonhomie, District Six (c. 1944) from the Johannesburg Art Gallery collection, and Yellow Houses, District Six (1942) which sold at Bonhams in London in 2011 for a record-breaking GBP 602 400.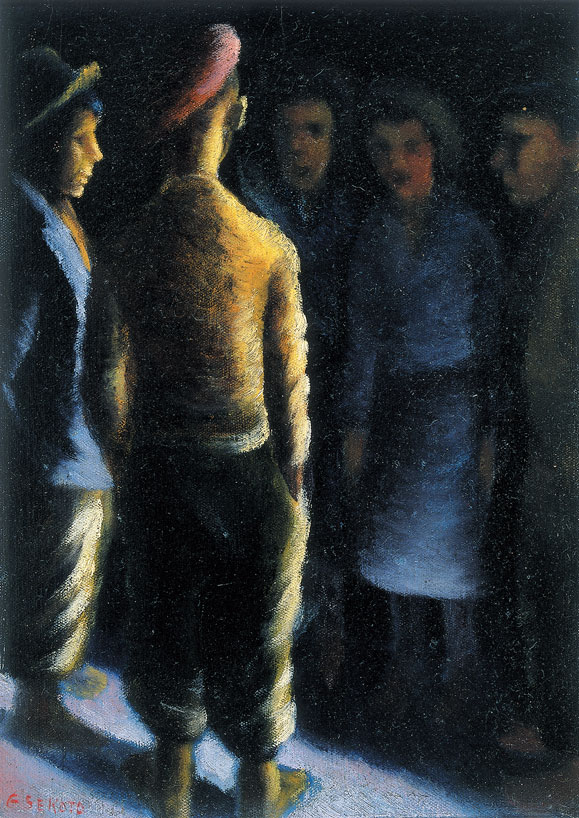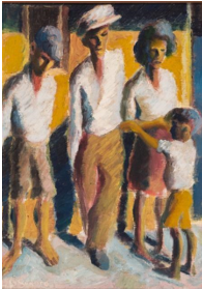 LEFT | Gerard Sekoto, Street Bonhomie, District Six, c.1944, Johannesburg Art Gallery.
RIGHT | Gerard Sekoto, Basking, c.1942, Iziko South African National Gallery.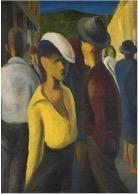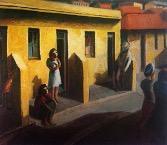 LEFT | Gerard Sekoto, Street Bonhomie, District Six, c.1944, Johannesburg Art Gallery.
RIGHT | Gerard Sekoto, Yellow Houses District Six, 1942, sold with Bonham's for GBP 602 400 in 2011.


COLLECTIONS
The artist is represented in numerous local and international collections, notably:
Municipal Collection of the City of Paris.; Several works acquired by President Leopold Senghor -exhibited in the Presidential Palace in Senegal; Gallery Guildhall, Chicago; La Ville de Paris.; The Nedbank Art Collection South Africa.; SABC Corporation Art Collection South Africa.; The MTN Art Collection, South Africa.; The South African Reserve Bank Collection, Johannesburg.; The Sanlam Art Collection Johannesburg.; Standard Bank Collection Johannesburg.; Johannesburg Art Gallery, Johannesburg.; Javett Art Centre, Pretoria.; Iziko South African National Gallery, Cape Town.; University of the Witwatersrand, Johannesburg.; University of Fort Hare, Alice.; UNISA, Pretoria.; William Humphreys Art Gallery, Kimberley.