painted wood
Artwork date: 2012
Exhibited: Stevenson, Johannesburg, 'Black Lines', 1 March to 30 March 2012.
Literature: Perryer, S. (ed). (2012). Serge Alain Nitegeka. Black Subjects. Cape Town: Stevenson, illustrated in colour on p.67
(2)
122.5 x 237 x 6.5 cm each; 245 x 237 x 6.5 cm combined
Provenance:
Private collection, Cape Town.
Stevenson, Johannesburg.
ABOUT THE ARTWORK:
My work investigates the concept of liminality in the frame of forced migration. I study the in-between state and space in which some marginal individuals such as asylum seekers and refugees find themselves.
I am interested in the possibilities through which the human form can be stripped down and reduced into simple lines that articulate the relationship between movement and load.

- Serge Nitegeka[1]
Evoking the neo-plastic abstract compositions of the 20th century avant-garde artists Piet Mondrian and Kazimir Malevich, both recognised as a core inspiration for Serge Nitegeka's contemporary abstractions[2], his works, like Fragile Cargo II: Studio Study I (2012) appear as a formalist study of line, space and perspective. The colours are primary and flat, forms are hard-edged, and the painted surface intercut with exposed strips of chipboard or plywood. The overall construction is marked by the absence of a figure, red rectangular shapes and raw plywood visible beyond a structure composed of linear forms. Although the work does not contain a direct representation of a body, embodiment is implied.
Nitegeka's paintings, according to writer Betina Malcomess, should "be read in relation to the artist's sculptural installations with wood. Here, Nitegeka's language draws on minimalism and abstraction to create complex, labyrinthine constructions of rectilinear beams that occupy gallery spaces [like the installation Obstacle 1, installed in Black Lines at Stevenson in Cape Town in 2012], transforming the viewer's movement into a complex journey."[3]
Influenced by his early suffering as a refugee, "the journeys Nitegeka's work references are those of displacement, dislocation and forced migration, anchored in his own lived experience – the artist's family fled war-torn Burundi and then Rwanda when he was a child."[4] These installations present obstacles that promote physical participation in this metaphoric experience.
Fragile Cargo II: Studio Study I, can be interpreted as a study for an installation or a work that positions the viewer outside of an abstracted field of vision which they cannot easily enter – "each line a border that radically dislocates our viewing, a metaphor for the precarity that haunts the work's minimalist beauty."[5]
This work is impressive in scale, and its compositional structure is highly sophisticated and complex. Nitegeka's acute, formal aesthetic sense places him within the rich art historical cadre of minimalism and abstraction, while the larger concepts he tackles resonates with current global politics.
Text by Marelize van Zyl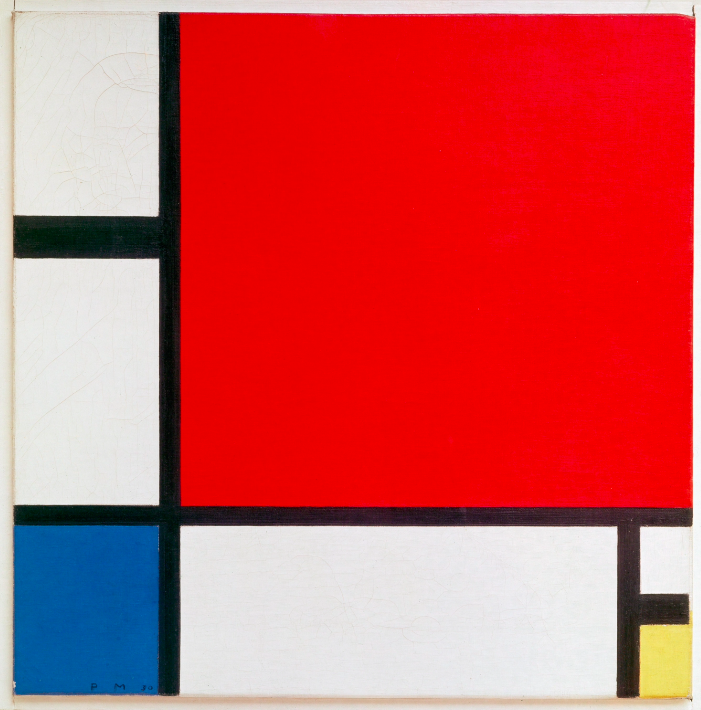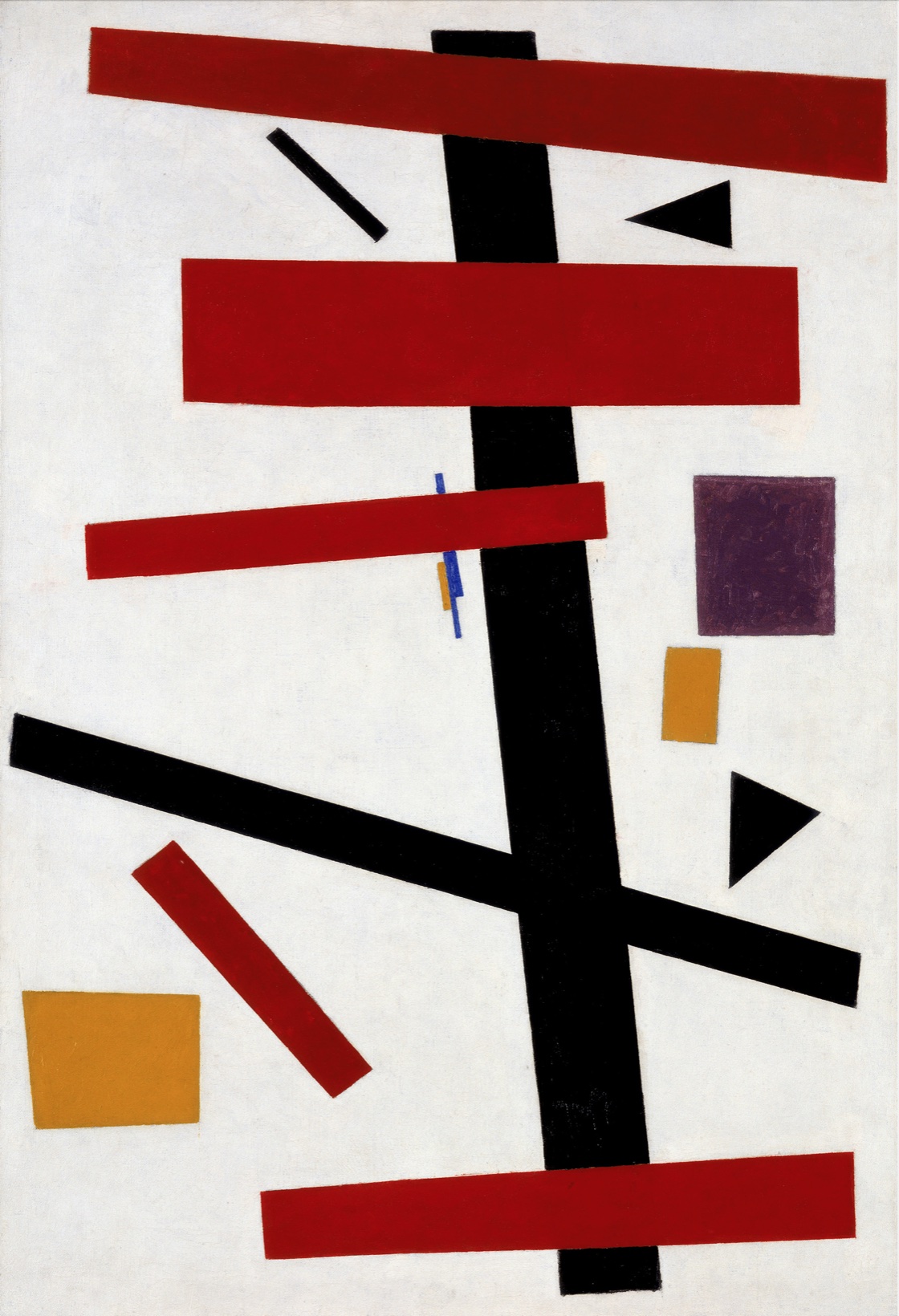 Piet Mondrian,

Composition II in Red, Blue, and Yellow

, 1930. Kunsthaus Zürich, Switzerland.

Kazimir Malevich, Supremus No.50, 1915. Stedelijk Museum, Amsterdam, Netherlands.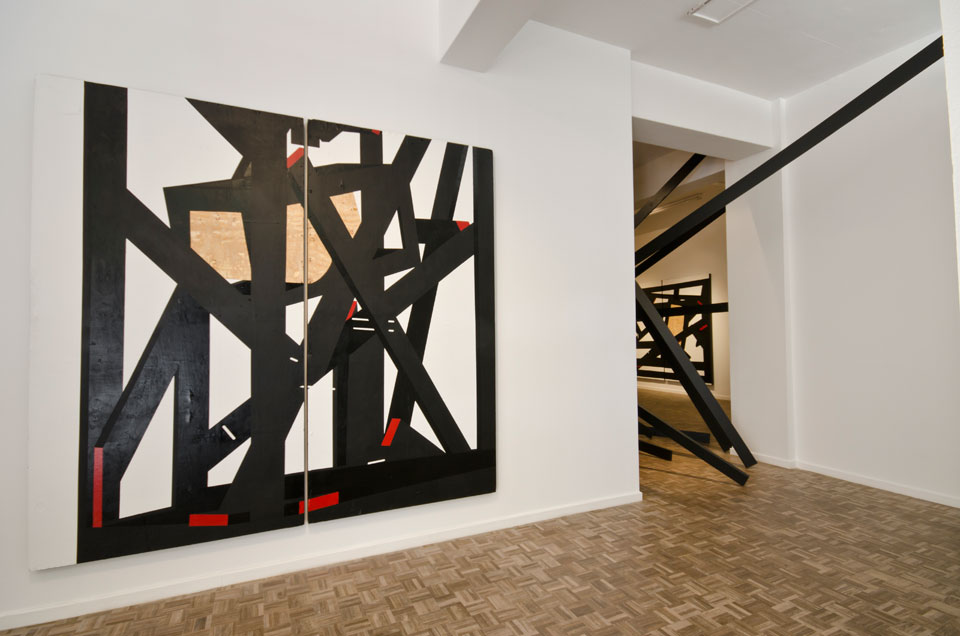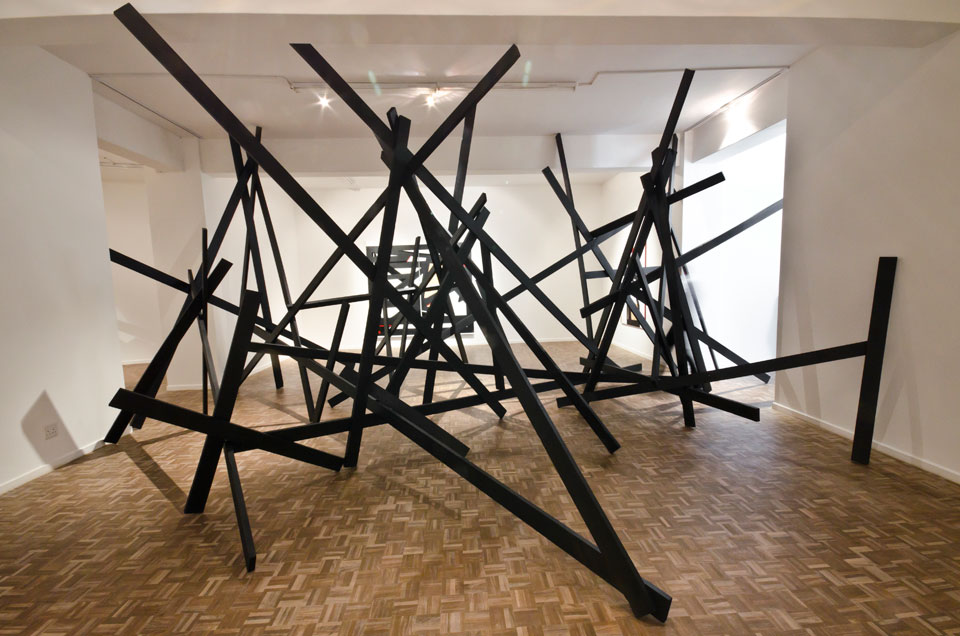 Obstacle I, 2012. Installation. Stevenson Gallery, Cape Town. Image courtesy: Stevenson.
Installation View: Fragile Cargo II: Studio Study I in Black Lines, Stevenson Gallery, Cape Town, 2012. Image courtesy: Stevenson.
[1] Stevenson [online]. Available at: http://archive.stevenson.info/exhibitions/nitegeka/index2012.html
[2] Jamal, A. (2015). Realism in Abstract. Financial Times, 15 – 21 October 2015, p.55
[3] Malcomess, B. (2022). Serge Alain Nitegeka: Obstacle 1; Studio study III in Aspire Art, The Present Future: A Private Collection of African & International Contemporary Art (auction catalogue), Johannesburg, 22 June 2022. p.24
[4] Ibid.
[5] Ibid.
COLLECTOR'S NOTES:
Accompanied by a certificate of authenticity from Stevenson.
In 2021 the artist was included in the exhibition Ubuntu, A Lucid Dream at the Palais de Tokyo in Paris, France.
COLLECTIONS:
The artist is represented in numerous local and international collections, notably, the Rubell Museum, Florida; the University of Cape Town; Norval Foundation, Cape Town and Zeitz MOCAA, Cape Town.