Focusing on art books and books by and about artists and covering everything from rare and collectible ephemera to reference works and artist's monographs, VOLUMES, is a Timed Online book auction taking place from 19-26 May 2022.
The sale features a substantial selection from Emma Bedford's private collection of art books. Bedford, is a widely respected curator and writer herself, and in her 25 years at the Iziko South African National Gallery, curated important museum exhibitions for prominent artists including William Kentridge, Marlene Dumas, Moshekwa Langa, and Berni Searle amongst others.
Over the course of her illustrious career, Bedford amassed a unique collection of art literature and many of the books on offer are from artists and curators she collaborated with. Below, Bedford shares her thoughts and memories on some of her favourite publications.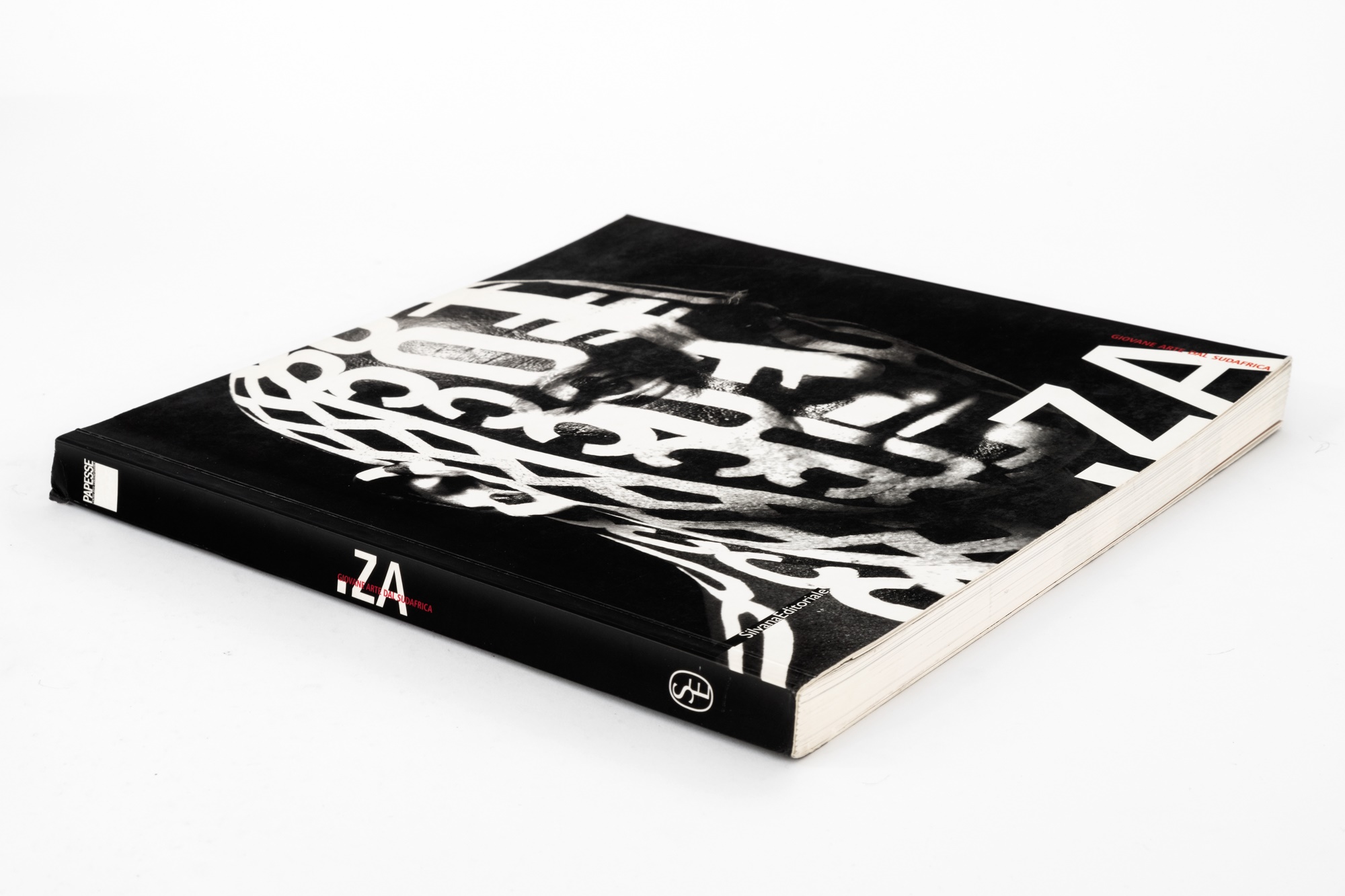 Lot 2 | .ZA Giovane Arte dal Sudafrika (2008) by various authors | Estimate: ZAR 200 - 300
A gift from the brilliant curator, Lorenzo Fusi, of this ground-breaking exhibition which I was fortunate to see in Siena.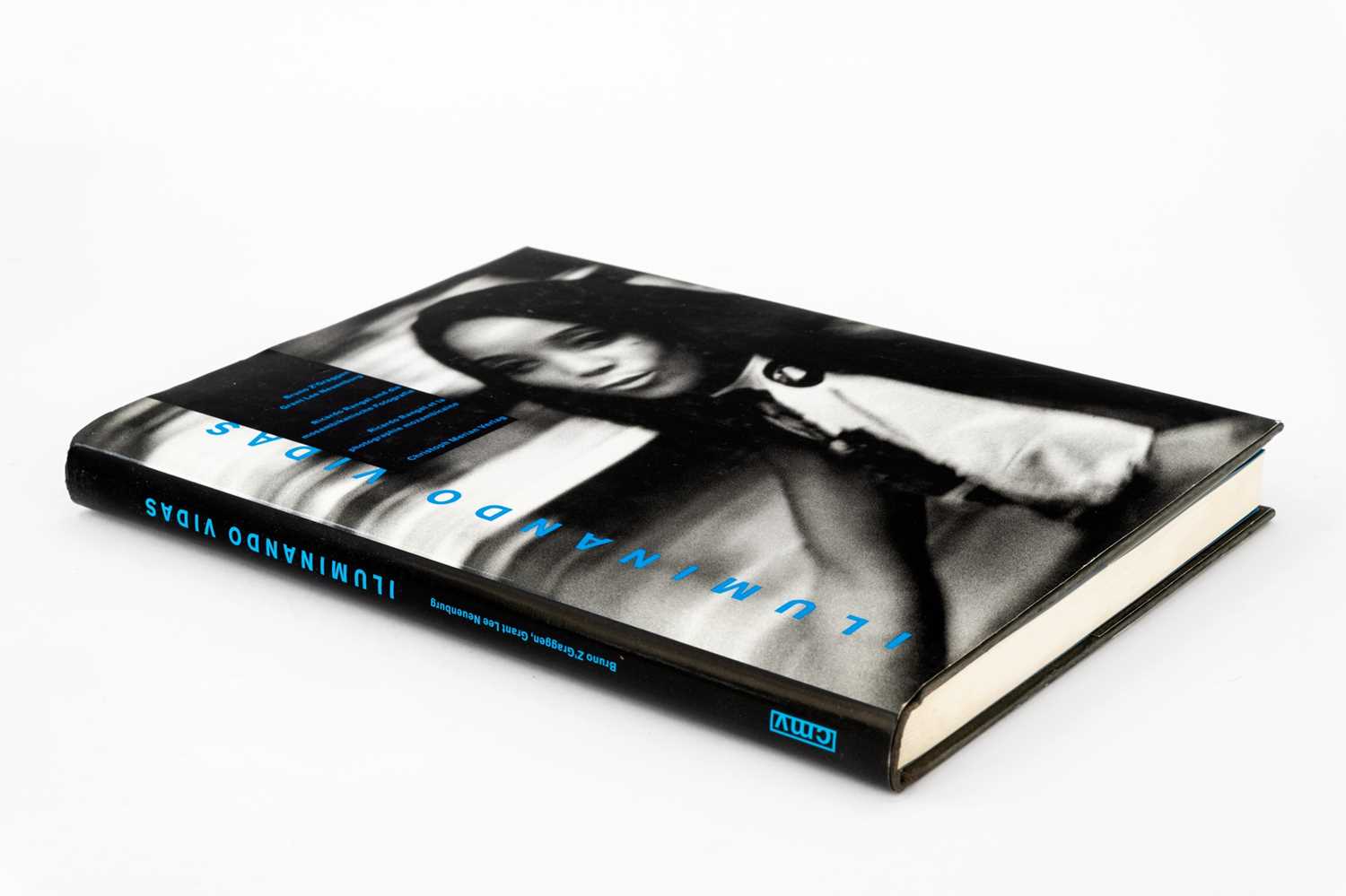 Lot 3 | Iluminando Vidas (2002) by Bruno Z'Graggen & Grant Lee Neuenburg | Estimate: ZAR 600 - 800
This book was a wonderful gift to me during a trip to Maputo where I was delighted to meet many Mozambican photographers who introduced me to the city and their work.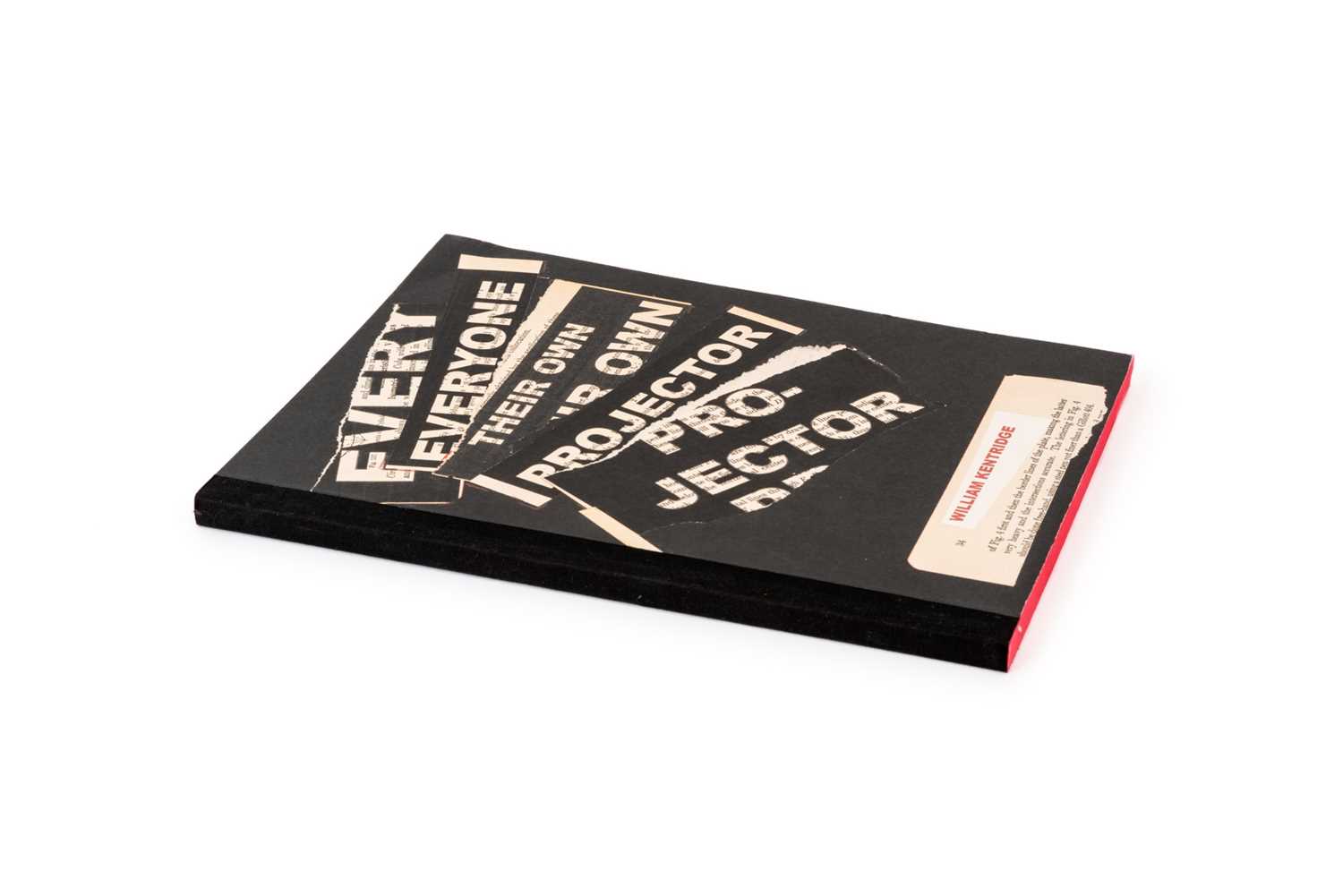 Lot 4 | Everyone Their Own Projector (2008) by William Kentridge | Estimate: ZAR 800 - 1 200
I was fortunate to work with William Kentridge on his very first museum exhibition in South Africa when we mounted William Kentridge at the South African National Gallery in Cape Town in December 2002. Since then, I've been an avid collector of his books and catalogues which are always a delight to read and especially useful in preparing lectures and talks which I have presented as far afield as MOMA New York and the new library of Alexandria in Egypt, amongst others, as well as in many South African locations.
Lot 6 | Contemporary African Art Since 1980 (2009) edited by Okwui Enwezor & Chika Okeke-Agulu | Estimate: ZAR 2 000 - 3 000
Contemporary African Art Since 1980 is an essential text by two key thinkers who have shaped our understanding of this subject — the late Okwui Enwezor and Chika Okeke-Agulu, Professor in the Department of African American Studies & Department of Art and Archaeology at Princeton University and Director, Program in African Studies.
Lot 8 | Reading the Contemporary: African Art from Theory to the Marketplace (1999) edited by Olu Oguibe and Okwui Enwezor | Estimate: ZAR 800 - 1 200
This seminal reader is essential reading for contemporary African art lovers. Nigerian-born, USA-based colleagues, Olu Oguibe and the late Okwui Enwezor, have spearheaded the redefinition of African art, playing seminal roles in putting contemporary African art at the centre of the global art world.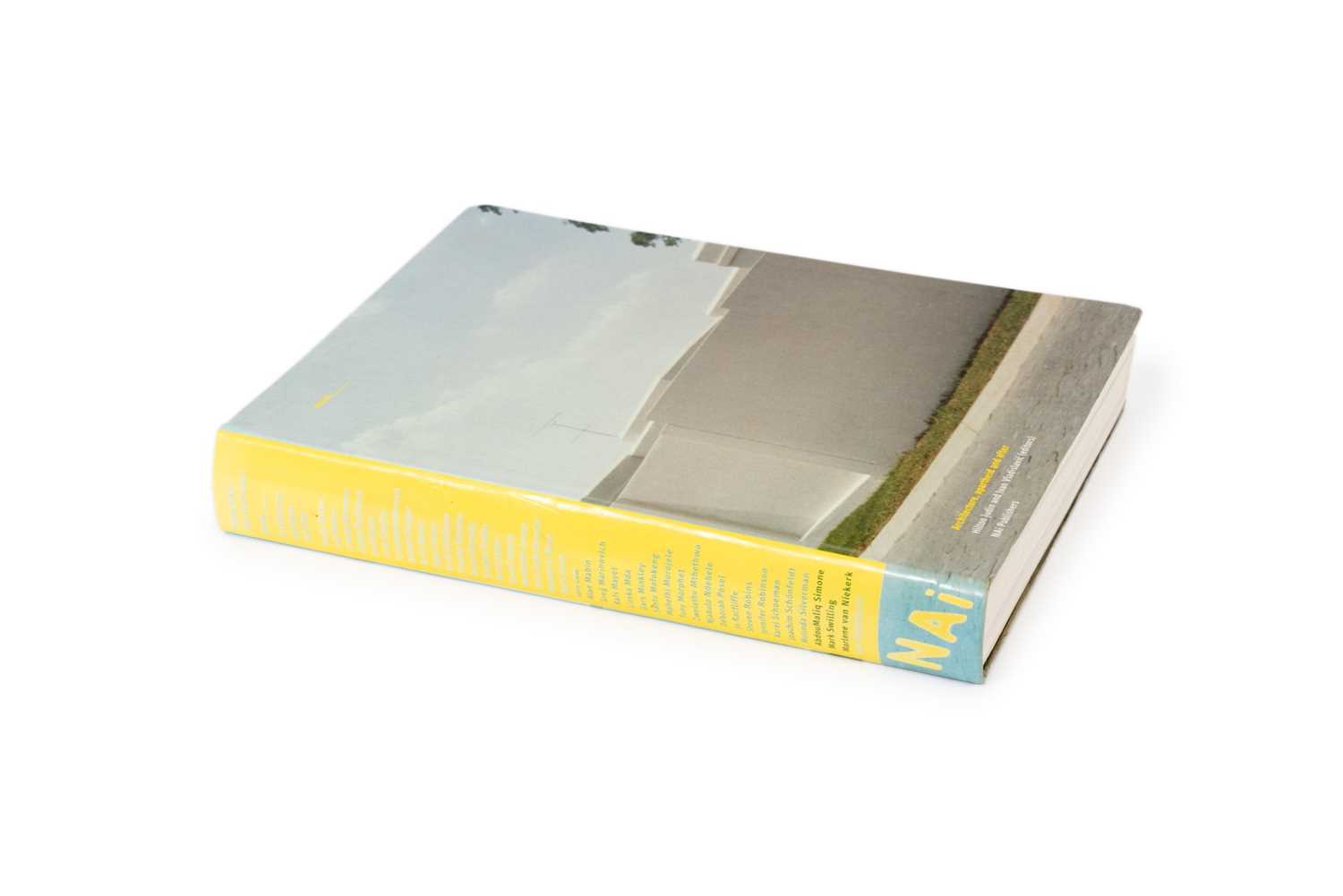 Lot 9 | Architecture, Apartheid & After (1998) edited by Hilton Judin & Ivan Vladislavić | Estimate: ZAR 5 000 - 6 000
This highly sought-after publication provides ground-breaking insights into and reflections on the inter-relationship between history, architecture and power.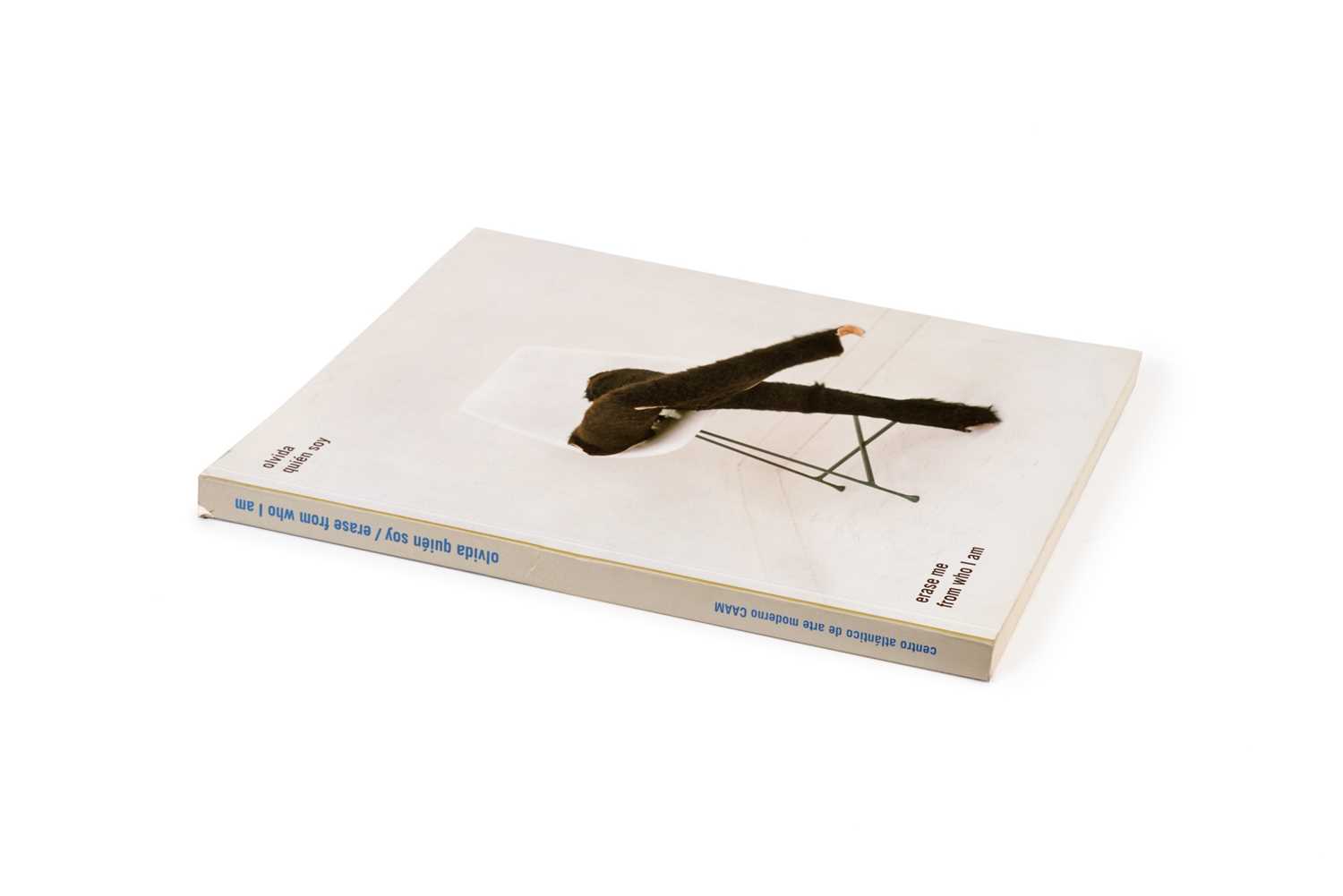 Lot 10 | Olvida Quién Soy: Erase Me From Who I Am (2006) by Centro Atlántico de Arte Moderno | Estimate: ZAR 3 000 - 4 000
Anything by the brilliant Elvira Dyangane Ose, whose stellar career has taken her to the Directorship of MACBA, the Museum of Contemporary Art in Barcelona, via curating at the Tate, is worth reading for her critical thinking and insights.
A treasured gift from the author who was instrumental in inviting me onto the board of the Atlantic Center for Modern Art, a contemporary art museum in Las Palmas, the Canary Islands, Spain.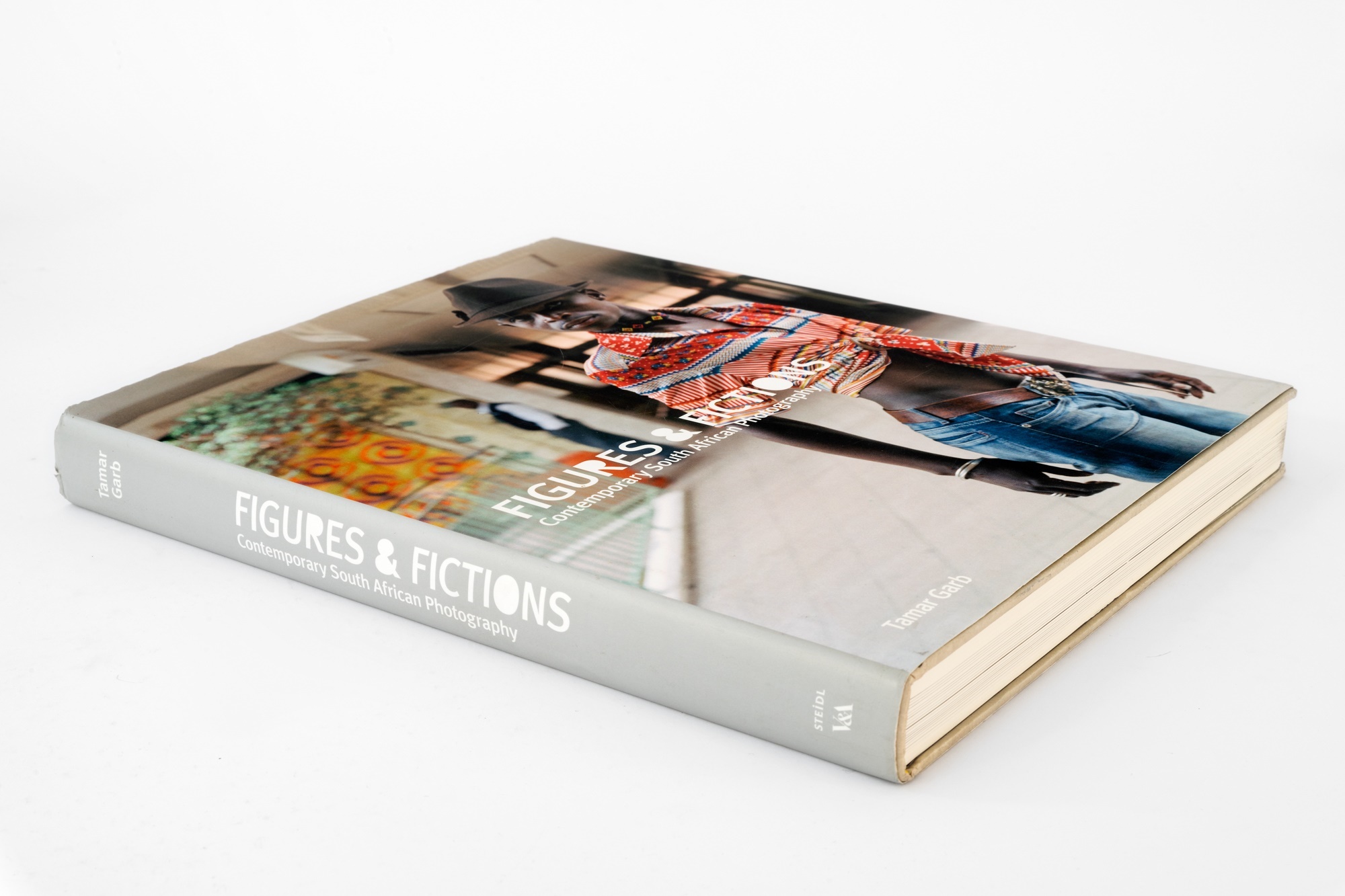 Lot 11 | Figures and Fictions: Contemporary South Africa Photography (2011) by Tamar Garb | Estimate: ZAR 400 - 600
Figures and Fictions provides extraordinary insights into contemporary African photography as one would expect from the brilliant Cape Town-born, Tamar Garb, who is Professor in the Department of History of Art at University College, London.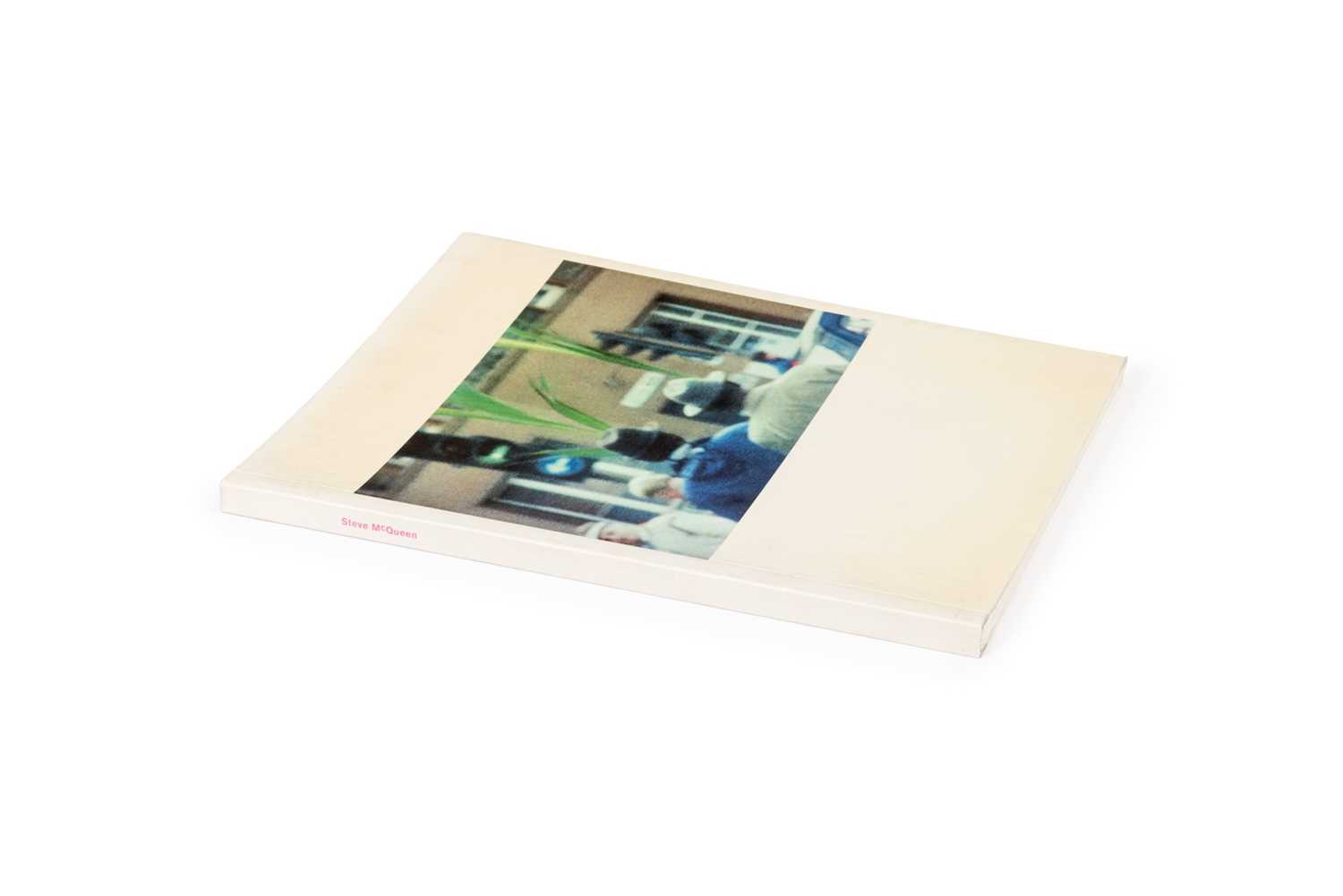 Lot 14 | Steve McQueen (2000) edited by Thomas Mulcaire | Estimate: ZAR 600 - 800
This book on ground-breaking and multi-award-winning artist, Steve McQueen, was a gift from the author, Tom Mulcaire, curator extraordinaire, dear friend and former comrade-in-arts.
Lot 15 | Inferno and Paradiso (1999) edited by Alfredo Jaar | Estimate: ZAR 500 - 800
This thought-provoking book was gifted to me on a trip to Sweden in which I was invited to curate an exhibition of my choice for the South African National Gallery to be funded entirely by Swedish arts organisations.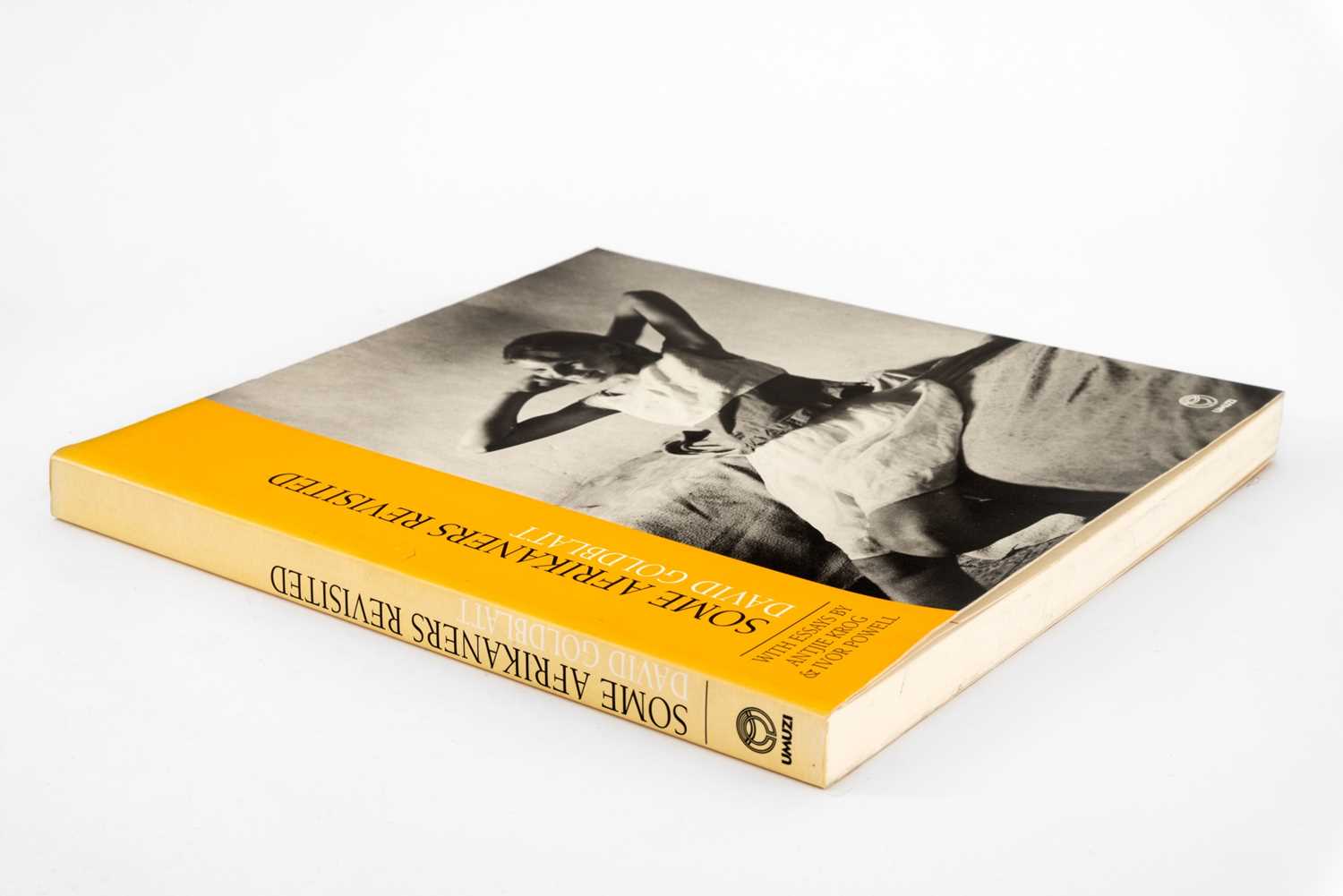 Lot 16 | Some Afrikaners Revisited (2007) by David Goldblatt, Antjie Krog and Ivor Powell | Estimate: ZAR 1 000 - 1 500
Working closely with David Goldblatt has always been a privilege. I was selected to write the entry on Goldblatt for 10 Years 100 Artists: Art in a Democratic South Africa published in 1994, and fortunate to work with him in mounting his solo exhibitions during my years as Director of Goodman Gallery Cape.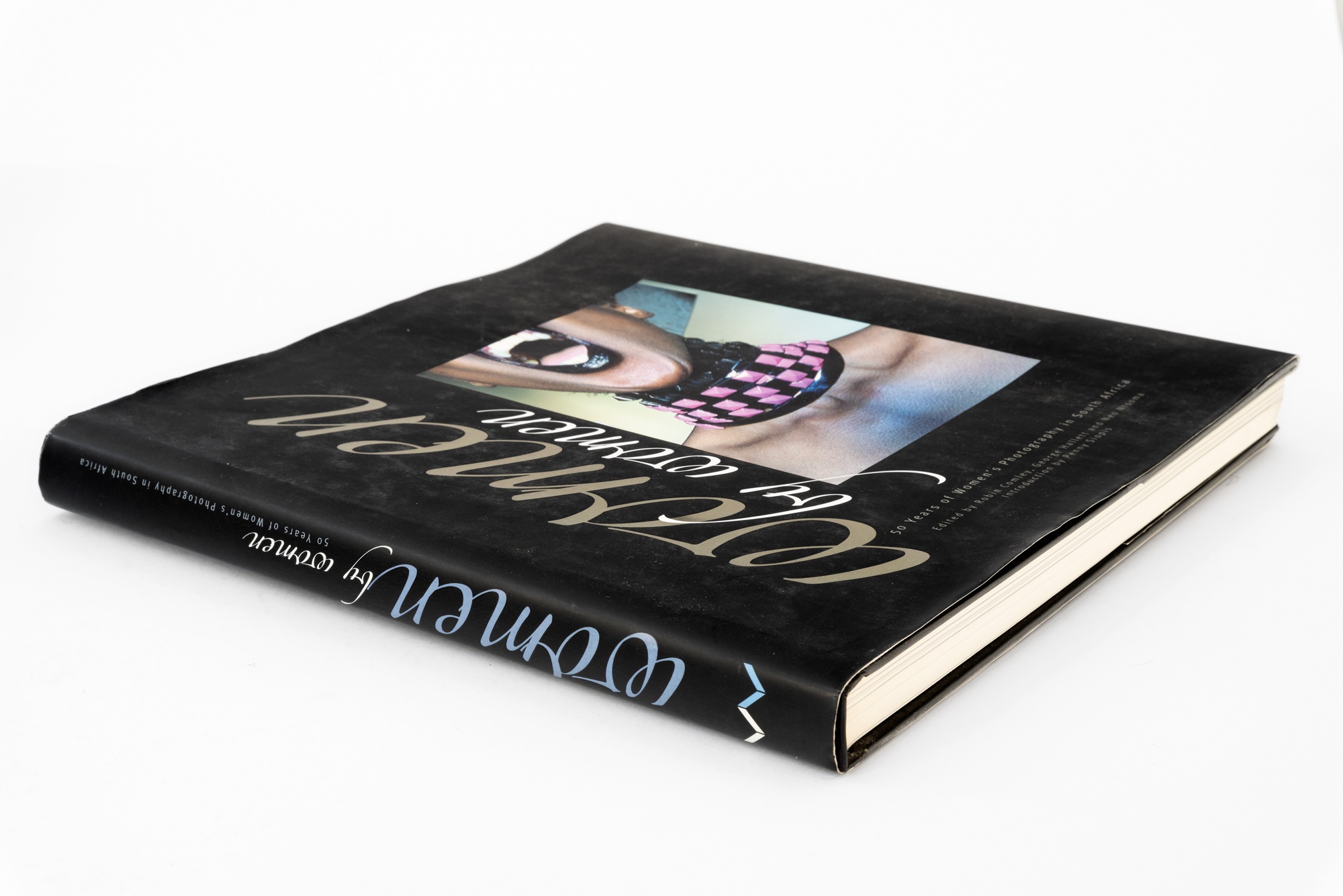 Lot 17 | Women by Women: 50 Years of Women's Photography in South Africa (2006) by various editors | Estimate: ZAR 700 - 1 000
Women and the art they produce has been an abiding interest since my post-graduate studies focusing on feminist practices and how they challenge patriarchal assumptions and structures.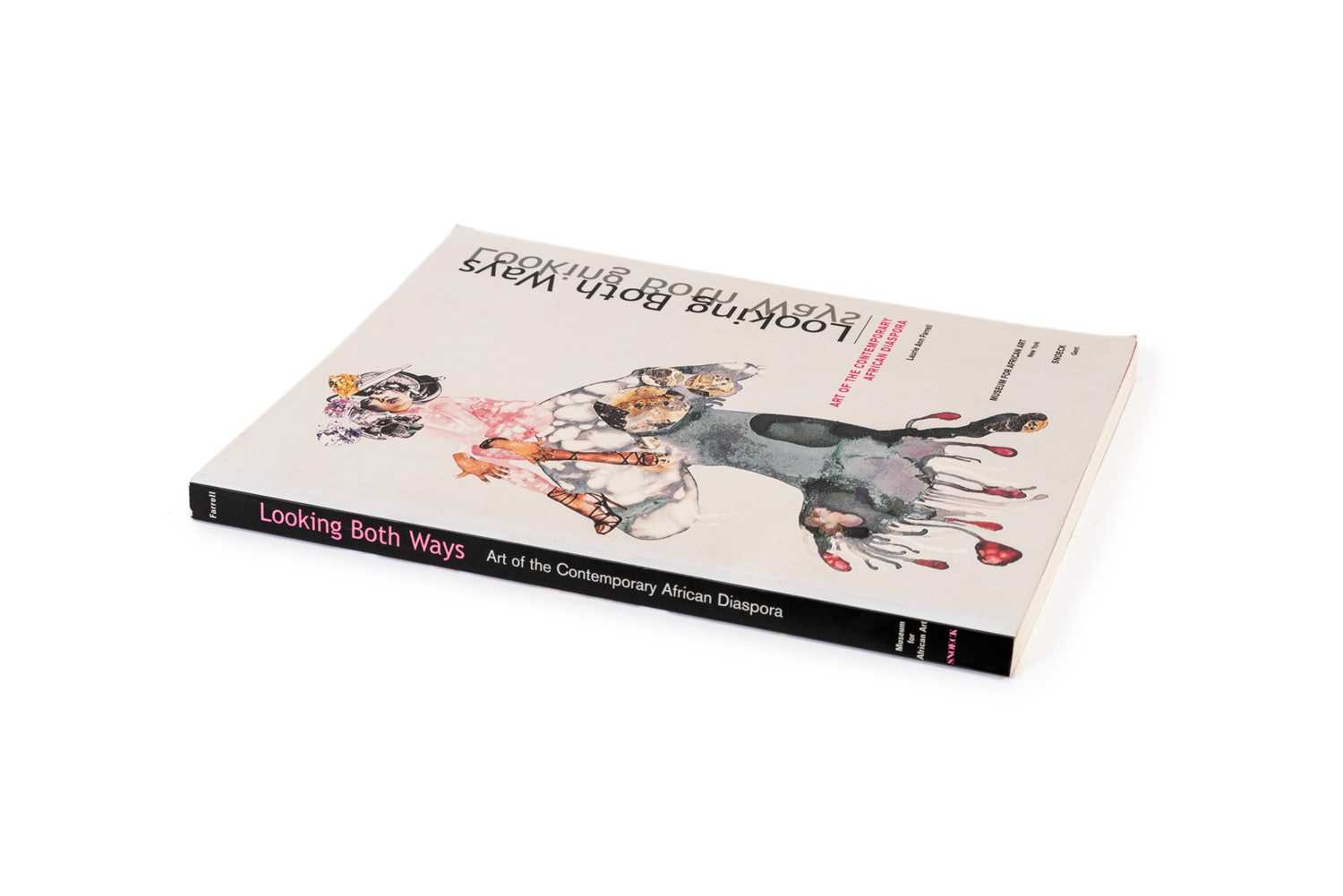 Lot 18 | Looking Both Ways: Art of the Contemporary African Diaspora (2003) edited by Laurie Ann Farrell | Estimate: ZAR 1 000 - 1 500
Laurie Ann Farrell played an exemplary role in researching and curating exhibitions and crafting texts that provide insights into African art and its diasporas.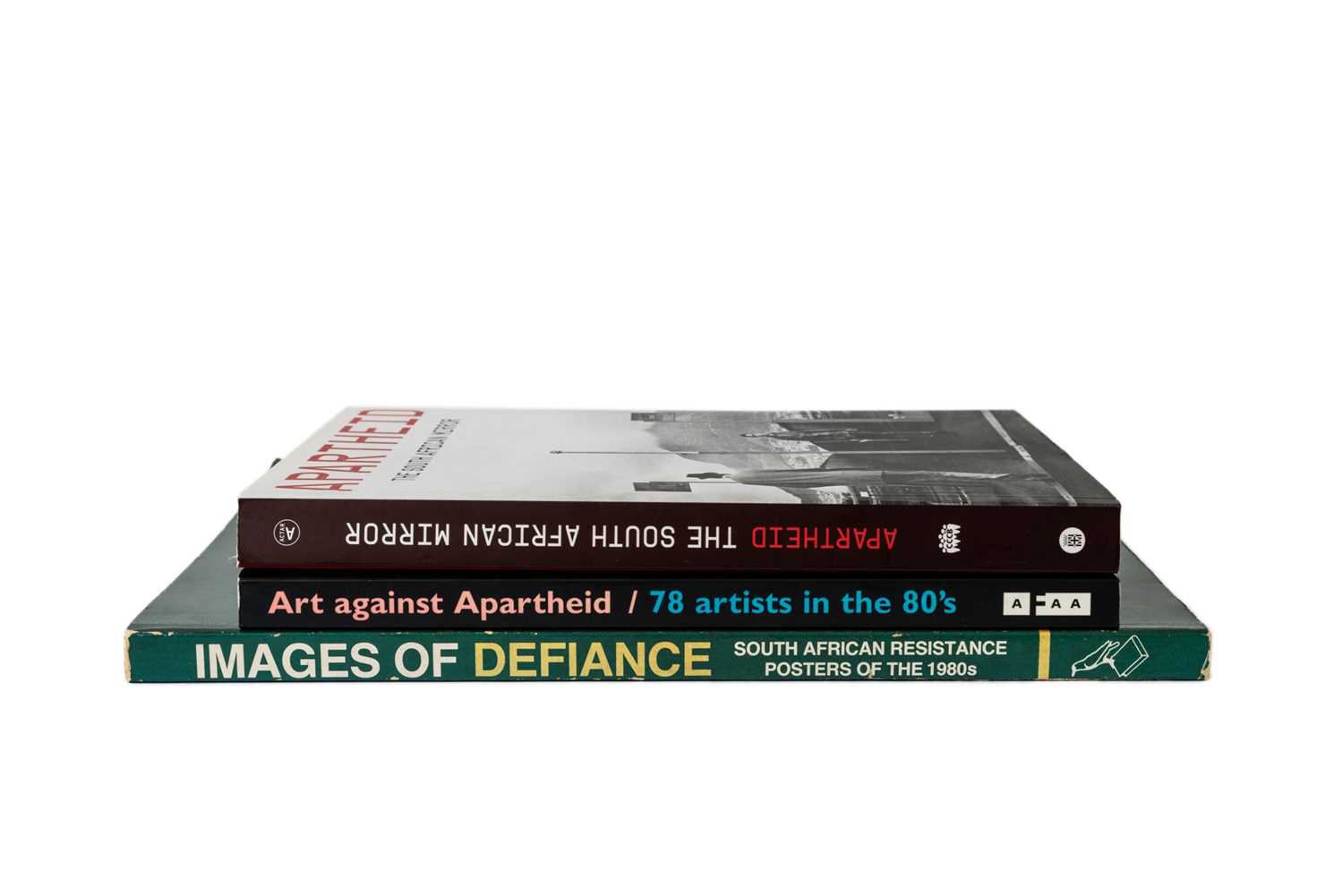 Lot 23 | Three books on Resistance Art | Estimate: ZAR 500 - 800
International publications in this lot illustrate the extraordinary breadth of opposition to apartheid. International and South African art and projects emerging in the wake of the democratic changes in South Africa increased global and local interest in the ways in which art could provide insights into, and engage with, the dramatic political and social developments that South Africa was undergoing. They illustrate how artists were finding their unique voices, commenting on the changing political scenarios and engaging with international audiences.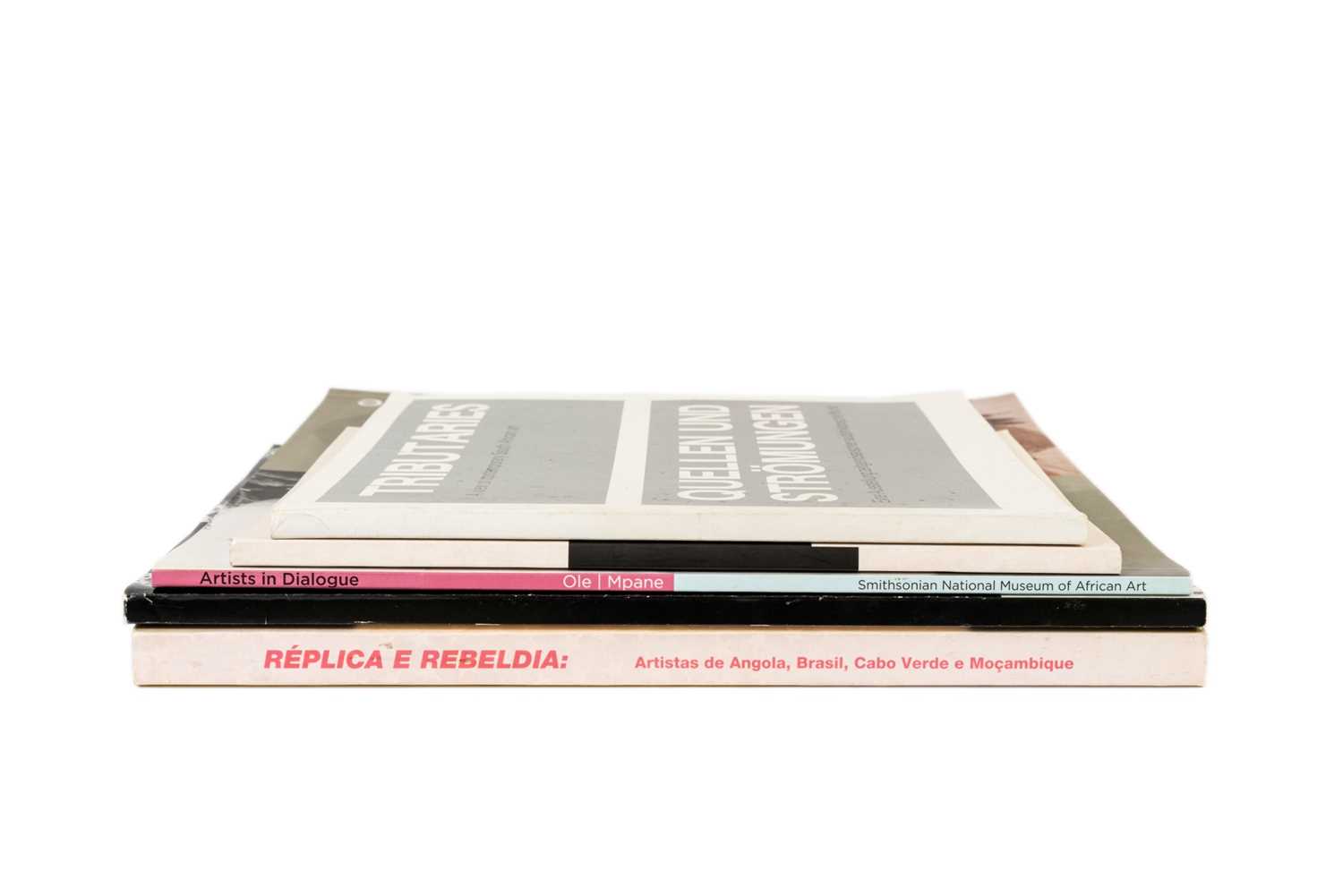 Lot 27 | Five Exhibition Catalogues on art and dialogue | Estimate: ZAR 1 000 - 1 500
These publications provide insights into the dramatic developments in southern African art and cultural exchanges from the mid-80s and the phenomenal interest they inspired in local and international curators and art historians.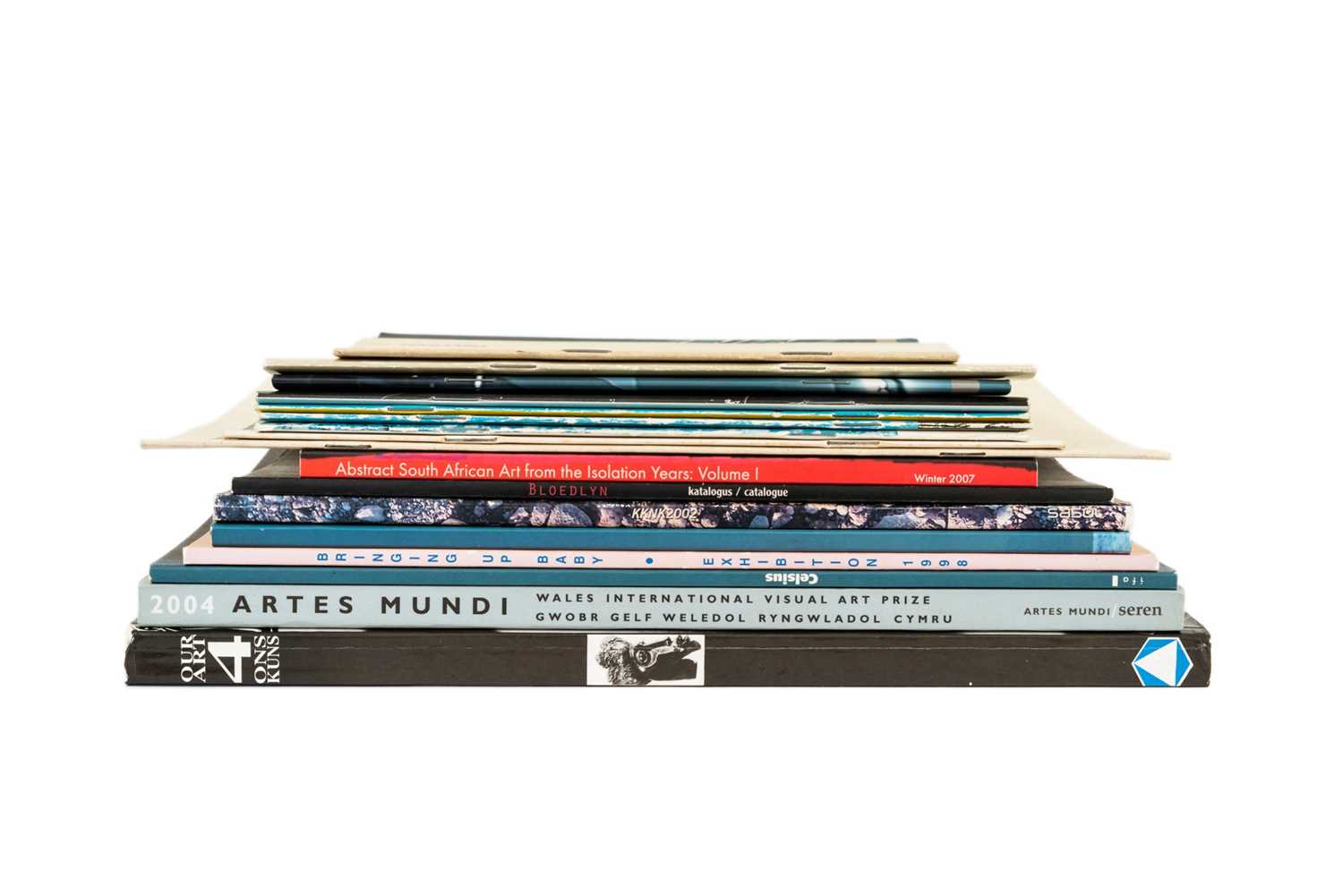 Lot 33 | Seventeen exhibition catalogues and other art publications | Estimate: ZAR 1 200 - 1 600
I am grateful to the artists, authors and curators of these exhibitions for their generosity in giving me complimentary copies of catalogues on their exhibitions and collections. This collegial practice of sharing publications has been one of the great benefits of working in contemporary art.