VOLUMES is a special Timed Online sale from 19-26 May, focusing on art books and books by and about artists covering everything from rare and collectible ephemera to reference works and artist's monographs
Aspire Art's Cataloguers and Researchers have picked their favourite books.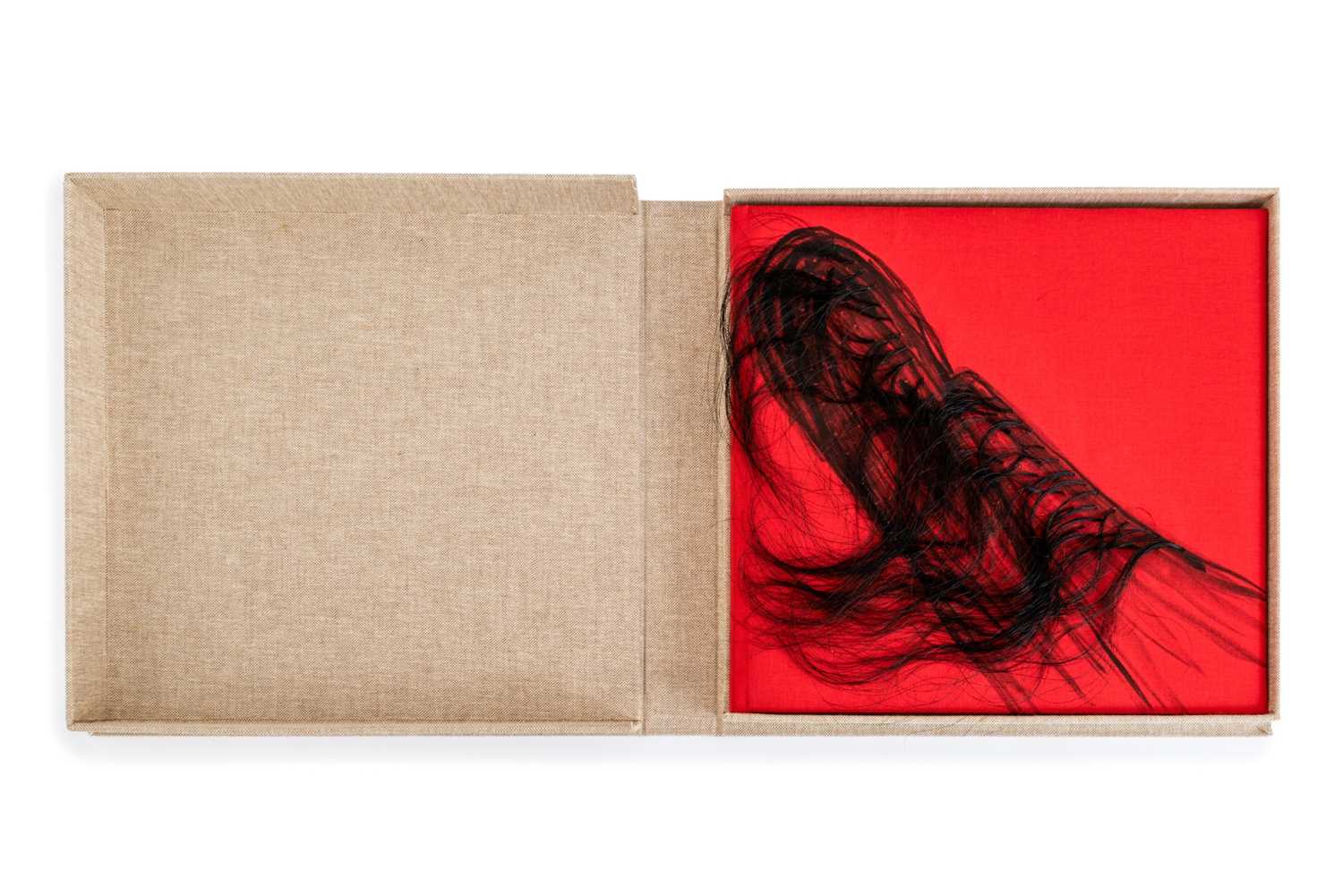 The monograph, Nandipha Mntambo: Standard Bank Young Artist Award (Lot 85), 2011 was published to accompany the artist's touring Standard Bank Young Artist exhibition. It documents her works from 2004 to 2011 and I am drawn to it because it is a clear extension of Nandipha Mntambo's manifestations, depicting a layering of ideas in an uncomplicated yet subliminal language. I find the interwoven subjects and concerns in Mntambo's practice skillfully balanced, the magnitude of her pieces enriched by a calm, reasoned nature.
There are many elements that make this monograph worth collecting. Firstly, it is not only a book but a unique artwork.  Mntambo created two unique artworks out of the catalogue, with painting detail and woven hair which reflects her practice at the time. A slipcase was then specifically made for these two artworks. And this is one of them.
It is sheer visual pleasure paging through the book, from the long, black hair sewn into a blood-red linen cover to the blood-red text – the bold exterior is mirrored throughout the interior. The writing on this award-winning artist, the materials used, and the processes in place, paired with exquisite imagery to illustrate how they engage, is even more impressive when one has seen Mntambo's works in the flesh. Even without direct experience, a viewer can get a good sense of the atmosphere and intentions of the works in the publication. The book begins with an interview conducted by esteemed art historian, Ruth Simbao, who insightfully notes that Mntambo reflects, "on quiet, private moments – moments of personal and professional perplexity; moments of acknowledging discomforts that many of us feel but seldom declare". Vulnerability is an essential component of making for many artists, and this account begins a story which allows readers to really delve into distinct characteristics that inform the exhibitions in focus. 
Mntambo's method of crafting is both experimental and intentional; pivoting between intellect and emotion – something that the book successfully manages to do. Whether through video, performance, sculpture, installation or photography, this catalogue illustrates how the production of these works involves deep thinking, without neglecting subjects of spiritual significance.