The Collection of Nwabisa Xayiya generated spectacular results for Modern and Contemporary African art.
The unparalleled results achieved by Aspire Art Auctions for the auction Art, Life and Love: The Collection of Nwabisa Xayiya affirms new confidence in the art market and indicates a return of positive economic activity.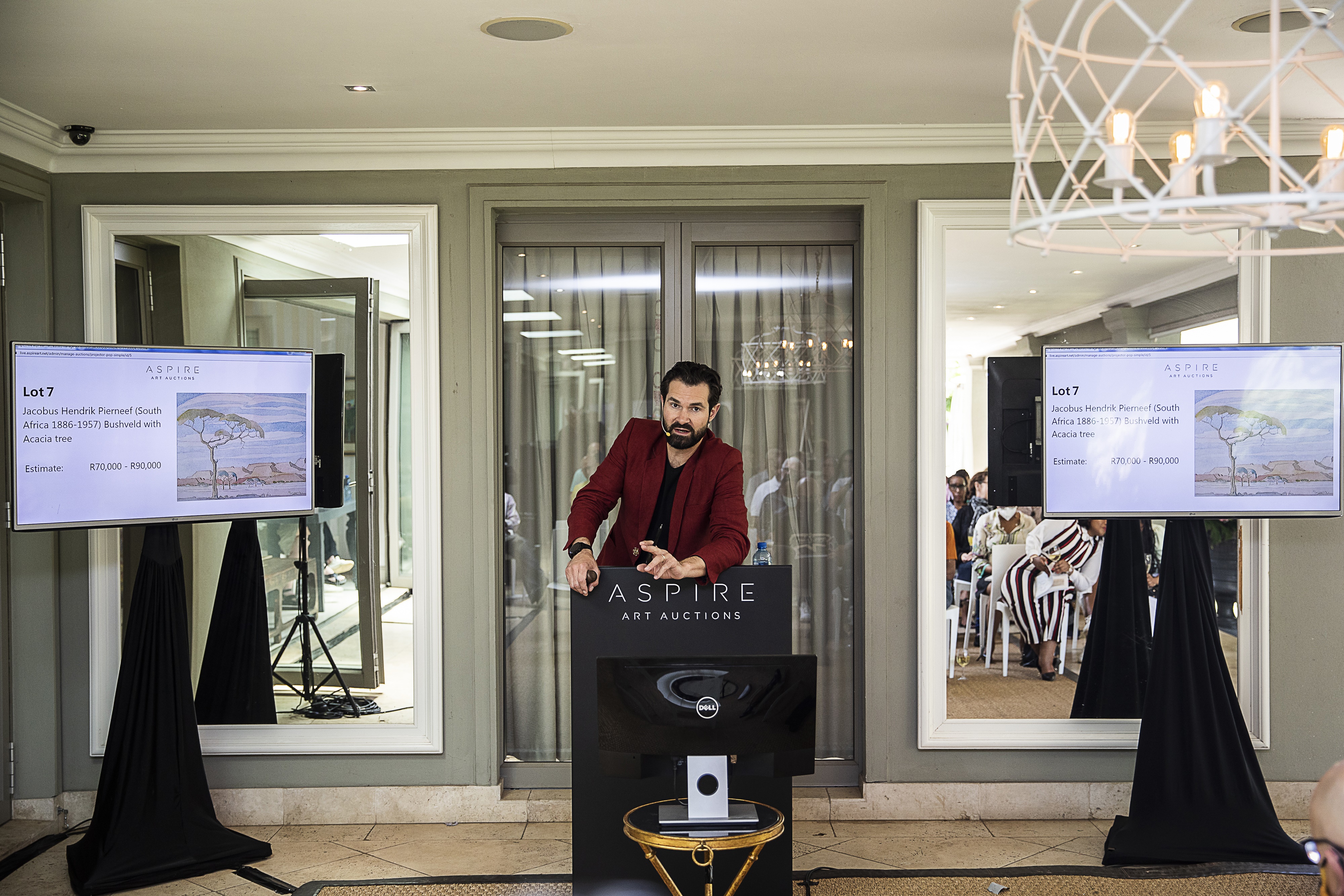 ---

This special single-owner sale showcased the taste and style of the late Nwabisa Xayiya. The collection comprised over 300 works which were auctioned in two parts in a live and online-only sale. On Sunday, 31 October 2021, an unprecedented throng of art collectors gathered at the Xayiya home in Houghton, Johannesburg, where bidders were vying for the top hundred works. The remainder of the collection formed part of the Timed-Online auction which closed on Monday, 1 November.

This landmark auction spotlighted the work of various important African artists. Delivering outstanding results and setting numerous new auction records, history was made and new benchmarks were established for the value of modern and contemporary African art at auction. The live sale achieved a sell-through rate of 96%, with over 40% of the works selling well above high estimate. 200 registered bidders from South Africa, Nigeria, the USA and UK, Ireland, Norway, Germany and France participated in the auction of which 20% were new and first-time buyers with Aspire.
---
TOP LOTS

The top lot by value was the splendid early William Kentridge drawing Landscape with crouching figure (featured below) from 1986 which realised R2,048,400. Two other drawings by Kentridge from the same period; Highveld landscape with figure in pool (1987) and Highveld landscape with structures (1988) sold well, achieving R455,200 each.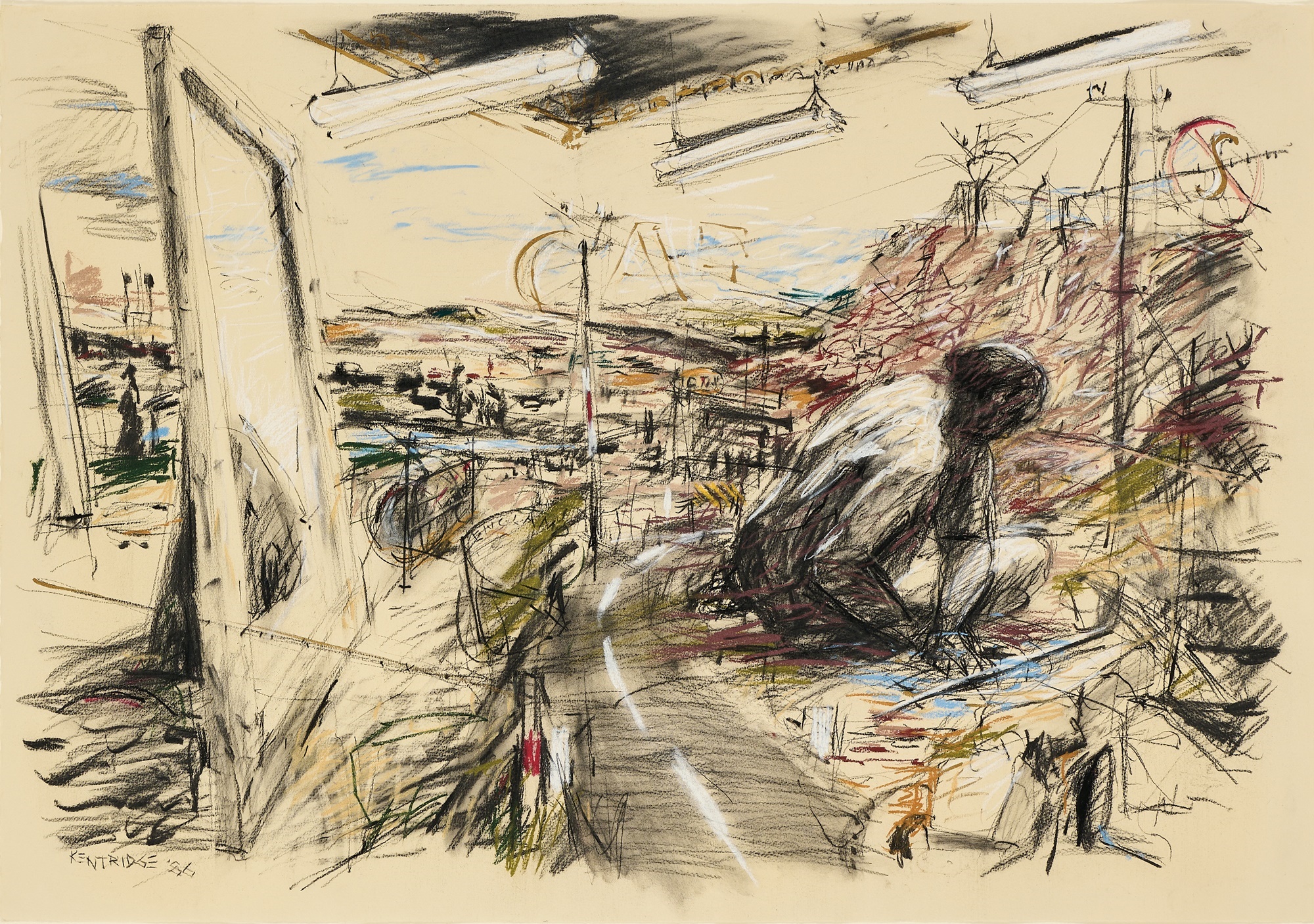 The cover lot, a striking mixed media work Intlambo yochulumanco (featured below) by Nicholas Hlobo drew considerable interest from local and international collectors and achieved R1,479,400 – a new world auction record for the artist. Hlobo is currently one of the biggest names in contemporary African art and his work enjoys much critical acclaim.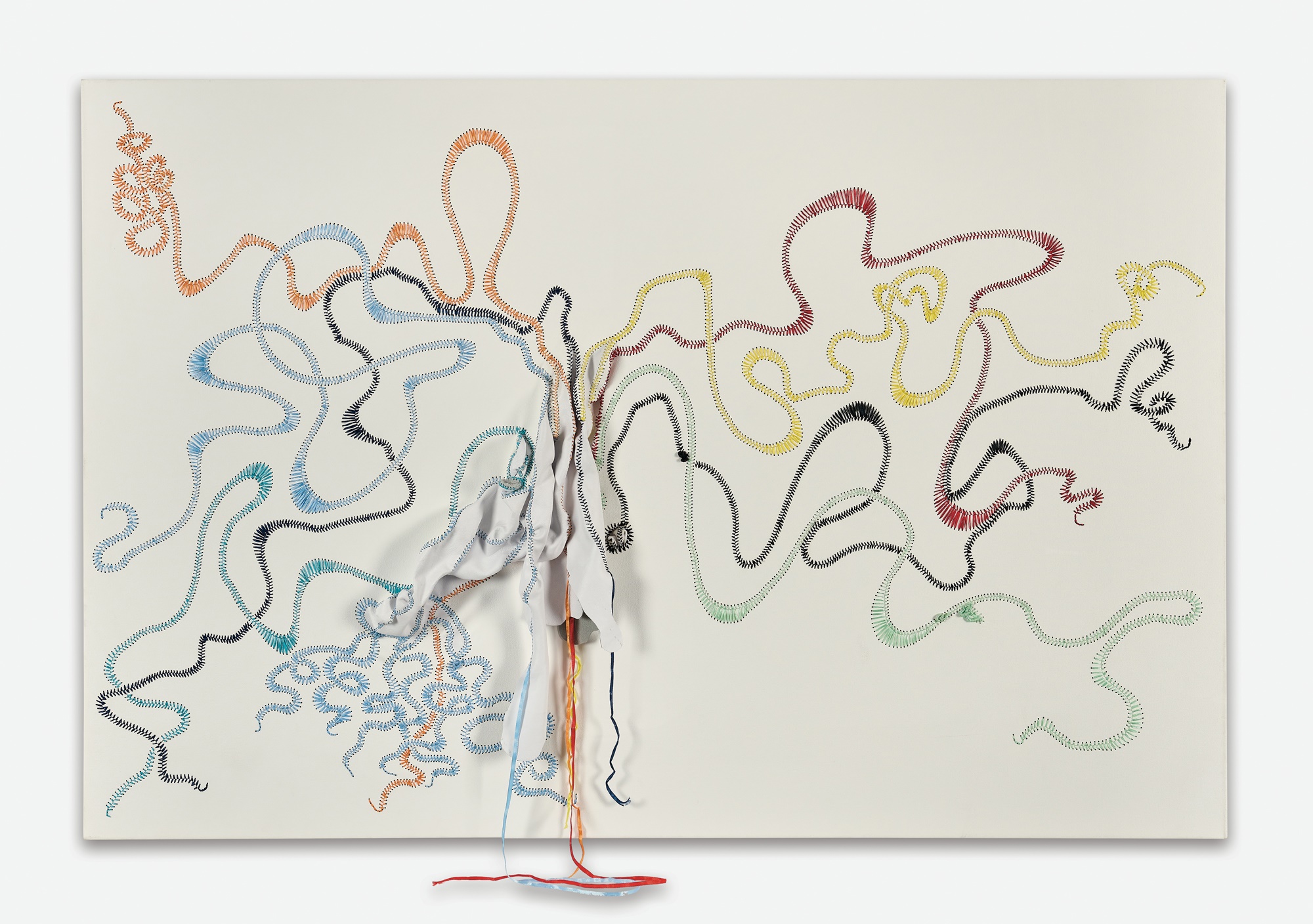 An abstract ink and pastel drawing by Ernest Mancoba stole the show when it sold for six times its high estimate at an impressive R933,160, also setting a new world auction record for this much-celebrated artist who is widely regarded as South Africa's first professional Black modern artist. Having spent the majority of his life in Europe after leaving South Africa in 1938 to continue his studies in Paris at the École nationale supérieure des arts décoratifs, his work is extremely rare locally and internationally and remains highly sought after by serious collectors the world over.
HIGHLIGHTS

The spotlight fell on a collection of nine remarkable paintings by George Pemba from the 1960s to the early 1990s which sold individually for a combined total of R3,971,620. Spanning over four decades, this group of paintings represented a core part of Pemba's themes and artistic production.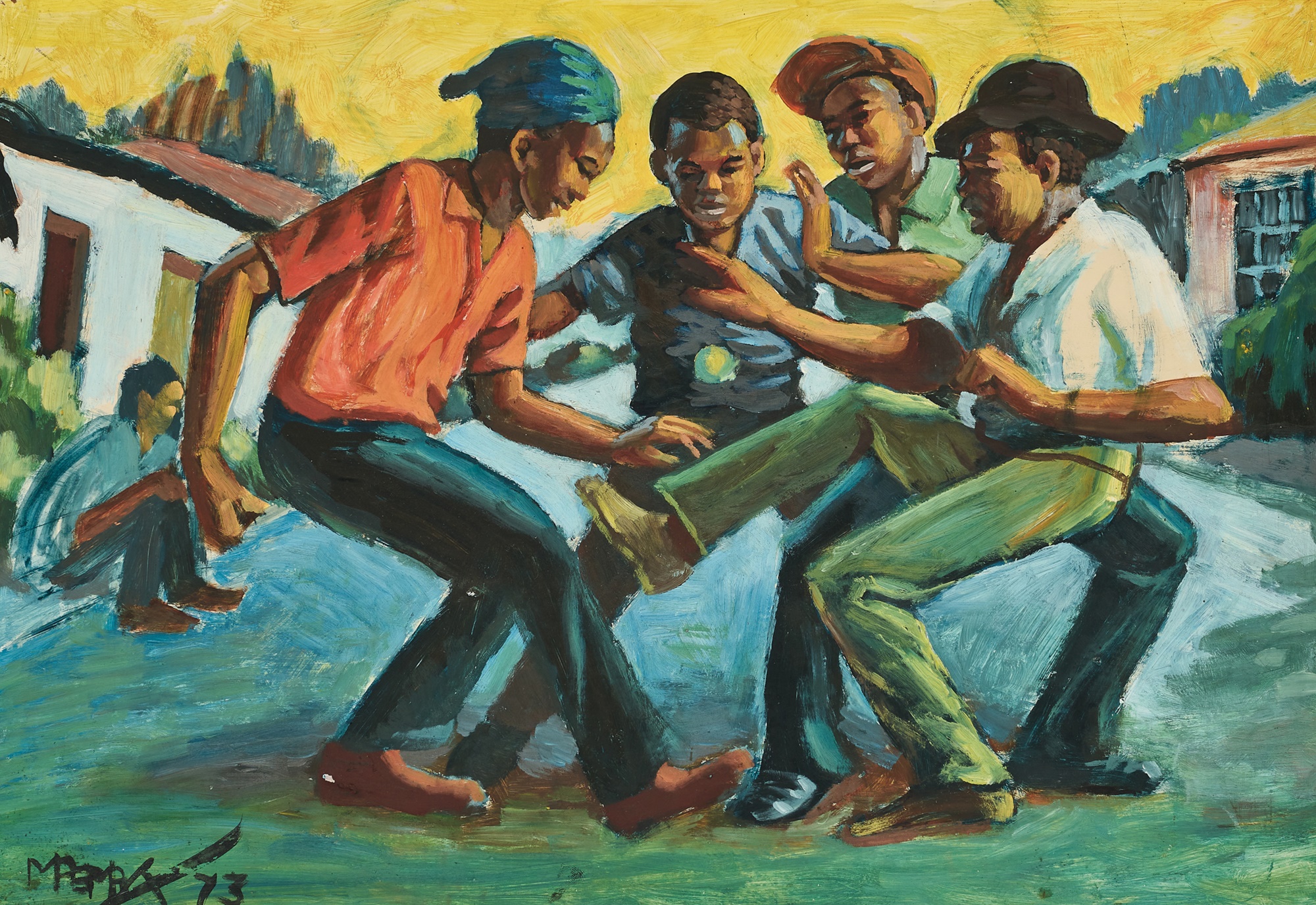 Pemba's brother in art, Gerard Sekoto continues to be a firm favourite with collectors. His Township Street Scene (featured below) from 1958 sold for R796,600 and a captivating portrait of a woman wearing a headscarf, painted in 1962, sold for R625,900.
Another poignant and unique portrait also drew much interest and attention. After fierce bidding, The Yellow Head (1945) (featured below) by Alexis Preller achieved a remarkable R978,680, almost double its high estimate.
Across the auction, sculpture performed strongly. A collection of seven sculptures by Ezrom Legae all sold individually for a combined total of R1,098,170. Edoardo Villa's impressive voluminous bronze formation Reclining Figure (featured below) sold for R796,600 and a unique sculpture by exiled artist Dumile Feni titled Horse Rider realised R358,470. Magnificent large-scale sculptures by Deborah Bell featured in the sale and achieved strong results. Conjunction (2009) and Meditation 1 (2003) realised R682,800 collectively.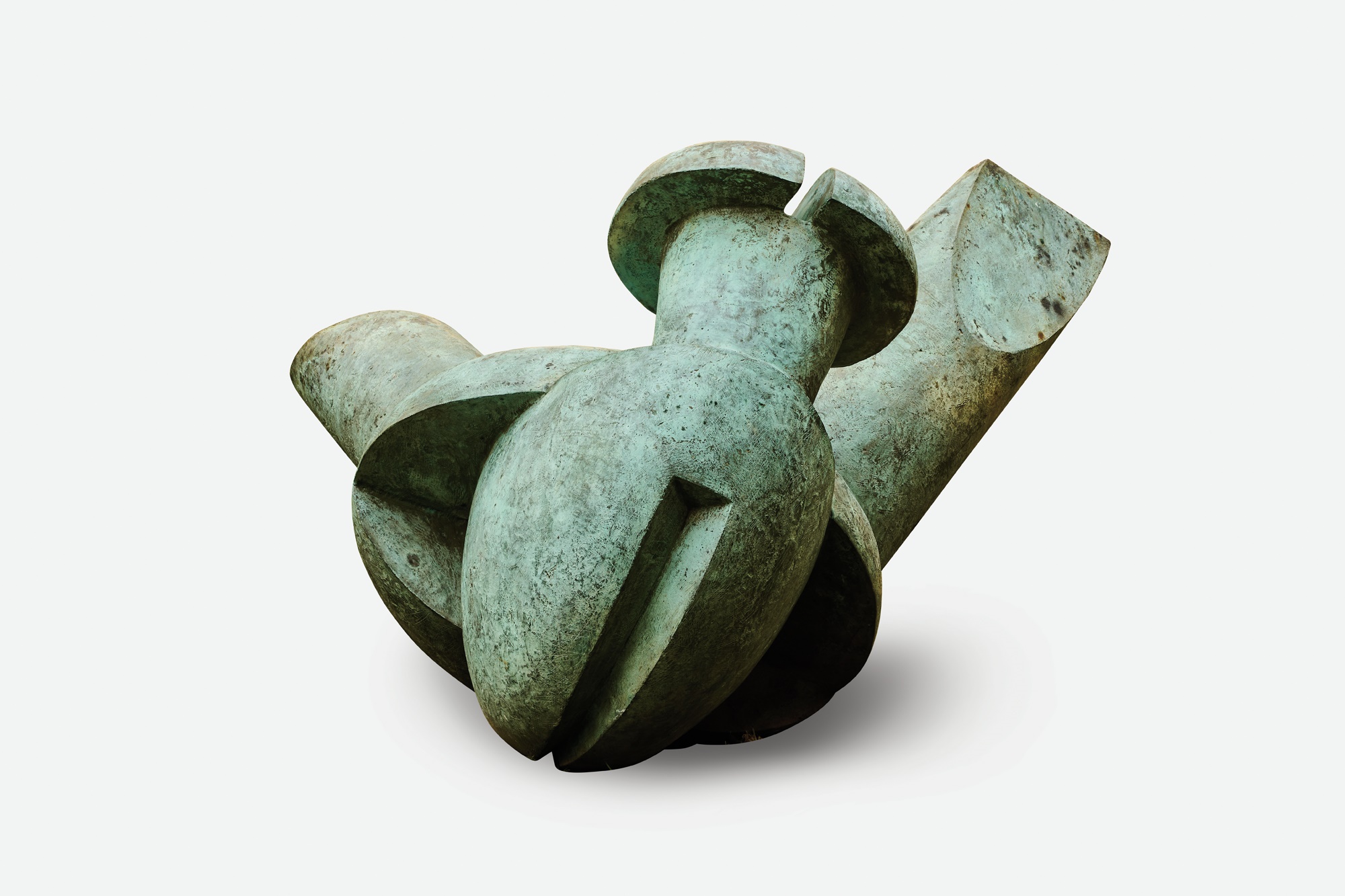 OTHER TOP MODERN RESULTS INCLUDE:

- Sydney Kumalo, Mythological Rider II (Study for Mythological Rider): SOLD FOR R796,600
- Gerard Sekoto, Bustling street scene: SOLD FOR R569,000
- Robert Hodgins, Figure in a Landscape: SOLD FOR R569,00
- Gladys Mgudlandlu, Two Old Ladies Shopping on a Cold Day: SOLD FOR R295,880
- Dumile Feni, Respect, Respect: SOLD FOR R170,700
OTHER TOP CONTEMPORARY HIGHLIGHTS INCLUDE:

- John Meyer, What the Night Knows: SOLD FOR R477,960
- Deborah Bell, Coeur Rage II: SOLD FOR R375,540
- David Koloane, Johannesburg cityscape: SOLD FOR R341,400 (South African Auction Record)
- Blessing Ngobeni, Died, Digging, Gold: SOLD FOR R318,640 (World Auction Record)
- Owusu-Ankomah, Microcron-Kundum No 5: SOLD FOR R227,600