The largest collection of African photography ever to come to auction will be on offer this winter when Aspire Art Auctions puts the work of 68 photographers from 14 African countries under the hammer.
Dubbed The African Photography Auction 2021, the sale will take place Online from 20 to 27 July 2021; presented in partnership with the Photography Legacy Project (PLP), an organisation established to support the digitisation of photographic legacies in Africa. The auction will showcase a diversity of subject matter – ranging from landscape to the interior, gender-based issues to surfing culture and the Covid-19 pandemic – by photographers who continue to practice their craft and flourish despite extreme challenges.
The African Photography Auction, 2021 will build on the success of the first auction dedicated to African photography in 2020, which saw impressive results across the board, including a set of Ernst Cole works from The House of Bondage which sold for over half a million rand.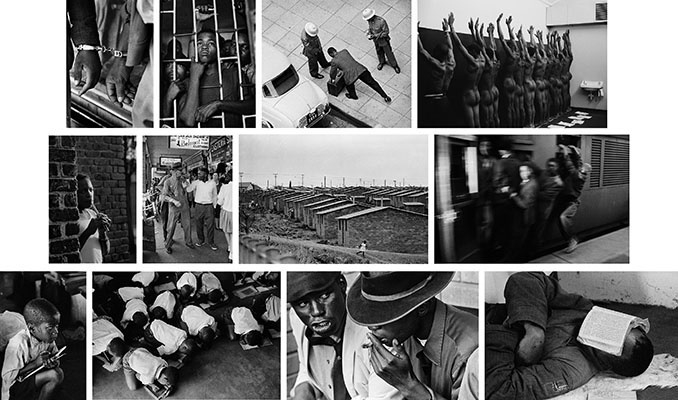 Ernest Cole (South Africa 1940-1990), Twelve works from The House of Bondage, SOLD FOR R575 000 in 2020

All eyes are trained on the lead-up to this year's auction as new and seasoned collectors discover that photography is poised for significant growth in the upcoming years, both in the primary and secondary art markets.
A highlight for collectors is the creative response of photographers to the Covid-19 pandemic. This includes dramatic portraits by Lamyne M from the Ivory Coast, theatrical imagery by Jabulani Dlamini and Marc Shoul's social documentary interventions.
Notable inclusions are works by Zimbabwean photographer Tamary Kudita whose essay, African Victorian won the Open Photographer of the Year at the 2021 Sony World Photography Awards; and young award-winning woman photographer, Lee-Ann Olwage collaborating with Belinda Qaqamba Kafassie whose visual essay reflects the difficulties while celebrating the vitality and strength of the transgender and gay communities. Their work from the surrounding townships of Cape Town won a World Press Award.  Emerging photographers like Kongo Astronauts collective (DRC) and the documentary imagery of Etinosa Yvonne (Nigeria) and Abno Shanan (Algeria) add depth and diversity to the fabric of the overall offering.
The older generation of established practitioners like David Goldblatt and Alf Kumalo along with legendary Drum photographers Bob Gosani and Ernest Cole feature alongside contemporary photographers such as Michael Meyersfeld and David Lurie. Kenyan Mohamed Amin, a veteran documentarian who was instrumental in covering major events in East Africa from the 1960s, is also represented. The PLP, along with Amin's son, Salim, has established the Mohamed Amin Foundation to safeguard his legacy and make it accessible for future generations. 
A host of award-winning photographers who share their insights and creative collaborations rub shoulders with the past. A rare collection of endangered and disappearing South African vernacular photography is represented by Bobson Sukhdeo Mohanlall (Bobby Bobson), William Matlala and Ronald Ngilima. While this genre from West Africa has been widely seen in recent times, less exposure has been given to the South African version and its contribution to world visual culture. The archive of Ralph Ndawo, a peer of Peter Magubane and Alf Kumalo, who worked for Drum and the Rand Daily Mail has been kept by his daughter, Rachel, for decades since his untimely death in 1980. Also included in the auction are photographs by Henion Han, a Chinese-born South African who documented the Chinese community, as well as works from the archive of Lindeka Qampi. 
The photographers and archives represented in this exciting collection underscore the vision and spirit of the PLP to continue the digital preservation of our photographic heritage — much of which is perilously endangered — so that African photographic collections and archives may remain on the continent, be accessible and researchable for future generations.
 "What's special about this year's collaboration is that it is a collection of self-representation. Essentially, it is Africa by Africans – reflecting a great depth of talent and subject matter from a broad variety of countries on the continent", comments Paul Weinberg of PLP.
The extraordinary quality and relevance of the artworks comprising this auction support Aspire's vision and ongoing mission of broadening the market for African art, increasing global appreciation, and, by extension, value, for the incredible artistic produce that emanates from this continent.
"The success of last year's auction endorses the growing interest in African art and notably, photography. This project extends our vision and goal of casting a broader spotlight on African art and presenting it to an ever-increasing global market of discerning collectors. Which, in turn, promotes our mission of building collections of value", explains Ruarc Peffers, Managing Director of Aspire Art Auctions.
Background on PLP
The Photography Legacy Project (PLP) has been in operation since 2019 and has initiated an important visual heritage project to profile the significant contribution of major South African and African photographers. The PLP's initiative is primarily to ensure that significant collections of African photography can remain on the continent and be made widely accessible for education and research. It began with four South African photographers (David Goldblatt, Alf Kumalo, Ernest Cole and Ruth Motau) and developed into a portal of African archives and photographers. With support from last year's auction, PLP has added another eight archives from Sudan, Kenya, Lesotho and South Africa. www.plparchive.com.
For more information about The African Photography Auction 2021, to bid and buy, visit: www.aspireart.net 
Exhibition on view at Aspire's Cape Town gallery, 20–27 July 2021, by appointment:
+27 21 418 0765 or +27 83 283 7427
*All COVID protocols observed