Aspire Art is honoured to present a carefully curated single-owner sale. The Present Future: A Private Collection of African & International Contemporary Art is set to impress and intrigue collectors this June.
Thrilled to have been entrusted with this important collection, Ruarc Peffers, Aspire M.D proudly states that, "Aspire Art is the leading auction house for late-20th Century and Contemporary art in Africa, for Africa. Our most recent single-owner collection – Art, Life and Love: The Collection of Nwabisa Xayiya in 2021 – demonstrated this fact unequivocally. We are proud to follow this up with a new single-owner collection of leading contemporary art from Africa and further afield, comprising some of the finest examples from many of South Africa's leading contemporary visionaries. Aspire has become known for bringing the most exciting and top artists of tomorrow to auction, and this collection honours that commitment – for the collectors of today, we present to you a collection of tomorrow."
Lot 28 | Athi-Patra Ruga, Imini Yomjojo (Judgement Day) | Estimate: ZAR 500 000 – 700 000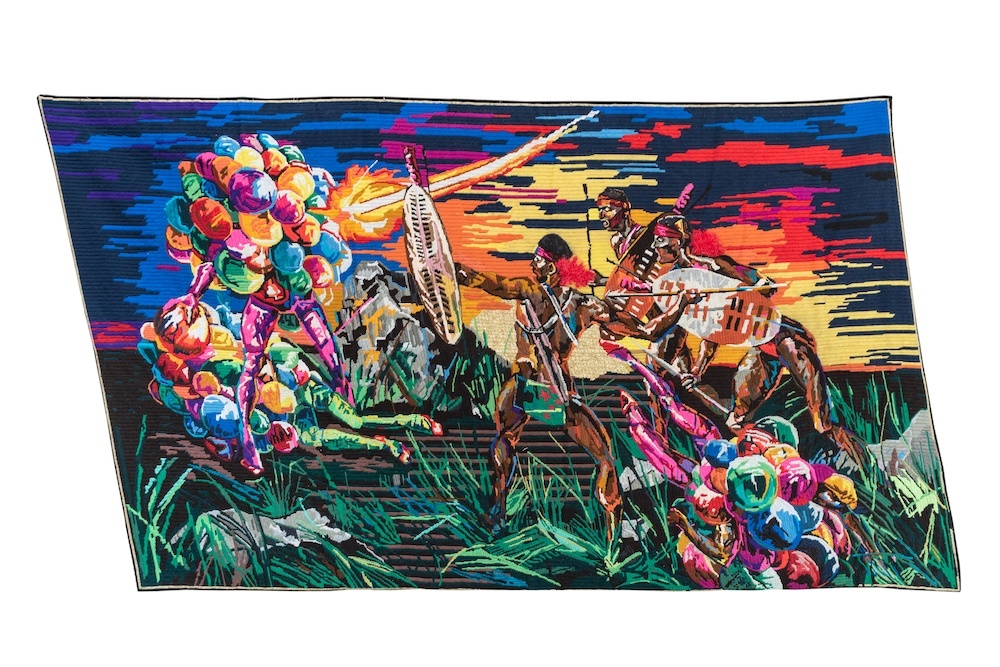 Lot 29 | Athi-Patra Ruga, Invitation... Presentation... Induction | Estimate: ZAR 800 000 – 1 000 000
The sale is led by two superb tapestries by the much-celebrated South African superstar Athi-Patra Ruga. In his sensuous works the artist uses playful imagery to critique convention, question what we think of as normative and challenge a heteronormative social construction of African history and knowledge.
Lot 3 | Wycliffe Mundopa, November Carnival Series No. 5 | Estimate: ZAR 100 000 – 150 000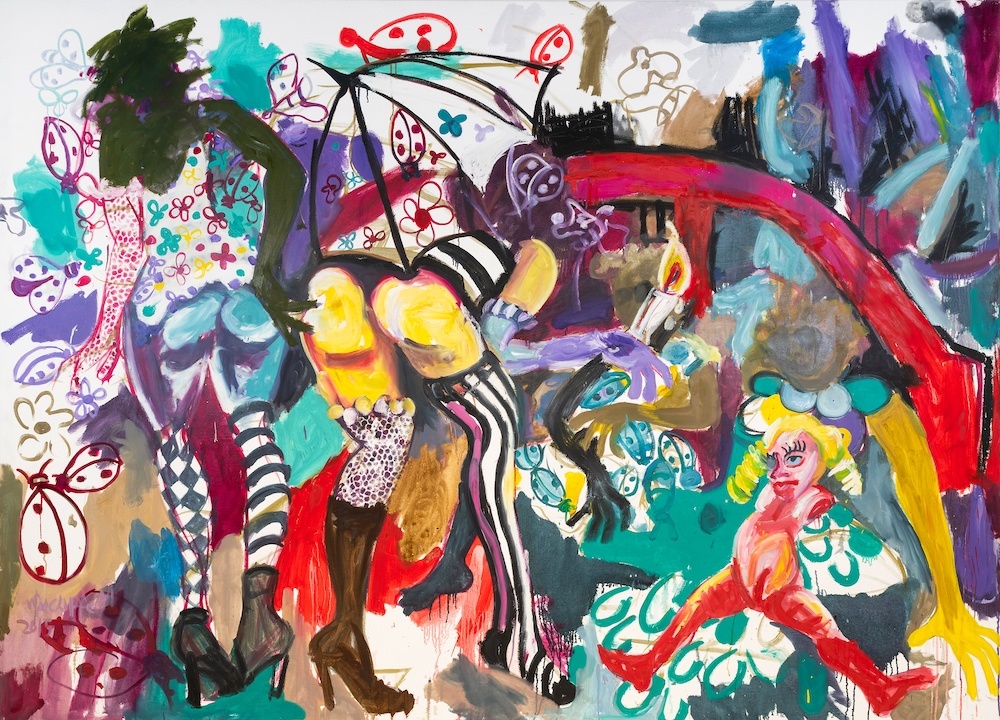 Lot 4 | Wycliffe Mundopa, Paradise of Vice | Estimate: ZAR 150 000 – 200 000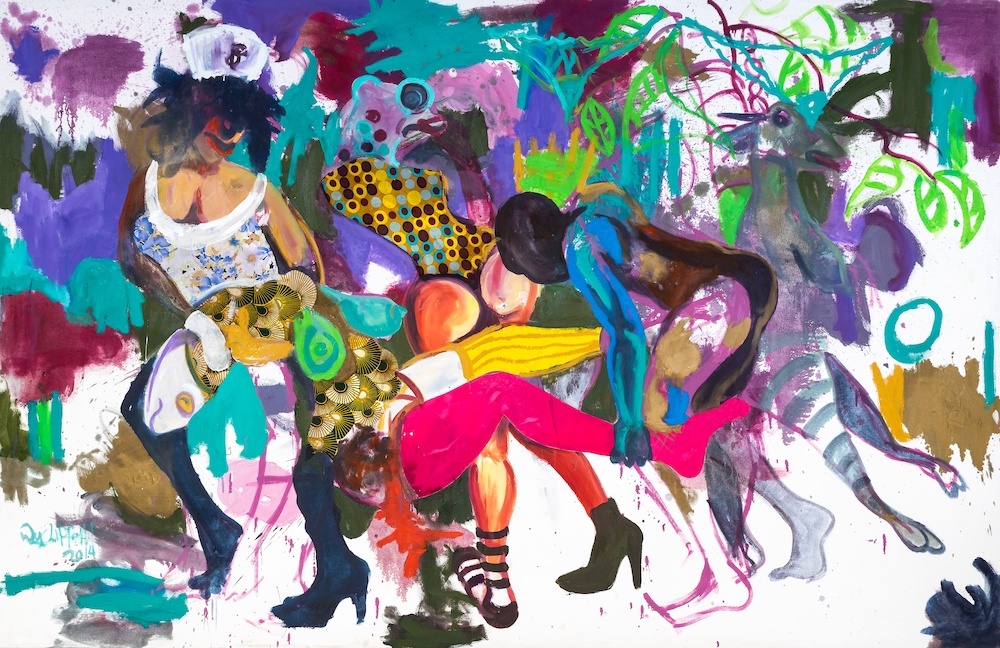 Lot 5 | Wycliffe Mundopa, Myths of Harare (Drowning in Air) | Estimate: ZAR 120 000 – 180 000
Other highlights include three magnificent large-scale canvases by Zimbabwean painter Wycliffe Mundopa. Winner of the 2021 FNB Art Prize, the artist has been dubbed the "Painter of Modern African Life" by acclaimed academic Ashraf Jamal, who elaborates that in his vibrant, daringly brash, wildly dissolute, expressionist canvases "we find an artist hyper-alert to the moment – what it takes to make art now."
Lot 16 | Serge Alain Nitegeka, Obstacle 1; Studio study III, | Estimate: ZAR 300 000 – 500 000
Also confronting modern African life but with a distinctly different aesthetic – and highlighting the rich diversity of artistic production in Africa right now – is Rwandan artist Serge Alain Nitegeka. Referencing journeys of displacement, forced African migration and the refugee, Obstacle 1; Studio study III from 2012 is a monumental, bold, abstract study in black, white and red.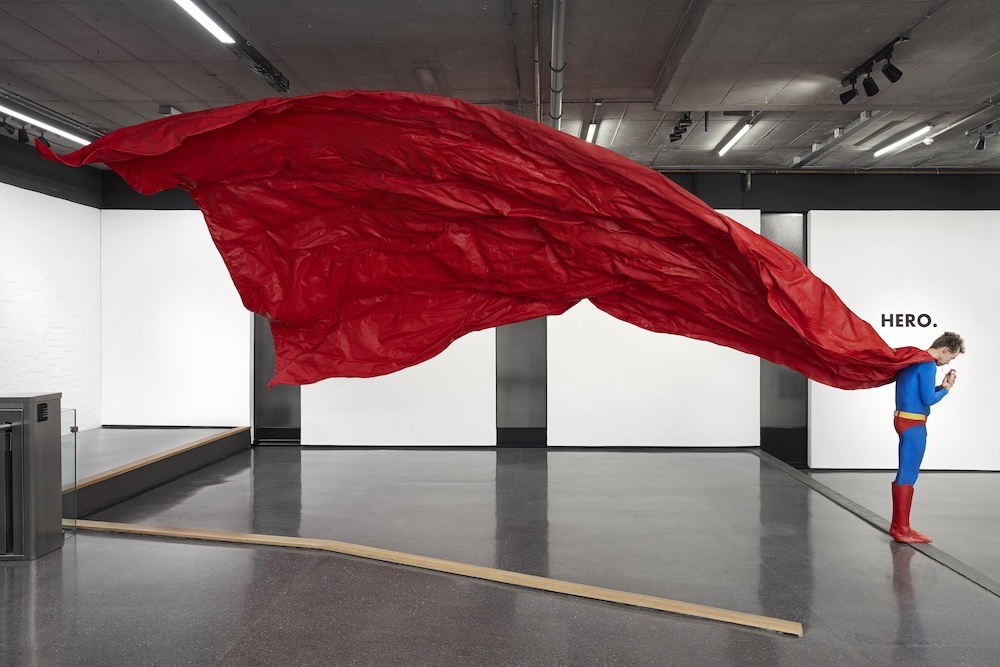 Lot 26 | Ed Young, Hero | Estimate: 800 000 – 1 000 000
Contemporary collectors will also have a once-in-a-lifetime opportunity to view and acquire Cape Town conceptual artist, Ed Young's awe-inspiring sculptural installation titled Hero ­– a mesmerising rendition of the artist as superhero, or rather mildly dejected antihero ­– a challenge to the impervious, almighty, hero status of white masculinity.
Representative of Africa, right now, in the present and indeed into the future, this vibrant sale of over 100 lots is divided into two parts; a Live Auction and a Timed-Online auction – giving bidders two separate opportunities to participate. The Live Auction will go under the hammer at Aspire  Art in Johannesburg in a live, physical and live-streamed event on Wednesday, 22 June at 6pm. The Online-only Auction opens on Thursday 16 June and closes on Thursday 23 June from 6pm (lots will close in 30-second intervals).
Collectors and art lovers alike are invited to view the collection from Thursday 9 June. The Live Sale collection will be on view at Aspire Art Johannesburg, 32 Bolton Road, Parkwood, while the Online Sale collection will be on view at Aspire Art, Cape Town, 37A Somerset Road, De Waterkant. 
Buyers are invited to join for in-room bidding or make use of telephone or Aspire's real-time online bidding platforms. 
A fully illustrated auction catalogue is available online.