Aspire Art is honoured to offer art lovers a rare opportunity to acquire works of art from the private collection of the late Marilyn Martin. Included are works by Walter Battiss, Lisa Brice, Peter Clarke, Dan Halter, Louis Jansen van Vuuren, William Kentridge, Azaria Mbatha, Fanlo Mkhize, Brett Murray, Dan Rakgoathe and Cecily Sash amongst others.
Celebrating Martin's passion for art the dedicated auction IMPRESSIONS: Works from the Marilyn Martin Collection, will run online from 22 June to 4 July.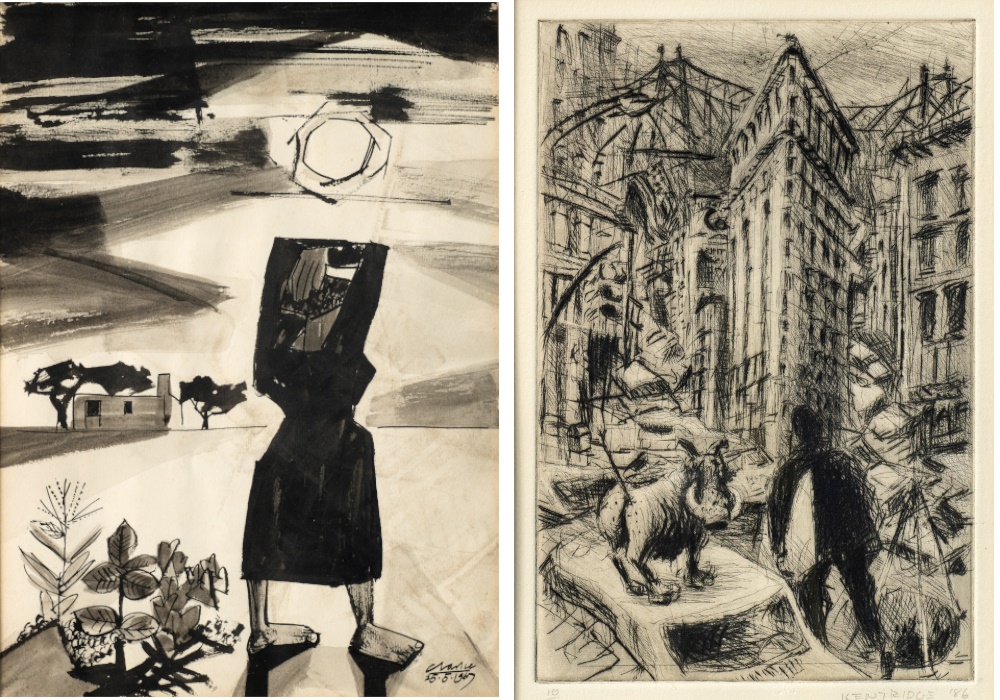 LEFT | Lot 1 | Peter Clarke | Woman in a Landscape | Estimate: ZAR 12 000 - 18 000
RIGHT | Lot 2 | William Kentridge | I am still Learning | Estimate: ZAR 60 000 - 80 000
Marilyn Martin played an extraordinary role in the art and cultural life of South Africa. After eleven years as the Director of the South African National Gallery from 1990 until 2001, she was appointed Director of Art Collections for Iziko Museums of Cape Town. During her tenure, the National Gallery presented many pivotal exhibitions including William Kentridge's celebrated retrospective 2002 and important large-scale group exhibitions such as, A Decade of Democracy: South African Art 1994-2004 from the Permanent Collection of Iziko South African Gallery, curated by Emma Bedford in 2004 and Scratches on the Face: Antiquity and Contemporaneity in South African works of art from Iziko Museums of Cape Town (2008-08) curated by Hayden Proud.
Martin has curated exhibitions of South African art in Mali (1994 and 1996), Denmark (1996), France (1997), the USA (2002 & 2003) and at the 2002 São Paulo Biennale. She was co-curator for the exhibition Picasso and Africa, which was held at the Standard Bank Gallery and the Iziko South African National Gallery in 2006.
Following her retirement from Iziko Museums in 2008, she worked as an independent writer, curator, lecturer and as senior scholar at the Michaelis School of Fine Art, University of Cape Town, lecturing in Visual and Art History.
Martin wrote many articles on art, architecture and culture for national and international publications. Her biographical listings include Who's Who of Southern Africa and The International Who's Who of Women. In 2002 Martin was admitted to the Legion of Honour of the Republic of France at the rank of Officer and in 2013 she received the medal of the Fondation des Alliances Française in Paris.
In 2010, Martin edited the catalogue for the exhibition A Vigil of Departure: Louis Khehla Maqhubela, a Retrospective, 1960-2010 and is the author of the book Between Dreams and Realities - A History of the South African National Gallery, 1871-2017, published in 2019.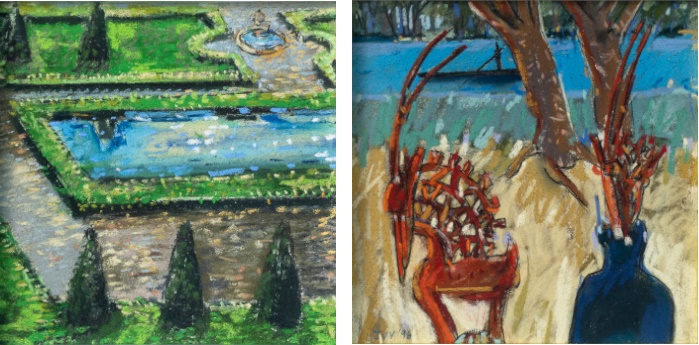 LEFT | Lot 24 | Louis Jansen van Vuuren | Gardens | Estimate: ZAR 2 000 - 4 000
RIGHT | Lot 23 | Louis Jansen van Vuuren | Tchiwara in the Park | Estimate: ZAR 3 000 - 4 000
The collection on offer features several works reflecting the warm and personal relationships Marilyn Martin held with many South African artists. Louis Jansen van Vuuren, a close friend, fondly remembers that he produced Tchiwara in the Park after he visited Mali with Martin, where she was a speaker at the African Photography Biennale, Bamako Encounters in 1996.
Many other artworks, including those by Lippy Lipshitz, Karin Skawran, Omar Badsha and Braam Kruger include personal dedications and works by artists such as Dan Halter and Claire Gavronsky were personal gifts.
IMPRESSIONS: Works from the Marilyn Martin Collection, is a unique opportunity to acquire significant works from this special collection. Bidding opens on Thursday, 22 June at 11 am and will run until Tuesday, 4 July, with lots beginning to close at 6 pm. 
LEFT | Lot 16 | Dan Halter | Safe as Fuck | Estimate: ZAR 70 000 - 90 000
RIGHT | Claire Gavronsky | Behind the Mind | Estimate: ZAR 20 000 - 30 000
---
Auction
IMPRESSIONS: Works from the Marilyn Martin Collection |Timed-Online Auction
22 June - 4 July 2023
Discover more from IMPRESSIONS
SALE ENQUIRIES
Cape Town: +27 21 422 5100 | ct@aspireart.net