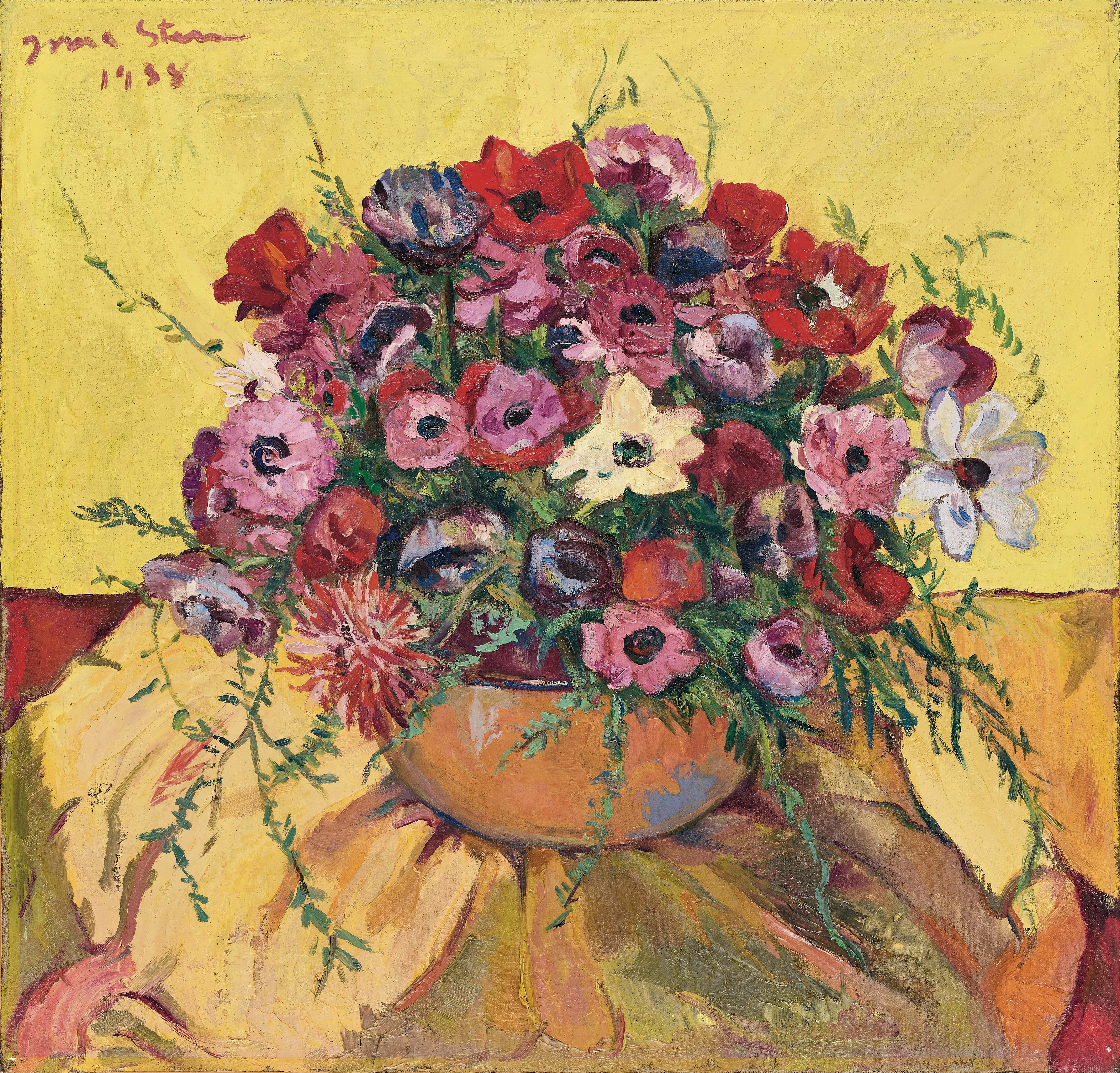 LOT 47 | Anemones | Estimate: ZAR 5 000 000 - 7 000 000
The owner of this enchanting flowerpiece won it on a raffle organized to raise war funds. Stern, who gave family and friends her works with some reluctance, was generous in this donation.
Irma Stern's garden at her home 'The Firs' in Rosebank, Cape Town was an important and tranquil sanctuary to the artist. She worked tirelessly planning and creating the lush exterior, bursting with colour and abounding with blooming flowers year-round. The same exuberance was mirrored in the interior of her home, where walls were often painted in magnificent, yet unconventional colours and the artist's substantial collection of African sculptures, prayer mats, antique vessels and oriental and medieval objects was on display.
While many of Stern's paintings were derived from her extensive travels, her home was important and her vivid still-life studies ­– largely constructed from objects and flowers in her private space – occupy a substantial place within the artist's oeuvre. Flower pieces, in particular, attests to her love of her garden and show something of the way she lived, surrounded by beauty, colour and flowers. Indeed, this wonderful painting of anemones embodies much of the artist's exuberant and bold character.
The floral arrangement, occupying almost the entire picture plane, is bursting with radiant hues. The warm pink, red and purple tints of the flowers and complementary greens of the untidy foliage are offset by the brilliant yellow of the draped cloth below and the wall behind. The painting is undoubtedly an assertive celebration of colour and painterly texture.
The work also points to other aspects of Stern's private life. The artist kindly donated Anenomes (1938) to a raffle organised to raise war funds. While Marion Arnold, author of Irma Stern: A Feast for the Eye, points out that Stern gave works to family and friends with some reluctance, she did in fact support the war and other efforts willingly. In Remembering Irma, Mona Berman confirms that Stern would donate works to the war effort whenever given the opportunity or called on. Later, in 1958, the artist also donated a work to the Treason Trail Defense Fund when Freda Feldman (Richard Feldman's wife and Stern's friend) asked her to assist.
What is clear is that Stern did support critical causes. As a German-Jew who spent much of her formative years living in Germany and who, in the 1930s, still had family there, Stern would have been acutely aware of the horrific anti-Semitism in the country. She had expressed her fear in a letter to her friend Trude Bosse in 1933, "I get terribly frightened when I think of Germany's future – so much hatred that has to be overcome".[4] Five years later in 1938, the year Anemones was painted, Stern's concern for the Jewish community is evidenced in a letter to her friends the Feldmans. "Today mother and I went out to Lady Phillip's farm in Somerset West to try and arrange some important matter for the Austrian and German Jews". J.B.M Herzog and Jan Smut's United Party government had, in 1937, introduced the Aliens Bill which prevented further German-Jewish immigration into South Africa. Stern continued, "Shall let you know if anything comes out of it – would be most important".
After 1938, growing anti-Semitism and the Second World War prevented Stern from travelling to Europe until 1947. This magnificent flower piece was painted at a moment when Stern's life was about to shift dramatically. It is vibrant and rich in colour and offers a window to the artist's exuberant personality and private life at 'The Firs'. But, its history also points to an important story of the artist's inner world and her worries and concerns within turbulent and troubling times.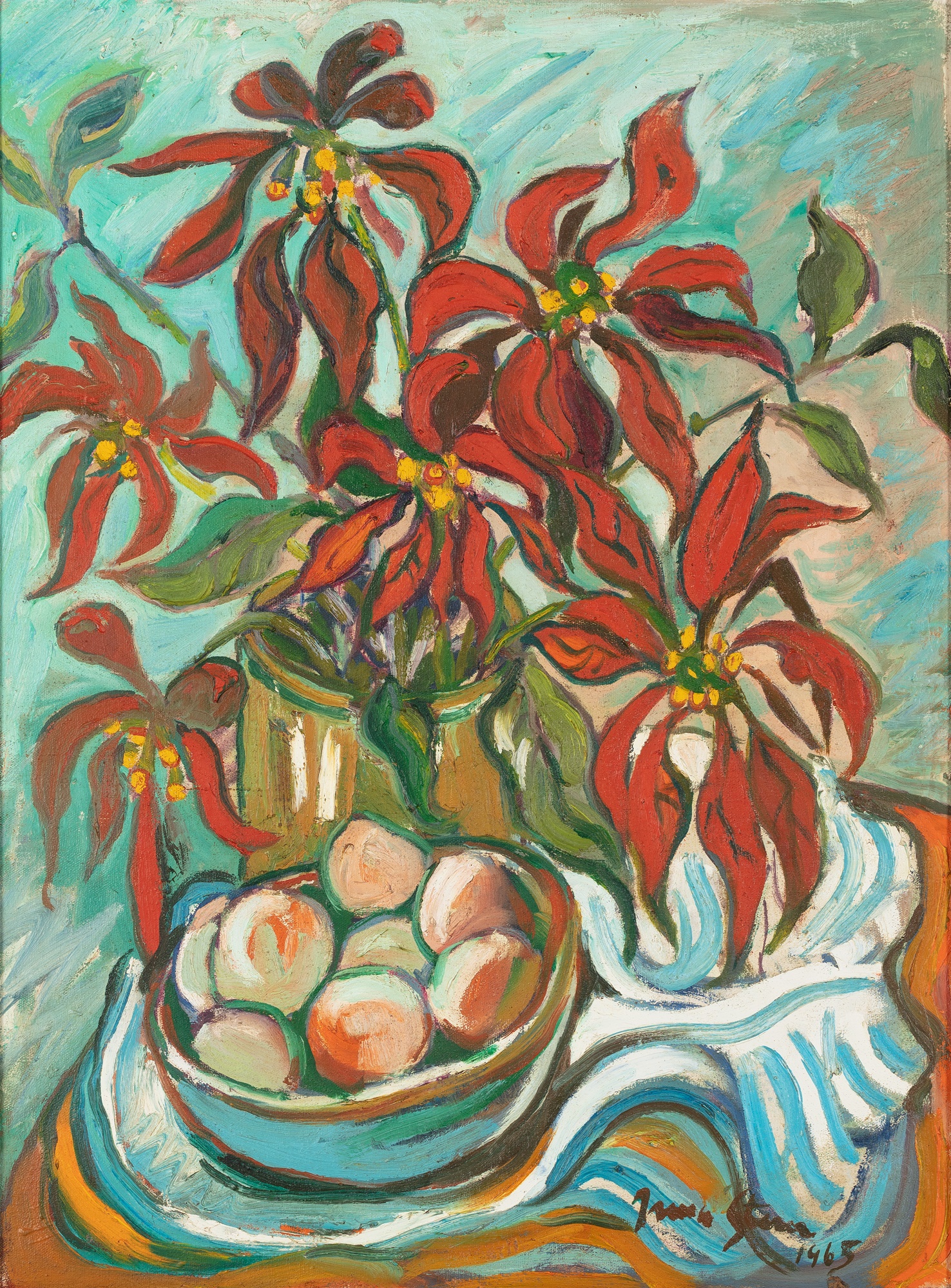 LOT 71 | Still life with Poinsettias | Estimate: ZAR 2 000 000 - 3 500 000
Throughout her life, Irma Stern retained a deep interest in producing still-life paintings, noting on one occasion that she wished it were daytime as she badly wanted to return to her studio to work on a series of compositions centred on flowers. Like Still life with Poinsettias with its exuberant display of unruly petals cascading forward as though to embrace the viewer, these paintings often include fruit, flowers and cloths placed in seemingly random arrangements that augment the sense of energetic spontaneity imparted through Stern's lyrical juxtaposition of saturated colours and her organic strokes of thick, impasto oils.
Over time, as Stern grew less interested in markers of space and place, she used her life-long interest in still life painting to explore increasingly abstract, pictorial interests. Although keenly attentive to the spatial and compositional relationships between the different forms she chose to include in her works, she used these relationships to heighten the tension between asserting illusionistic depth and affirming the surface of the canvas.
 In Still life with Poinsettias Stern's palpable delight in exploring these ambiguities is apparent, most obviously, in her decision to mask the corner of the table behind the vase of flowers, a technique she favoured in countless compositions. In combination with the high viewpoint, this leads to a flattening of the pictorial space. But given the extraordinary sophistication of Stern's vision, here as in many of her other works, she reasserts a sense of depth by placing a bowl of fruit in the foreground, thereby also anchoring the blue and white cloth scattered across the table.     
Since poinsettias naturally flower in winter, this painting probably dates to June or July 1965 and, given their fragility once cut, they were presumably from Stern's garden in Rosebank rather than Cape Town's Adderley street flower market.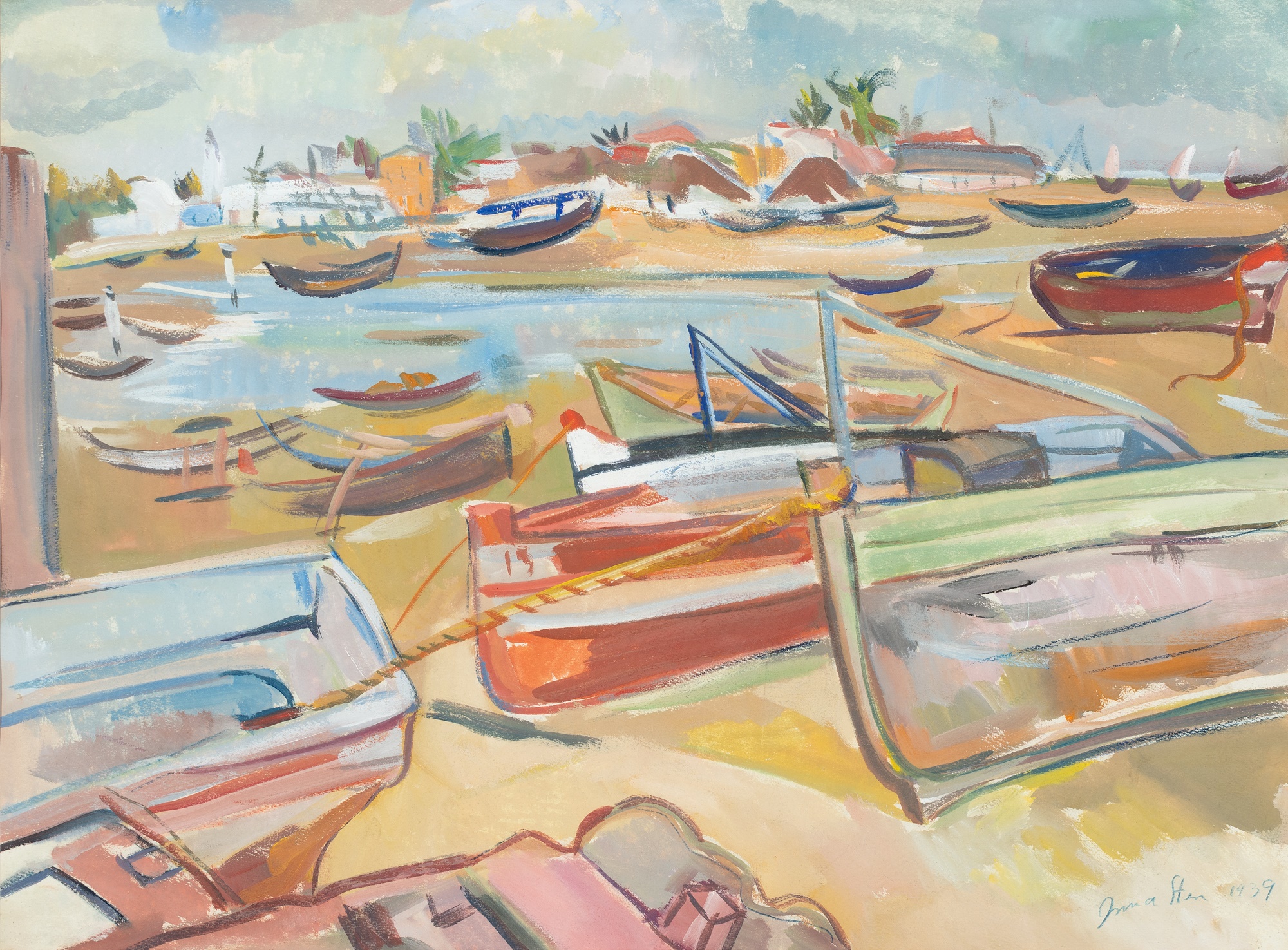 LOT 46 | Boats, Zanzibar | Estimate: ZAR 900 000 - 1 200 000
Although Stern often produced lively pencil sketches to record the people and places she encountered while travelling both locally and abroad, she always relied on gouache to capture the immediacy of her response to the experience of light and colour in sun-drenched landscapes and coastal venues. In Stern's gouache depicting fishing boats on a beach in Zanzibar, the high vantage point reinforces this sense of immediacy, encouraging the viewer to enjoy the space as though physically present. Stern further augmented this impression through both the daring truncation of boats in the foreground and the hazy addition of white-washed buildings and palm trees in the distance.
At once lively and tranquil, this scene was recorded during Stern's first visit to Zanzibar, which coincided with the outbreak of the Second World War in September 1939 when intercontinental travel had all but ceased. While this affords a plausible explanation for the artist's decision to visit an island on the east coast of Africa, according to Stern it was her childhood memory of the stories recounted by the family's Zanzibari cook that prompted her decision to go there. Then a British Protectorate, Zanzibar was described in a brochure dating to the 1930s as a remote but interesting landmark populated by a picturesque mix of people.
On her return to Cape Town Stern provided an enthusiastic account of her trip, including references to members of the different Muslim communities she had encountered and painted while in Zanzibar. Most were from the prosperous communities living in Stone Town, but she also recorded some of the local fishermen, many of whom lived in Ng'ambo ('the other side', in Swahili), the settlement across the creek from the island's historic centre. It is possible that Stern captured this scene of haphazardly tethered fishing boats against a shallow stretch of water while looking back from Ng'ambo to Stone Town.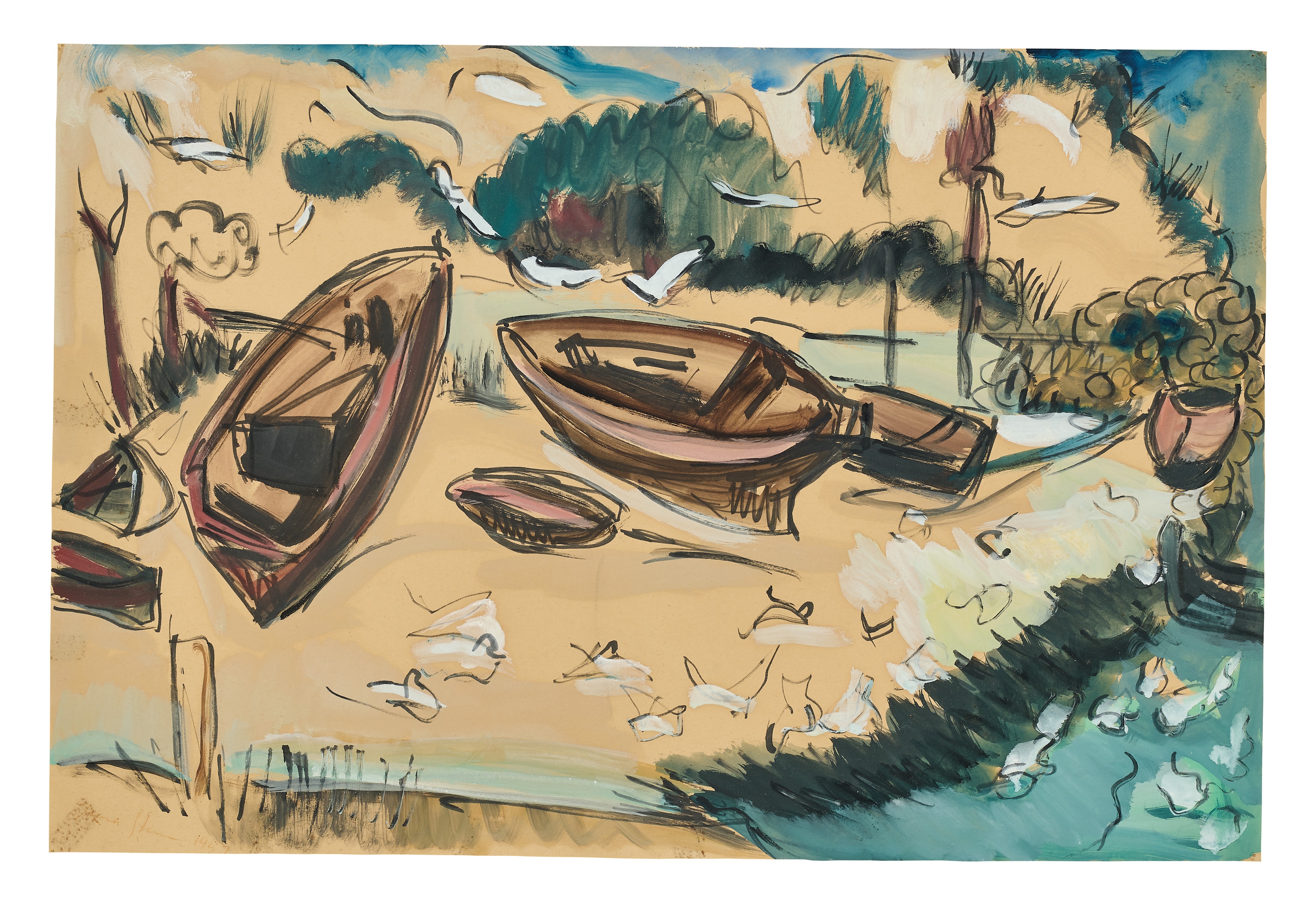 LOT 51 | Boats and Birds | Estimate: ZAR 50 000 - 70 000
---
The auction takes place on Wednesday 30 November at 6 pm.
Collectors and art lovers alike are invited to view the collection at Aspire Art Johannesburg, 32 Bolton Road, Parkwood from Friday 25 November.
Buyers are invited to join for in-room bidding or make use of telephone or Aspire's real-time online bidding platforms. 
A fully illustrated auction catalogue is available online.