A pioneer of Black Modernism in South African art, George Pemba is regarded for his enduring compassion in depicting the lived realities of his people. Proud of his Xhosa heritage and culture, Pemba, like his 'thirties generation' compatriots Gerard Sekoto, John Koenakeefe Mohl and Gerard Bengu, challenged the colonial gaze by offering a unique social realism of a people and their individual and collective joys and struggles. 
Aspire Art are proud to present three wonderful works by Pemba in their upcoming Live sale of 20th Century and Contemporary Art on 15 March in Cape Town. View the sale online.
Lot 13 | The Poet | Estimate: ZAR 350 000 - 500 000
This painting of a man in traditional dress has the title, The Poet inscribed on the reverse and is likely a portrait of Samuel Krune Mqhayi (1875-1945). Widely recognised as the father of Xhosa poetry Mqhayi wrote numerous books of poetry and prose and is most known and celebrated for his authorship of several stanzas to Nkosi Sikelel' I-Afrika (God Bless Africa) which was originally composed by Enoch Sontonga in 1927.
George Pemba met Mqhayi sometime in the late 1930s or early 1940s and the poet made a great impression on him. The artist often visited Mqhayi at his home near King William's Town in the Eastern Cape. The two became firm friends and in 1941 Pemba completed a portrait of Mqhayi. The work was displayed in the gallery at what is now the University of Fort Hare (originally the South African Native College) and depicted Mqhayi in traditional Xhosa dress – as in The Poet painted nearly 20 years later in 1970.
Interestingly, Pemba painted a portrait of another prominent Xhosa intellectual in the 1970s, completing The Rev. John Knox Bokwe (late) in 1978[1]. Bokwe (1855-1922) was a religious leader, educator, journalist, celebrated hymn writer and central figure in the foundation of the University of Fort Hare in 1916. Pemba himself was also a notable writer and penned at least two staged plays; The Story of Nonquase and Ntsikana, the Xhosa Prophet (1968). He was deeply interested in Xhosa history, mythology and literature and portraits of renowned individuals such as Mqhayi and Bokwe attest to his passion and the high regard he had for these early Xhosa literary figures.
---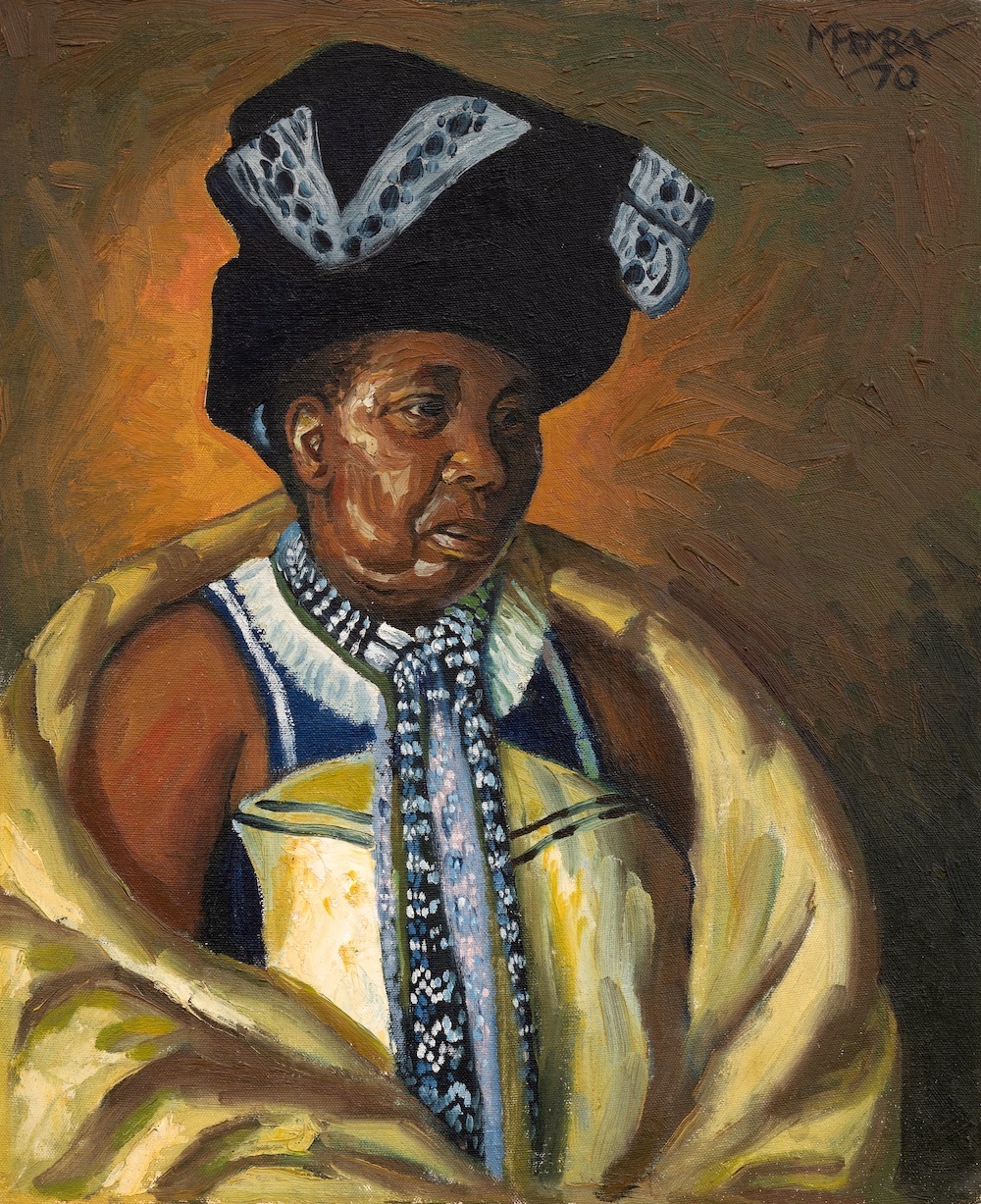 Lot 12 | Transkei Woman | Estimate: ZAR 350 000 - 500 000
In 1931 a sitter for one of George Pemba's portraits told him "But I never thought you could paint souls!". Pemba's ability to create psychologically charged and empathetic portraits has established him as a celebrated artist of the genre. In Transkei Woman the sitter meets our appraisal with a calm, measured and contemplative gaze bringing into sharp focus Pemba's exceptional skill as a portrait painter and also his deep interest and passion for traditional African heritage.
In his diary in the 1940s Pemba wrote "I was always able to put myself in the place of another person, and this ability helped me a great deal in building up my art. I think, that one must be like this if one wants to create truthfully". Pemba's deep interest in human nature allowed him to capture the psychological aspects of his subjects and this small, intimate portrait of a Transkei Woman emanates with a deep sense of reverence and the respect the artist, no doubt, held for the elder.
Although urban born and bred and the product of a Christian middle class upbringing, Pemba maintained a great pride in African heritage. In 1944, he secured a grant from the then Bantu Welfare Trust and embarked on a grand tour across South Africa. Interested to see how different people lived, the artist wanted to "capture the soul of the South African peoples in their natural surroundings". He recalls, "This loan was intended to enable me to see the beautiful plains and mountains of my own land, as I felt I could no longer tolerate being shut up in an office. I longed to see the Zulus, from whence the Xhosas originated, and the Basutos, the original people….I belong to the Ngquosini tribe, the river people, who fled Moshoeshoe, and joined the Xhosas many years ago". Pemba painted many portraits and works portraying traditional life after this early trip and the genre would become an important part of his oeuvre throughout his life.
---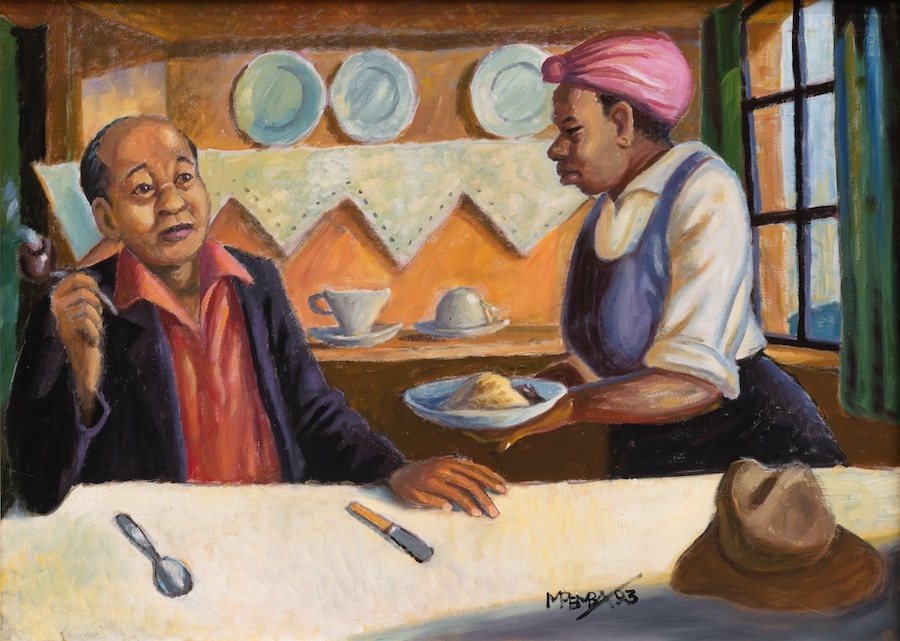 Lot 14 | Breakfast | Estimate: ZAR 250 000 - 400 000
George Milwa Mnyaluza Pemba created this intimate domestic scene of a woman offering a man a plate of food for breakfast late in his life. Painted in 1993, the artist was already 81 years old.
A pioneer of Black Modernism in South Africa, Pemba today occupies a unique place in the country's art historical canon. However, while his artistic production spans over seven decades widespread recognition only came to the artist towards the end of his life.
By 1987 Pemba noted in his diary that he had appeared several times on TV and was showing works at Fort Hare and Zululand Universities1. In 1989 he was also included in the prestigious Neglected Tradition exhibition curated by Steven Sack at the Johannesburg Art Gallery. The most dramatic shift was, however, after his exhibition at the Everard Read Gallery in Johannesburg in 1991. The sales from this show enabled the artist to buy a new house and convert the garage into a studio. For the first time in his life Pemba had a real studio and serious recognition. Breakfast, painted only 2 years later, was thus created at a time when, although suffering from ailments associated with old age, the artist had finally reached a point where he could celebrate the recognition afforded him and dedicate himself entirely to painting.
A compassionate observer of people, Pemba became a visual chronicler of the joys and sorrows of township life, often painting interiors describing social relations. In Breakfast he shows the woman bringing nourishment – as an active carer – and this is a theme often repeated. Both Peeling Potatoes (1987) and Gossip at the Hearth (1993), for example, illustrate women bringing warmth into domestic spaces. The subject may raise issues of ascribed family roles in the maintenance of urban households but, importantly, also brings attention to Pemba's recognition of women as the ones who brought comfort to and bound his community.
---
Auction
DATE | Wednesday, 15 March 2023 at 6 pm
VENUE | 37A Somerset Road, De Waterkant, Cape Town,
AUCTION PREVIEW | 11 – 15 March 2023
SALE ENQUIRIES 
Marelize van Zyl: marelize@aspireart.net
Sarah Sinisi: sarah@aspireart.net
---