Although Dumile Feni worked in different disciplines including painting and sculpture, drawing was the artistic talent he engaged in for the longest time. The artist began creating drawings from the age of 6 and it was to become a most fundamental and well-loved part of his practice.
Feni was constantly drawing throughout his formative years and it was part of his daily routine into adulthood. As a young boy, he would sketch before he did anything else in the morning be it talking or eating. This was an unusual habit that intrigued his parents who eventually made sure that he had paper and a pen before they went to bed.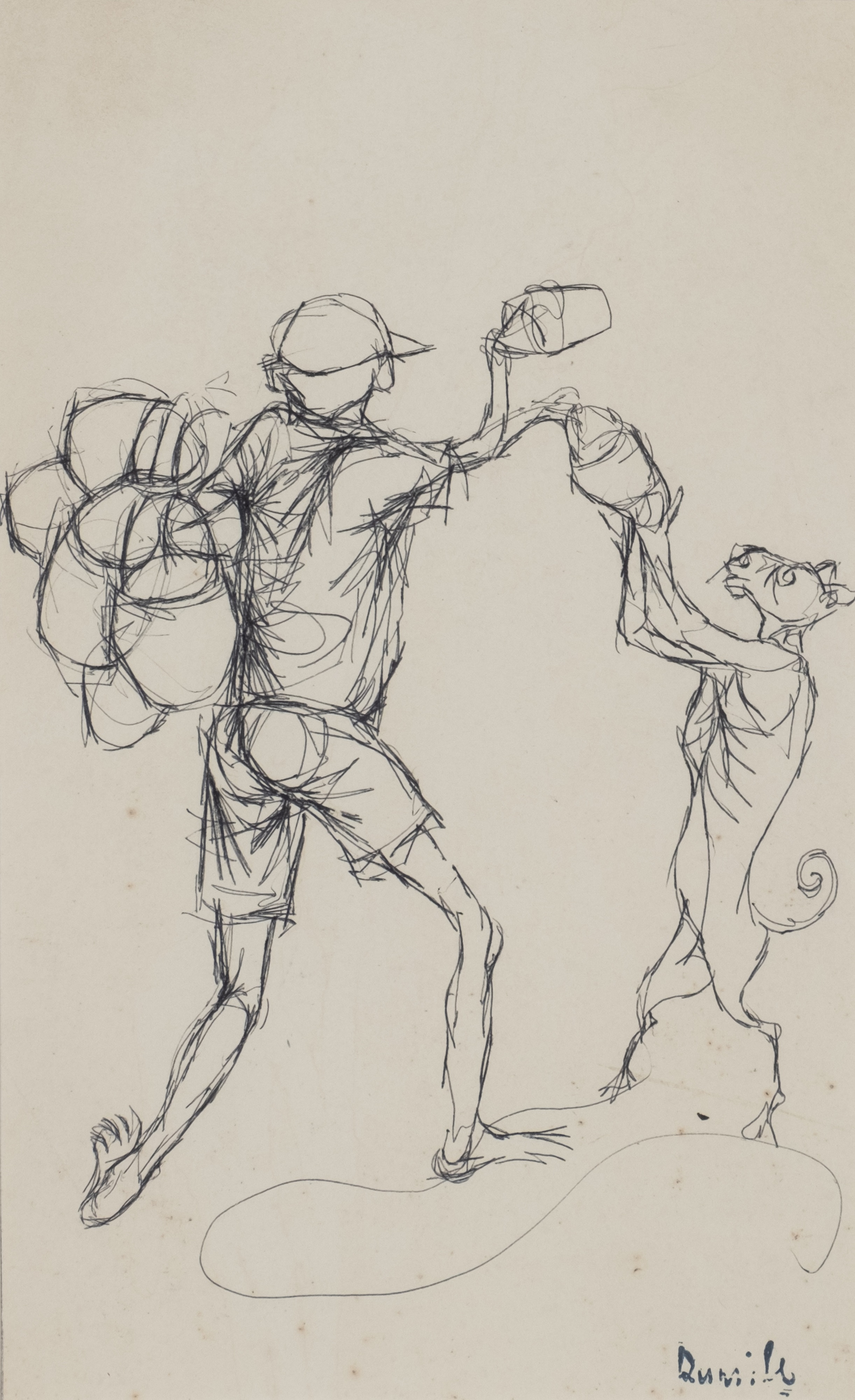 LEFT| Lot 44 | Drawing No. 7 (Babies on backs) | Estimate: ZAR 8 000 - 12 000 
RIGHT| Lot 48 | Untitled (Promenade) | Estimate: ZAR 7 000 - R10 000
Drawing the world and the people around him continued to play a pivotal yet informal role throughout Feni's life until his early 20s when he began to see art as a career rather than a habit. In 1963 the artist suffered from Tuberculosis which saw him being admitted to the Charles Hurwitz South African National Tuberculosis Association (SANTA) Hospital in Johannesburg. During his time as a patient, Feni received art materials which he used to paint murals in the hospital with fellow artist Ephraim Ngatane. It was around this time when he met other artists such as Louis Maqhubela and Cecil Skotnes who further nurtured his artistic career and essentially motivated him to become an artist.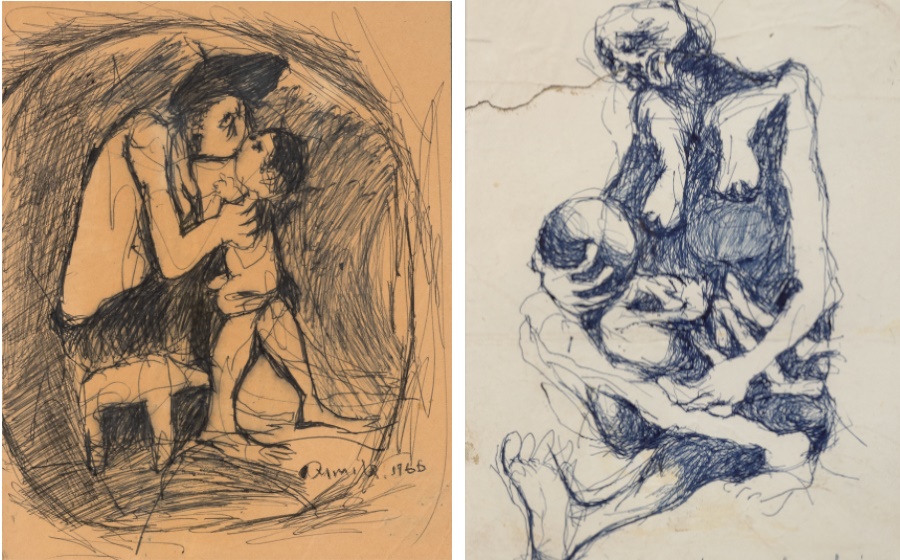 LEFT| Lot 46 | Seated mother and child | Estimate: ZAR 8 000 - 12 000 
RIGHT| Lot 47 | Dierbaar Oë Kriers | Estimate: ZAR15 000 - R20 000
While he was beginning to build a thriving career in South Africa, Feni was also deeply affected by the oppressive apartheid regime in South Africa and during the 1960s his drawings began to depict the harsh realities of black South Africans. Fearing harassment from the apartheid forces, he made the difficult decision to go into exile in London.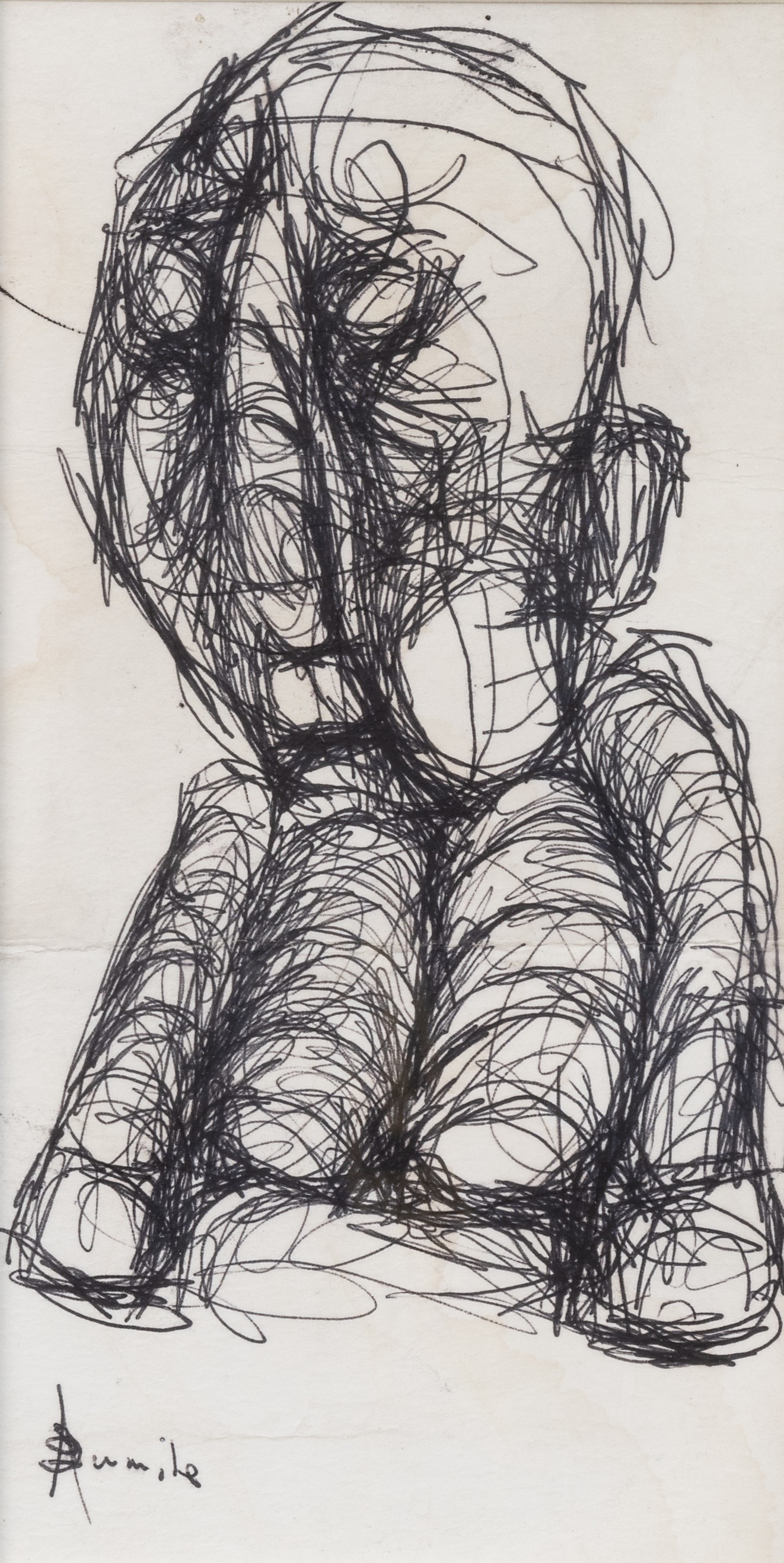 Lot 45| Untitled Portrait | Estimate: ZAR 7 000 - 10 000
Desmond Fisher, an entrepreneur with a great interest in South African art who was a patron of modernists such a Sydney Kumalo, Cecil Skotnes and Ezrom Legae also developed a deep respect for Feni's work. In 1968 before Dumile Feni left South Africa, Fisher bought a small suitcase with several drawings which aided Feni when he left South Africa. Many of these drawings featured in the Dumile Feni exhibition at the Standard Bank National Arts Festival in Makanda 1991 co-curated by Fisher and his friend and advisor Linda Goodman of the Goodman Gallery.
A selection of delicate drawings from the Fisher collection are included on Aspire Art's current Timed-Online auction, 20th/21st Century Classics. View the Dumile Feni works here.
Mtha Poni
---
Auction
20th/21st Century Classics|Timed-Online Auction
22 June - 4 July 2023
Discover more from 20th/21st Century Classics
SALE ENQUIRIES
Cape Town: +27 21 422 5100 | ct@aspireart.net
Johannesburg: +27 10 109 7989 | jhb@aspireart.net