Aspire Art Auctions invites you to choose the gift of art this holiday season with the Summer Collection sale of Modern & Contemporary Art and Books.
The Timed-Online Auction offers art lovers and collectors amazing and attractively priced works by young and established artists. The assortment of styles, subjects and media represented in the collection samples a cross-section of eras and popular genres in the history of South African art.
Georgina Gratrix, Flowers for my Fucked Up Friends
Among the great collection of paintings on offer is a rare watercolour still-life by contemporary art star Georgina Gratrix. Her idiosyncratic style is echoed here by Jason Bronkhorst, who has a set of lush and colourful portraits in the sale. Their contemporary work is underscored by modernists, Durant Sihlali, Johannes Meintjes and Keith Joubert who provide pleasing art-historical precedence to the younger artists.
Asanda Kupa, Huddled Figures
Buyers bent on bidding for works that use art for social commentary will find it in good measure too in the paintings of Asanda Kupa and Faith47. Then there are marvels of contemporary painterly abstraction by the likes of Lucy Jane Turpin, Zolile Phetshane and their modern counterparts, Arthur Cantrell, John Piper and Fred Schimmel to name a few.
Among the lofty notable works on offer are historic drawings by some modern masters from Dumile Feni to Walter Battiss. Included is a work from Ezrom Legae's Chicken series, which finds fighting company in a selection of drawings by Judith Mason and sketch studies by Maggie Laubser; these provide rare insight into the late great artist's process.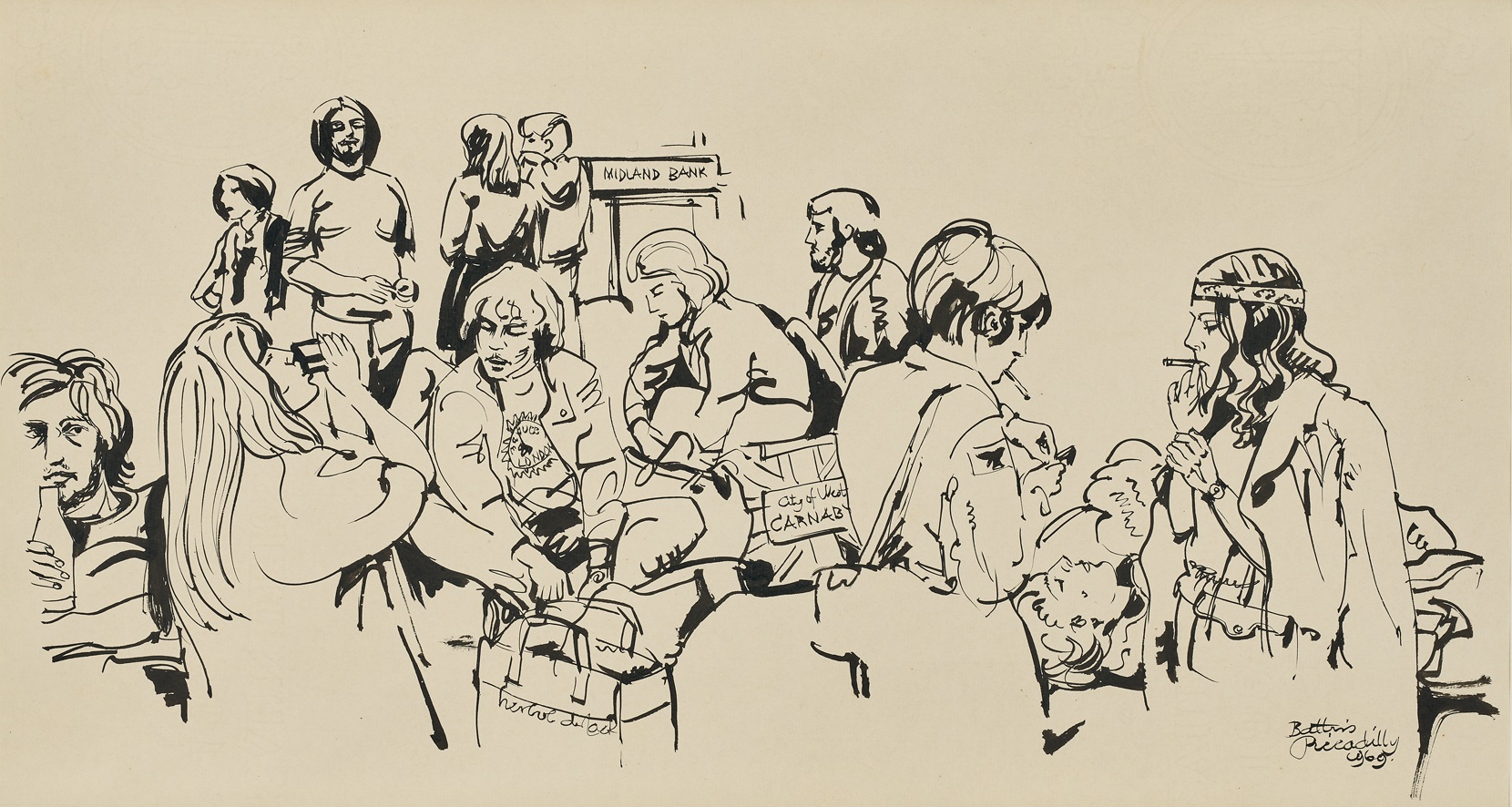 Walter Battiss, Picadilly
Those whose interests are moved by photography will find strong pieces to choose from. Mikhael Subotzky's exploration of prison life from his Beaufort West series, Bernie Searle's suite of lithographs  from her evocative Waiting series and Nandipha Mntambo's Praça de Touros V, feature in the collection.
Nandipha Mntambo, Praça de Touros V
Collectors of traditional works of printmaking will find a slew of amazing works to choose from too. Notable among these are a selection of  etchings by Sam Nhlengethwa, David Koloane and Ezrom Legae as well as a masterful woodcut by John Muafangejo, a member of the Rorkes Drift Craft Centre. They are a great choice for new and seasoned collectors alike. These works sit well alongside the delightfully detailed figures of young Lehlohonolo Mashaba and others.
Sam Nhlengethwa, Tribute to Dumile Feni

The sale has a decidedly playful theme running through it too. This is made so by the graphic works of Wayne Barker, Conrad Botes, Zander Blom and Paul Du Toit.
Apart from great artworks, collectors of art books will be happy to find a gorgeous selection of some of the most sought-after titles to bid on. Among them is the re-designed and expanded version of photographer David Goldblatt's influential book from 1973, On the Mines.
Catalogues, by Paul Nash, Lisa Brice and David Hockney along with a collection of books and catalogues of William Kentridge's various exhibitions are also on offer.
Look out for the catalogue surveying of the great Walter Battiss', I invented myself - The Jack Ginsberg Collection and the highly coveted photography titles like, Snap Judgements: New Positions in Contemporary African Photography (2006) by Okwui Enwezor, and  Figures and Fictions: Contemporary South Africa Photography (2011) by Tamar Garb and many others.
The Timed-Online Auction opened for bidding on Monday 6 December 2021. And will run until 13 December 2021. Lots will close for bidding from 6 pm.
Art lovers can view the entire collection, register and bid online at www.aspireart.net