Following the recent June openings of Zanele Muholi's major survey exhibition at Kunstforeningen Gl Strand in Denmark, curated in association with Tate Modern and Bildmuseet, and the artist's solo exhibition Somnyama Ngonyama at Fotografihuset in Norway, it is with much excitement that Aspire Art presents the striking photographic self-portrait titled Thulani I, Paris, 2014.
 
This work is part of the collection of photographic works that will be offered at Aspire's upcoming live auction in Cape Town in September 2022, alongside key 20th Century and contemporary artworks from Southern Africa.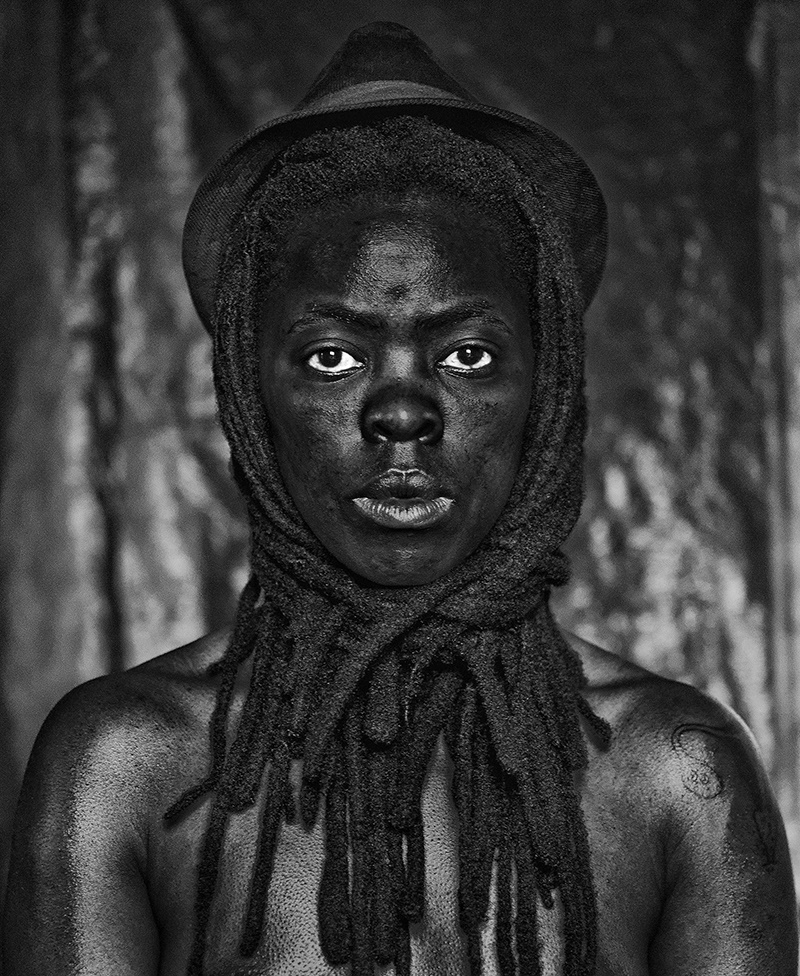 Thulani I, Paris, 2014 is part of the seminal Somnyama Ngonyama series, where Muholi has turned the camera around, creating portraits in which the artist is both participant and image-maker. Somnyama Ngonyama means 'Hail, the Dark Lioness', and is Muholi's personal approach as a visual activist to confront the politics of race in the photographic archive. For Muholi, it is a statement of self-presentation through portraiture.
 
This series sees Muholi experimenting with various archetypes and performing different characters, highly stylised and expressively  portrayed. These self-portraits were captured in different cities in America, Africa and Europe – part of the artist's own journey to imprint the memories and connections made with those places and people.
 
In the introduction of the Somnyama Ngonyama catalogue published by Stevenson Gallery in 2015, Muholi wrote: "In Somnyama Ngonyama, I have embarked on a discomforting self-defining journey, rethinking the culture of the selfie, self-representation and self-expression. I have investigated how photographers can question and deal with the body as material or mix it with objects to further aestheticise black personhood. My abiding concern is, can photographers look at themselves and question who they are in society and the position/s that they hold, and maintain these roles thereafter?".
Thulani I, Paris, 2014 was first exhibited in 2015 in the debut iteration of  Somnyama Ngonyama at Stevenson Gallery in Johannesburg. Images from the series rarely comes to auction and photographs by Zanele Muholi remains highly sought after.

Estimated at R150 000 – 250 000, this print is from a limited edition of only 8 and is accompanied by a Certificate of Authenticity.
 
For more information on the work, or to arrange a private viewing in Cape Town, contact Senior Art Specialist Sarah Sinisi: + 27 (0)21 418 0765 / sarah@aspireart.net
---