Aspire Art is proud to present three exquisite wood carved panels by the highly regarded and much-loved artist Cecil Skotnes, produced between 1960 and the late 1970s, an important time in the artist's career. 
 
These historically significant works will be offered at Aspire's upcoming live auction in Cape Town on 14 September 2022, alongside key 20th-century and contemporary artworks from Southern Africa.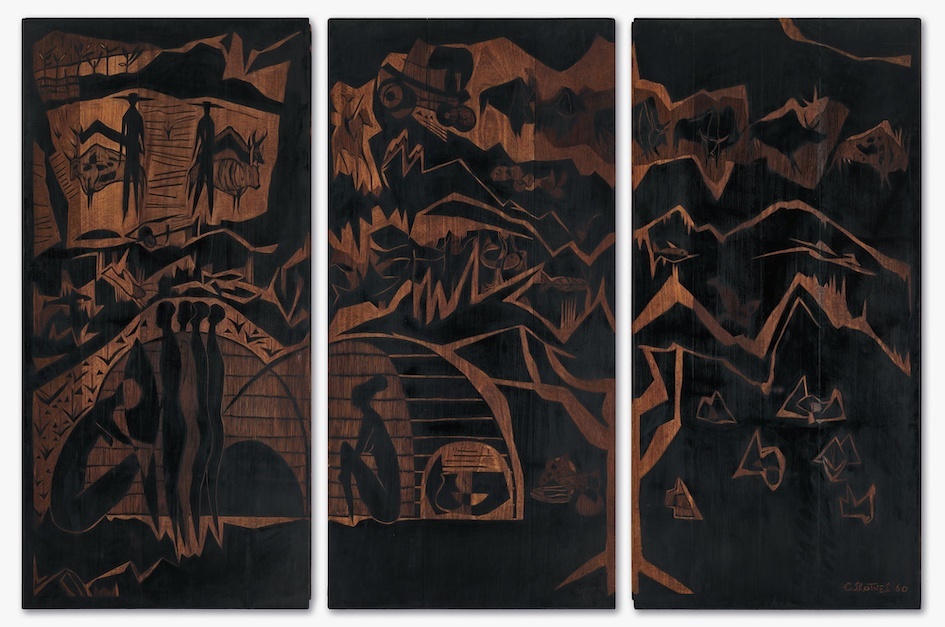 LOT 49 | Homestead, triptych | Estimate: ZAR 700 000 – 900 000 

Homestead (1960) is an exceptional large-scale work consisting of three panels and an outstanding example of Skotnes' unique and strongly graphic style. Here, the incised depressions reveal the natural colour of the wood in stark contrast to the raised, black stained and flat areas. Although Skotnes would later include browns and ochres, and then earthen reds and sandy yellows in these carvings, in his early wood panels he often only used the natural wood areas of black, white and grey.
 
In 1959, Skotnes entered his first wood panel into the São Paulo Art Biennial in Brazil where he represented South Africa. Homestead was produced only a year later and is a rare and early wood panel produced at a formative stage in the development of Skotnes' much-loved signature style.
Cecil Skotnes was not only one of South Africa's most outstanding artists but one of its most remarkable citizens. Impacted and influenced by fellow artists he met as a teacher and mentor between 1952 and 1965 at the Polly Street Art Centre, his empathy for humanity and his determination to make the world a better place for all, are evidenced not only in his commitment to educational initiatives, but in the courtesy and care he brought to his everyday dealings with those around him.
In the late 1960s, Skotnes received several significant public commissions in Johannesburg, most notably for Barclays Bank in Commissioner Street in 1966, the Hyde Park Shopping Centre and the Standard Bank Head Office both in 1969. These murals were not merely people-oriented, but human-centered works that provided insights into Skotnes' compassion for his fellow South Africans and his philosophy of life. 
LOT 45 | Figure Composition | Estimate: ZAR 400 000 – 600 000
 
Figure Composition followed in the 1970s. The work depicts a group of three figures standing upright and proud, facing forward. Together, with their arms intertwined in an embrace, they epitomise the Zulu phrase 'umuntu ngumuntu ngabantu', meaning that a person is a person through other people. With its roots in the humanist African philosophy, where the idea of community is one of the building blocks of society, the ubuntu concept of a common humanity and a sense of oneness between peoples is one that would no doubt have been central to Skotnes's beliefs and principles.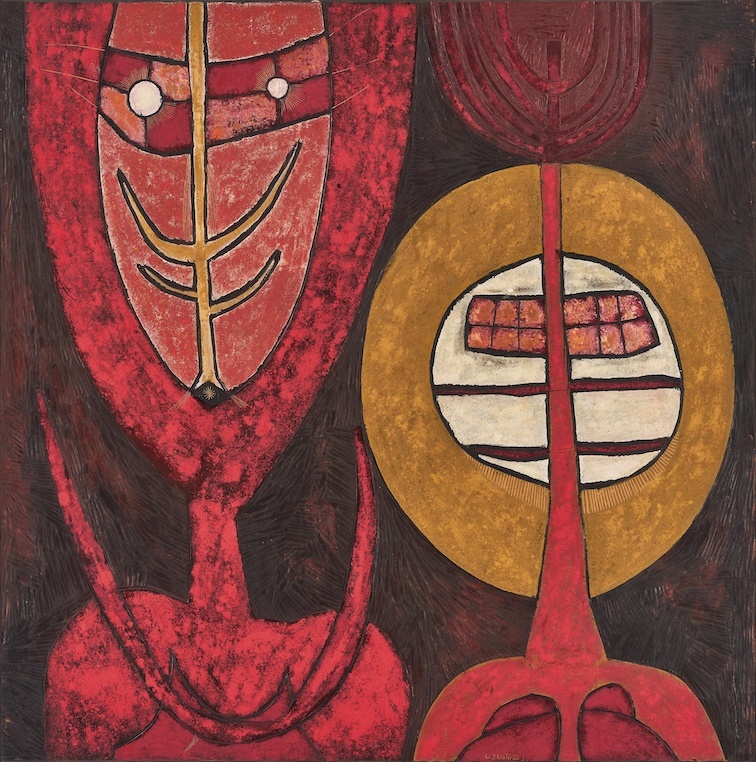 LOT 53 | Two Figures | Estimate: ZAR 350 000 – 500 000