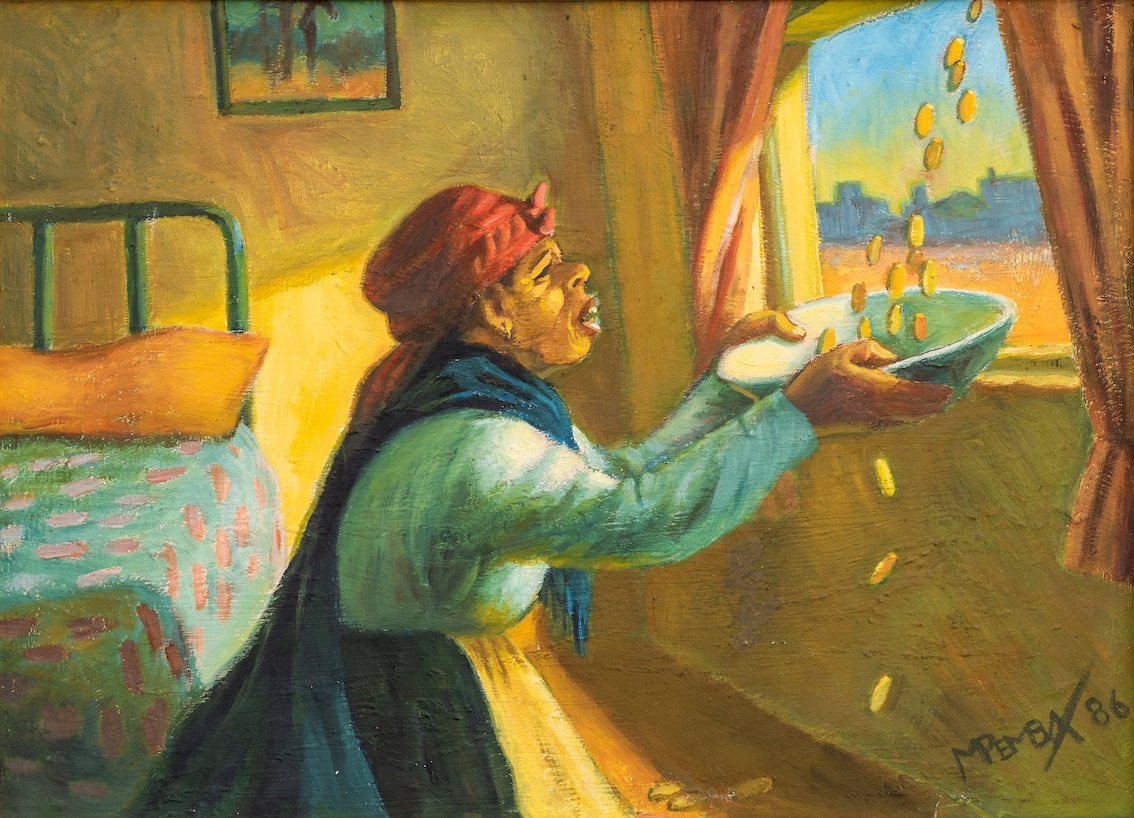 LOT 64 | George Pemba, Pennies from Heaven | Estimate: ZAR 300 000 – 400 000 
Forming part of the upcoming live auction 20th Century & Contemporary Art which is taking place in Cape Town on Wednesday, 14 September 2022, Aspire Art is pleased to present a specialist section focussed on Black Modernism.
 
Exposure to African art forms and cultures infused European Modernism, during the late 1800s to early 1900s, with new ideas and stylistic experimentation, recognised in post-impressionist and Cubist art.  In addition, African artists and intellectuals engaged in Modernist methodologies, which many readily integrated into their own practices. This productive exchange of ideas and the development of formal languages continued throughout and is equally evident in the art of black South African artists, those 20th-century pioneers, who created exceptional works during that time.
The seminal exhibitions Tributaries, curated by Ricky Burnett in 1985, and The Neglected Tradition: Towards a New History of South African Art, curated by Steven Sack at the Johannesburg Art Gallery in 1988, followed by Revisions: Expanding the Narrative of South African Art, from the Campbell Smith collection and curated by Hayden Proud at the Iziko South African National Gallery in 2005, aimed at redressing the unjust balance in South African art history, and signalled publicly the convergence and integration of the marginalised with the established.
The 2019 high-profile survey exhibition A Black Aesthetic: A View of South African Artists (1970 - 1990) curated by Dr Same Mdluli at the Standard Bank Gallery highlighted once more the overarching need and call to appreciate and cherish this historic chapter and its artists.
This needful reconsideration of South Africa's art history presented a major shift in the way work by black artists were presented, viewed, assessed, valued and handled, while establishing a new and important collecting category in the art market.
Aspire Art has firmly cemented itself as a champion of this collecting segment by continuing to develop value in this previously under-represented part of the South African art market by foregrounding, researching, and showcasing the brilliant work created by these artists.
Apart from debuting their work on auction and establishing new (and higher) market values, Aspire achieved a number of historical records for these artists including: the highest price for a drawing by Dumile Feni (over R1.2 million in 2017) and the highest price ever for works by sculptor Sydney Kumalo (above R1.9 million in 2017) and painter Helen Mmakgabo Mmapula Sebidi (R 455,200 in 2019). Amongst other notable names, Aspire also holds the records for works by: George Pemba, Peter Clarke and Julian Motau.
For the September 2022 auction, Aspire are proud to present an outstanding selection of works by some of the foremost artists representing South African Black Modernism. This collection is presented alongside the work of Edoardo Villa and Cecil Skotnes, their artistic camaraderie and leading figures of the celebrated Amdlozi Group with Sydney Kumalo and Ezrom Legae.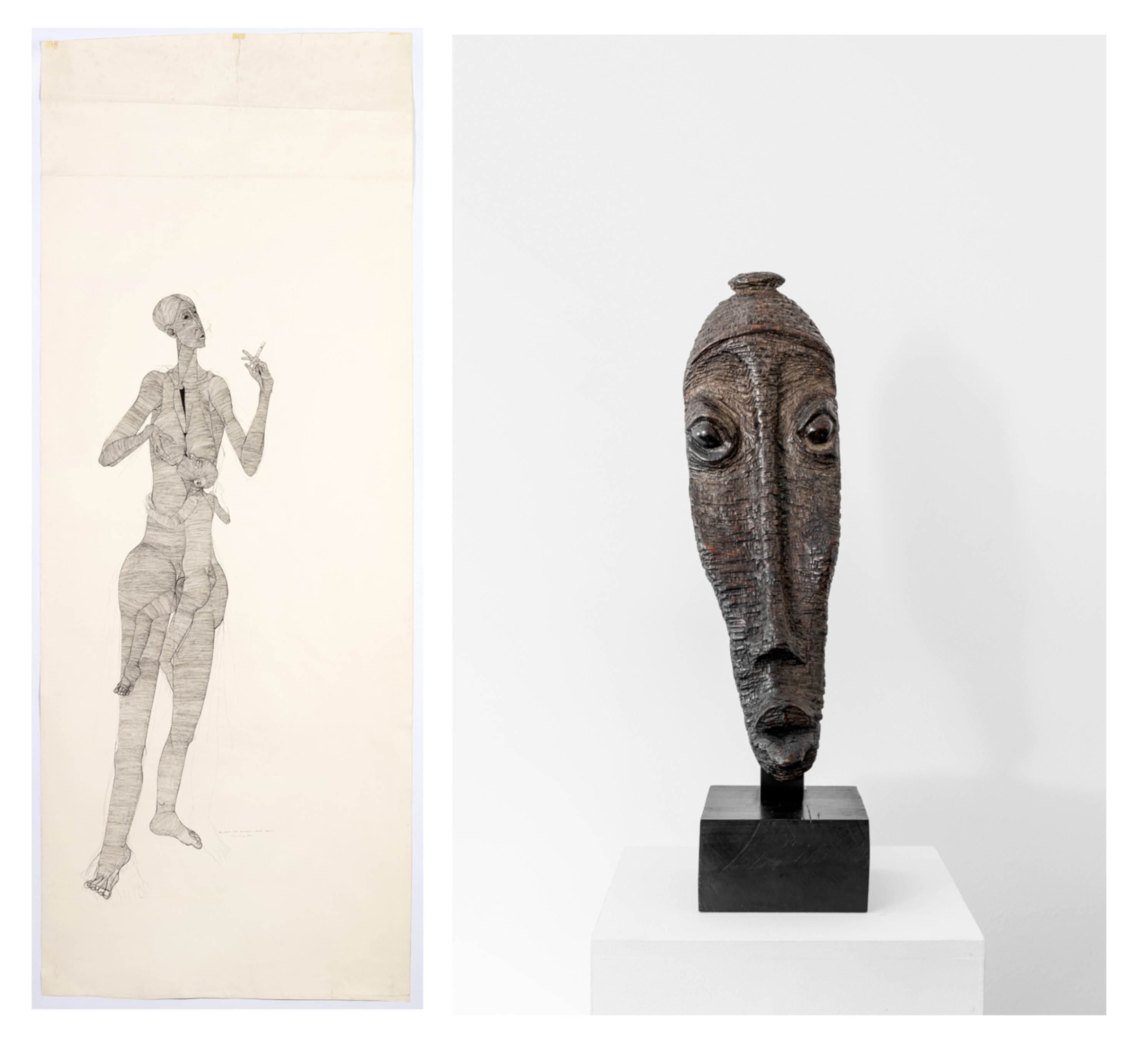 LEFT | Lot 61 | Dumile Feni, Mother and baby | Estimate: ZAR 900 000 – 1 200 000
RIGHT | Lot 58 | Lucas Sithole, African Mask LS6518 | Estimate: ZAR 250 000 – 350 000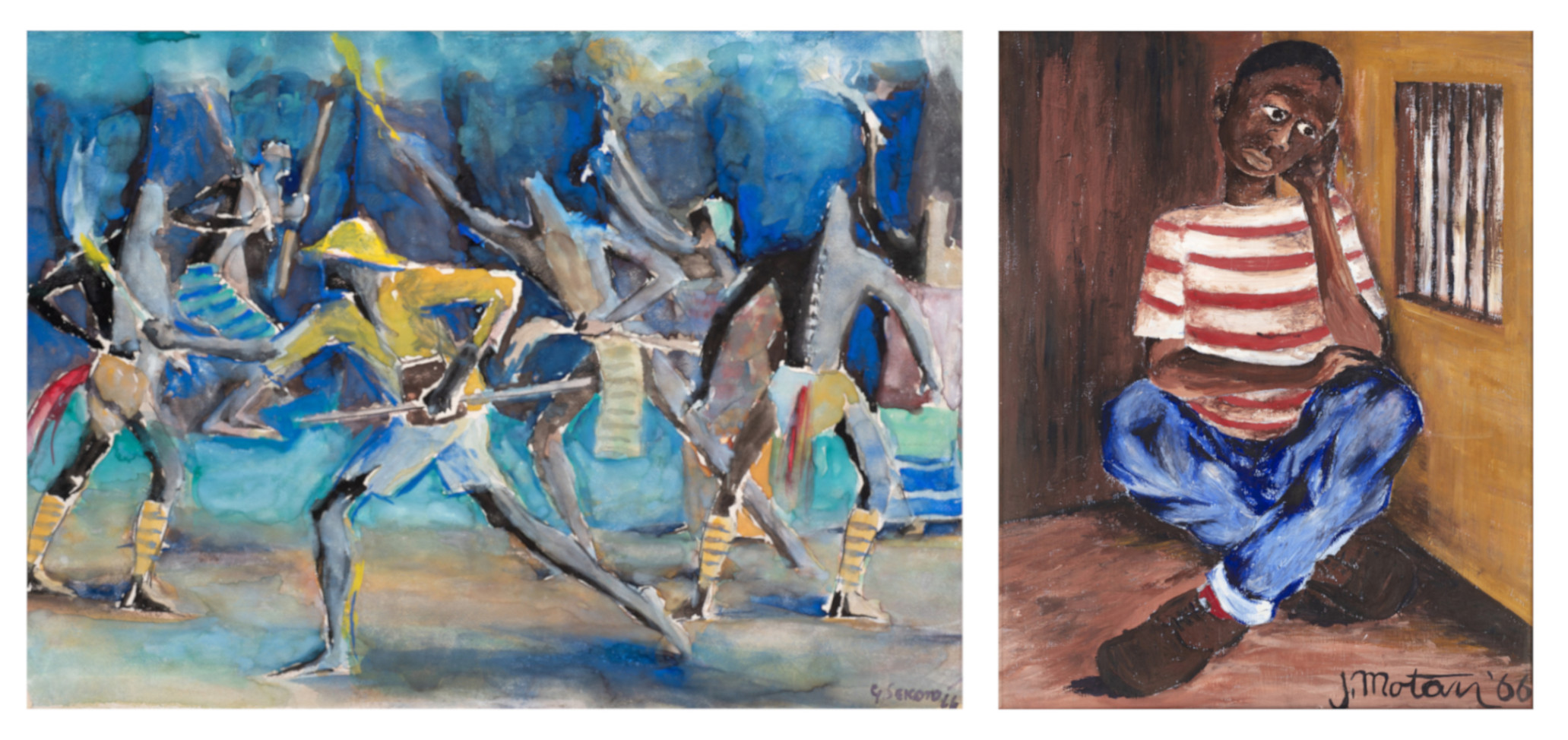 LEFT | Lot 63 | Gerard Sekoto, Casamance Dancers and Policeman | Estimate: ZAR 300 000 – 400 000
RIGHT | Lot 62 | Julian Motau, Prisoner | Estimate: ZAR 200 000 – 300 000 

LEFT | Lot 65 | Ephraim Ngatane, Pimville | Estimate: ZAR 80 000 – 120 000
RIGHT | Lot 57 | Sydney Kumalo, Reclining figure | Estimate: ZAR 20 000 – 30 000