We are currently in the midst of women's month in South Africa. This gives us a chance to reflect on the ways in which various women who are artists have used their voices to shape the way we think about the world, and how women experience it. 
I think we should think seriously about the meaning of Turiya Magadlela's work this week.  She is undeniably one of the key contemporary artists who foreground women's concerns with a unique vitality and elegance. 
Turiya Magadlela has pioneered a unique visual language that at once intersects discursive currents in both art history and the social reality of women in the world. 
Let's take for instance, this work titled Abstract 1 and 2 (from the Muhle Umakoti Esefika series), which is offered as part of our Online Modern & Contemporary Art and Books auction (view here).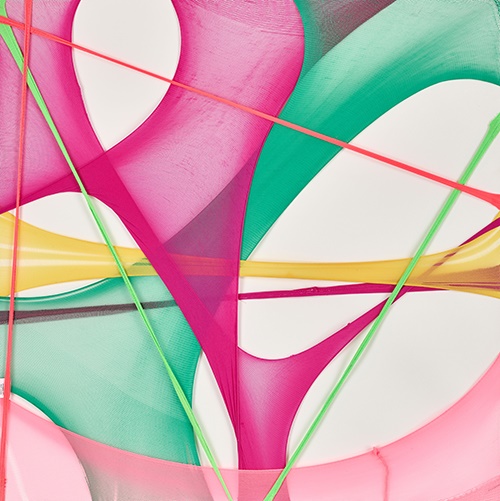 The work is made with nylon and cotton pantyhose and sealant stretched and arranged over on canvas. It's an assemblage that very much references the visual grammar of abstract expressionist painting. In this way, Magadlela calls us to revisit a key epochal moment in art history. By inflecting the obviously feminine medium like pantyhoses stretched across canvas, Magadlela calls us to witness the absence of women in the grand male-dominated story of modern art in general, and abstract expressionism in particular. Women painters like Grace Hartigan, Elaine de Kooning and Lee Krasner or even other African-American painters like Alma Woodsey, Norman Lewis, Sam Gilliam.
In Abstract 1 and 2 (from the Muhle Umakoti Esefika series) ventures to test the possibilities of using more colours in a technique she first developed with a monochromatic palette. She uses soft greens, pinks against the white of the canvas. The result is a delicate, elegant form that is bold in reach, and yet still effeminate in its power. 
The title of the series from which Abstract 1 and 2 are lifted, Muhle Umakoti Esefika is IsiZulu for what may be translated to "the new wife is beautiful when she first arrives." It refers to the sweet early days when the new wife joins the family. However, there is a warning that she may turn ugly with time. This locates the work in a complex discourse of the changing meaning and roles of the wives in African families as the continent's cultures evolve with modernity. 
However, even without the potential for such complex meaning, Magadlela's work will surely bring joy to the collector that is lucky enough to win in our coming online auction.
Percy Mabandu