Lot 10 | Four Cats |  Estimate: ZAR 50 000 - 80 000
---
From charcoal on paper to film, theater and sculpture collectors have come to appreciate Kentridge as a master of every medium he engages. His printmaking, including etching, lithography, aquatint, drypoint, photogravure and woodcut is no exception. We showcase 18 Kentridge prints and publications on EDITIONS, online from 16 February to 1 March. 
---
"Printmaking…became a medium in which I could think, not merely a medium to make a picture... it has not been an adjunct to my other activities, but in many ways it has been a central thread that has gone through the work I have done in the studio over the last 40 years." – William Kentridge 2021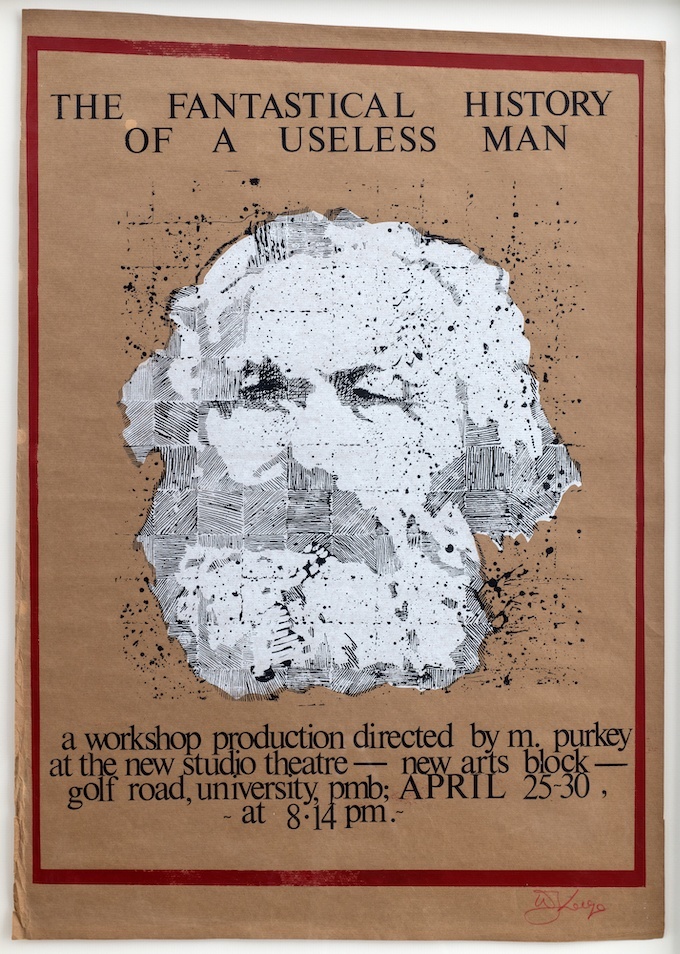 Lot 14 | The Fantastical History of a Useless Man, poster | Estimate: ZAR 25 000 - 25 000
Integral to the artist's practice, printmaking spans Kentridge's entire career. As a student of art and politics at the University of the Witwatersrand in Johannesburg in the early to mid-1970s the artist first used printmaking – not strictly as an artistic medium – but for producing screen-printed posters for trade unions, student protests and theatre companies. The Fantastical History of a Useless Man, poster is a wonderful example of one of Kentridge's earliest prints. Produced in 1976 it promoted a play devised by Malcolm Purkey for the Junction Avenue Theatre Company (JATC), in which Kentridge also acted.
That same year Kentridge started to formally study etching with Bill Ainslee at the Johannesburg Art Foundation. He studied with Ainslee until 1978 and soon after print was a major feature of his first exhibitions. In 1979 Kentridge held his first solo show, Exhibition including thirty monotypes, at the Market Gallery in Newtown Johannesburg and in 1981 a series of forty etchings entitled Domestic Scenes were included in his second solo exhibition, also at the Market Gallery.

LEFT | Lot 13 | My dear friend (he that fled his fate) - Mbinda Cemetery, 1994 | Estimate: ZAR 80 000 - 120 000
RIGHT | Lot 12 | The Head and The Load Are The Troubles of The Neck | Estimate ZAR 35 000 - 45 000
Kentridge created the plate and editioned the Domestic Scenes series himself but he would soon start to develop important relationships – both locally and internationally – with printmaking studios and these relationships became vital to his exploration of the creative possibilities of printmaking. In 1986 he began working with Malcolm Christian at The Caversham Press – a newly established professional print workshop in the Natal Midlands. Although no longer a working institution, Kentridge created many important prints at Caversham over the years. EDITIONS showcases Caversham prints including Penal Servitude (1989), Doctors Professor (1989), Morning Serial (1992), My dear friend( he that fled his fate) - Mbinda Cemetery, 1994 and The Head and The Load Are The Troubles of The Neck (1995).
In 1992 Kentridge formed another important collaborative relationship when he casually met David Krut at The Market Theatre Gallery in Johannesburg. Krut was based in London at the time and invited Kentridge to work with master printer Jack Shirreff, with whom he had a working relationship. From that point, Krut became one of Kentridge's primary publishers. In 2002, Krut established his own print workshop in Johannesburg and here Kentridge became a frequent collaborator with Master Printer Jillian Ross and before her, Randy Hemminghaus and their teams.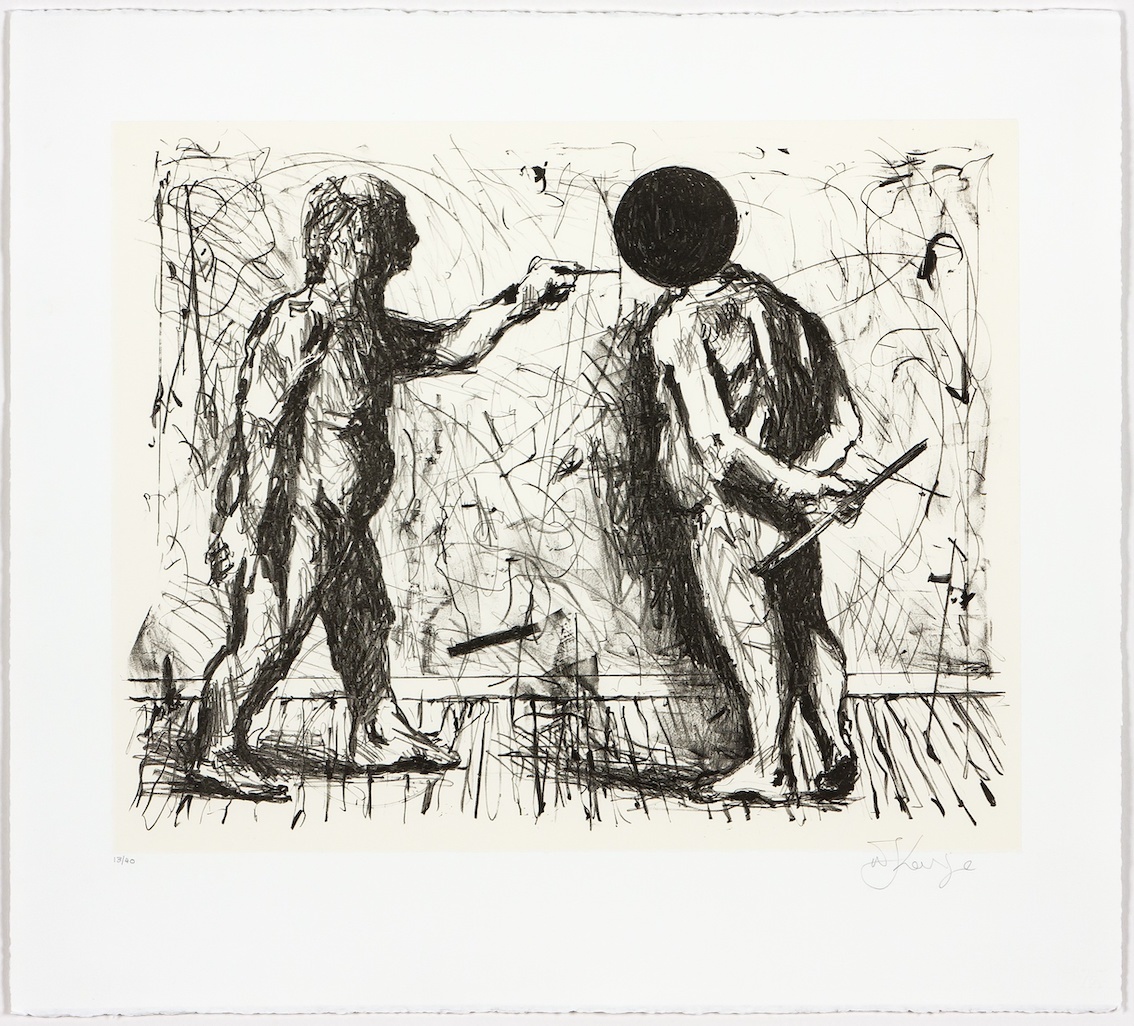 Lot 11 | Self Portrait | Estimate: ZAR 80 000 - 120 000
Krut had also, in 1999, suggested that Kentridge visit The Artist's Press, which was the only professional artists' lithography press workshop in Johannesburg. This led to Kentridge's first lithographic editions and what was to become an ongoing relationship with printer, Mark Attwood who had trained at the Tamarind Institute in New Mexico. EDITIONS boasts a wonderful lithograph, Self Portrait recently created at the Artist's Press with Kentridge, in 2021.
---
MORE KENTRIDGE WORKS ON EDITIONS
LOT 16 | 9 Films | Estimate: ZAR 250 000 - 400 000
9 Films was originally created for the film poster for the landmark first South African showing of all of Kentridge's animated films, 9 Drawings for Projection. The iconic image has been printed at different scales and edition sizes with the current example reproduced at a monumental, 214 x 150 cm, a size almost identical to the original charcoal drawing. Signed in red contè by the artist, the work is part of a limited edition of only 10.
LEFT | Lot 6 | Morning Serial | Estimate: ZAR 35 000 - 50 000
RIGHT | Lot 9 | Baboon | Estimate: ZAR 25 000 - 35 000

LEFT | Lot 15 | IT IS NOT ENOUGH (BUT IT IS NOT NOTHING) | Estimate: ZAR 15 000 - 20 000
CENTRE | Lot 8 | Doctors Professor (from the 6 Russian Writers series) | Estimate: ZAR 8 000 - 12 000
RIGHT | Lot 7 | Penal Servitude (from the 6 Russian Writers series) | Estimate: ZAR 8 000 - 12 000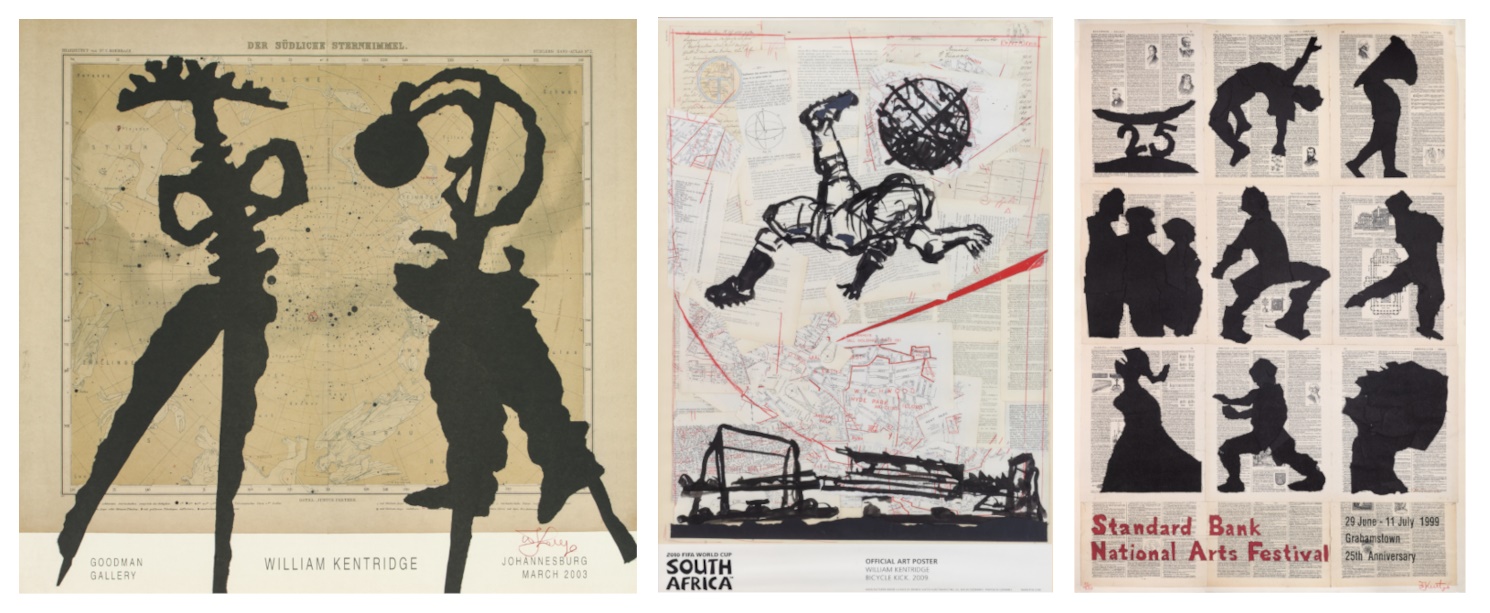 LEFT | Lot 63 | William Kentridge: Goodman Gallery, Johannesburg, March 2003, poster | Estimate: ZAR 20 000 - 30 000
CENTRE | Lot 17 | Bicycle Kick | Estimate: ZAR 18 000 - 24 000
RIGHT | Lot 64 | Standard Bank National Arts Festival Anniversary Poster | Estimate: ZAR 12 000 - 18 000
---
SPECIAL PUBLICATIONS ON EDITIONS
Lot 67 | Curs Practic de Gramatica Catalana (1999) by William Kentridge | Estimate: ZAR 30 000 - 40 000
For the MACBA exhibition featuring his work from the nineties, Kentridge made this artist's consisting of a flipbook based on a facsimile of Curs pràctic de gramàtica Catalana (1933) by Jeroni Marvà. The images gradually vary from page to page so that on flipping through them they appear to move. This edition is number 28 from an edition of 100 signed copies on the occasion of his exhibition at the Museu d'Etat Contemporani de Barcelona.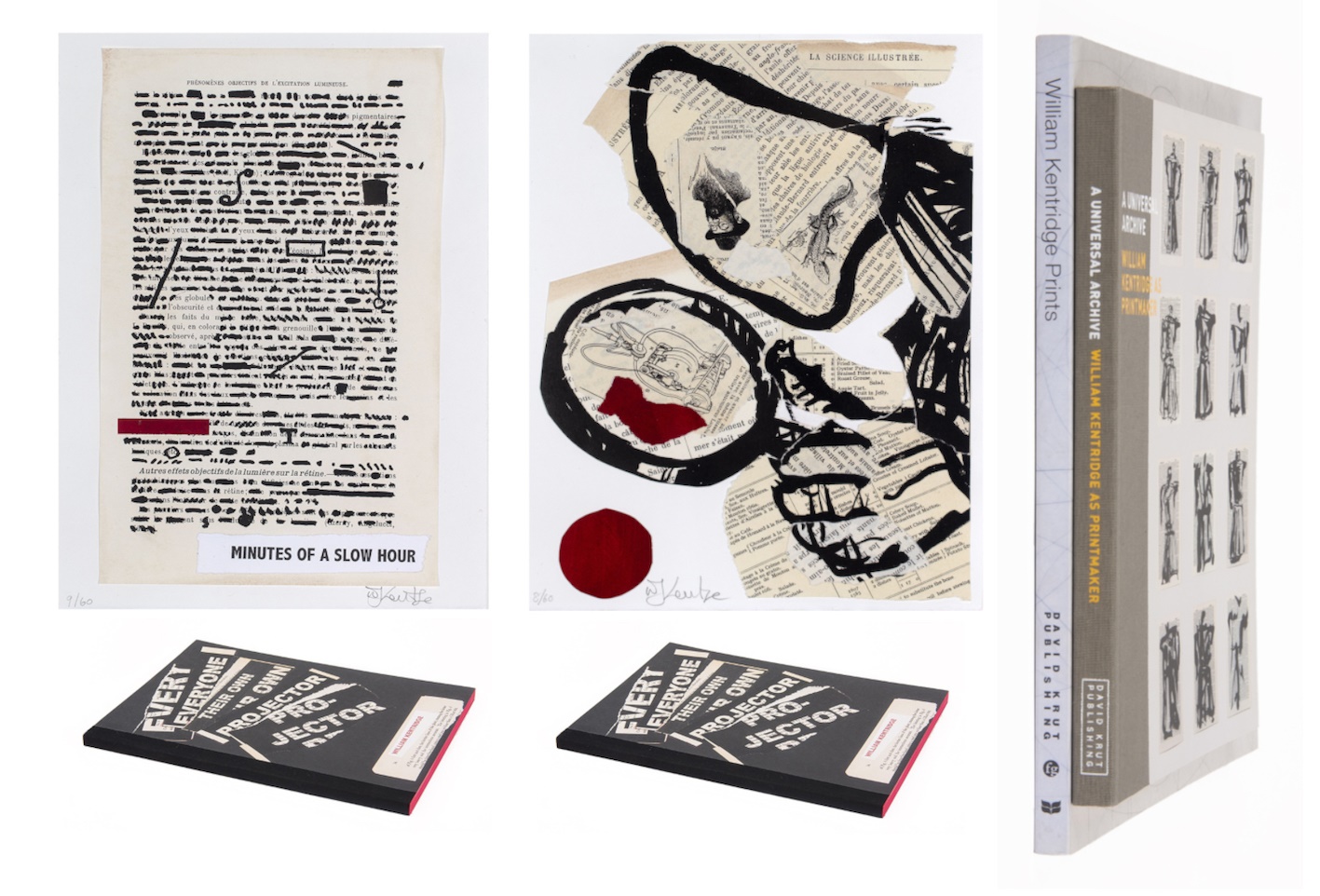 LEFT | Lot 65 | Minutes of a Slow Hour, accompanied by the limited edition Everyone Their Own Projector book | Estimate: ZAR 40 000 - 60 000
CENTRE | Lot 66 | Nose with Magnifying Glass accompanied by the limited edition Everyone Their Own Projector book | Estimate: ZAR 40 000 - 60 000
RIGHT | Lot 68 | A Universal Archive: William Kentridge as Printmaker and William Kentridge: Prints | Estimate: ZAR 1 000 - 2 000
---
Auction
EDITIONS |Timed-Online Auction
16 February - 1 March 2023
---