Dear Clients and Friends, 
As the year comes to a close, I would like to take the opportunity to wish all of you a joyous and restful festive season and December holidays. I want to also use this opportunity to share some of the exciting highlights of what has been a busy and exciting year for us at Aspire Art Auctions.
The changes the art industry has experienced along with other industries over the past two years represents a new normal. We have adapted and changed to that new normal, and we have emerged on the other side stronger and ever more adaptable to the many changes that are yet to come. I attribute this to our continued innovation across our digital platforms, our ability to create enriching and high-quality in-person experiences and, of course, the talent and resilience of our incredible teams in both Cape Town and Johannesburg.  
Some of our exciting highlights from 2021 
Our first live auction in Cape Town held on the 4th of March 2021 proved that the market for African and international art was able to thrive despite the pandemic. It was thrilling to note that one-third of the buyers were first-time buyers with Aspire, indicating an increase in collectors seeking the choice works of art that Aspire brings to the market.
The top lot by value was Irma Stern's Dahlias and fruit, one of the most outstanding paintings from her late period, which achieved an impressive R5,234,800. Marlene Dumas scored a sensational hit when her early painting, Score, sold for R3,414,000.
George Pemba's rare, early painting I Epolojice My Warship, excited competitive bidding to reach R682,800, the second-highest price for this artist at auction in South Africa; Gerard Sekoto's brilliant watercolour of Sophiatown from the celebrated Silberberg Collection fetched a well-deserved R273,120; and Peter Clarke's Dop reached a satisfying R512,100.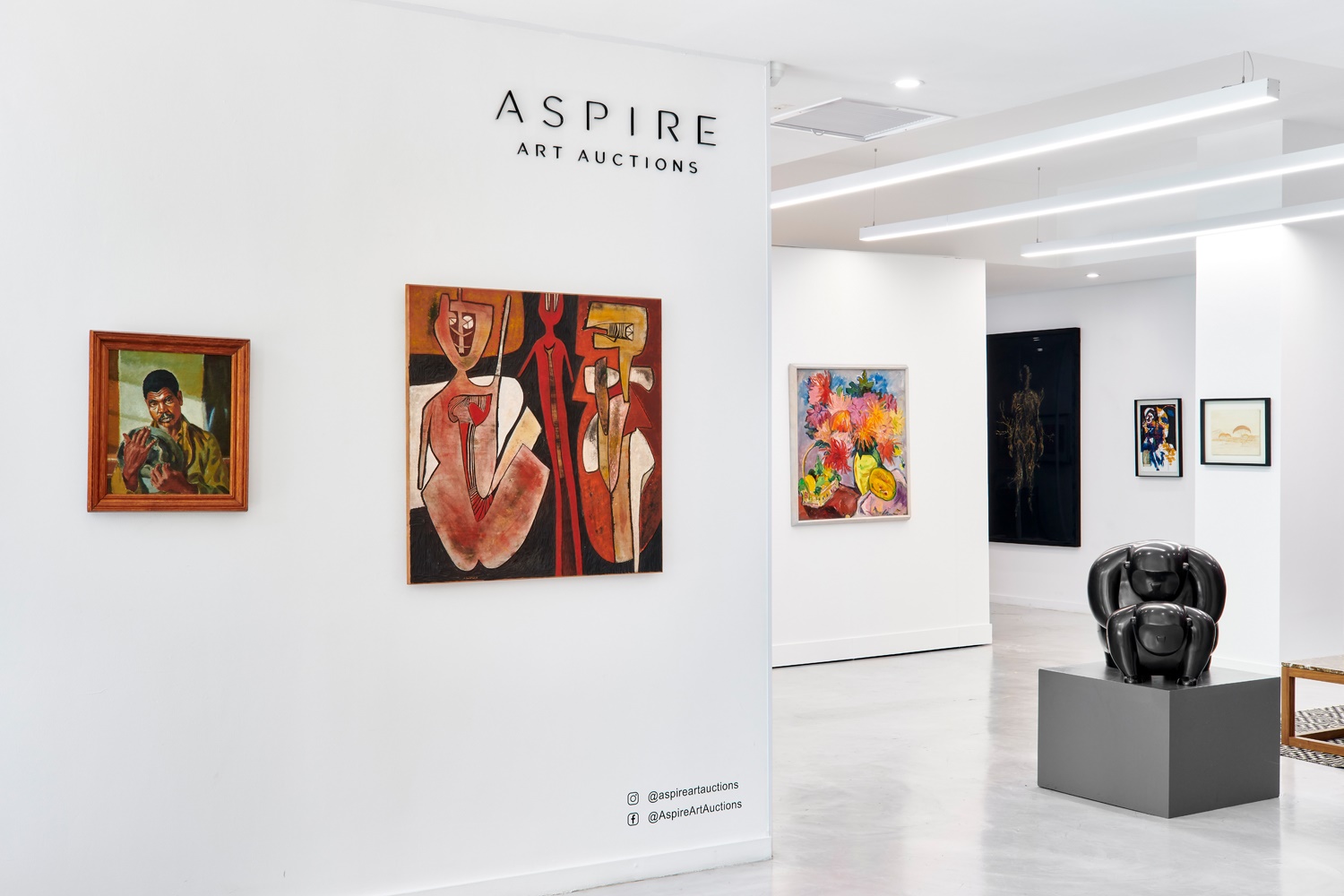 Auction Preview
Africa in Paris

In a strategy to collaboratively grow the value and status of Modern and Contemporary art from Africa on a global level, we teamed up with the French auction house Artcurial to put together an impressive collection of 232 artworks by 142 artists from 26 countries on the continent and the diaspora, that went under the hammer in Paris on Tuesday, 15 June.
 
The sale, conducted by Artcurial, delivered firm results, totalling €1,246,997 / $1,514,840, while also setting several new auction records for established as well as emerging African artists in an otherwise tight market and amidst challenging economic conditions worldwide.
Ayanda Mabulu, Nontsundu, SOLD FOR R283 866 (WORLD RECORD FOR THE ARTIST)
The African LENS-scape: Photography for Collectors

In July we collaborated with Photography Legacy Project (PLP) to bring to auction the largest ever collection of African photography. Dubbed The African Photography Auction 2021, the sale was presented in partnership with the PLP, an organisation established to support the digitisation of photographic legacies in Africa. The auction showcased a diversity of subject matter, ranging from landscape to the interior, gender-based issues to surfing culture and the Covid-19 pandemic, by photographers who continue to practice their craft and flourish despite the challenges.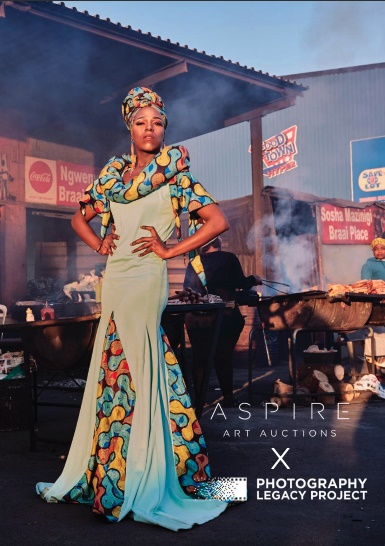 Aspire X PLP Auction e-Catalogue
Digitally Stronger
Focusing on our digital platforms, we were able to continue functioning confidently throughout the pandemic. We relaunched and enhanced our website to create a more personalised and seamless user experience for our clients. It has improved online buying and features a new section to explore stories and videos, from our art specialists and industry experts. It's looking great and I encourage you to visit the website and engage our unique stories from 2021 Stories
A return to the New Normal
By September, we all had been pining for in-person experiences, so we were excited to be able to host clients once again when we returned to Cape Town with a much-anticipated live auction of Modern and Contemporary Art which represented an outstanding collection of 132 works by 80 renowned artists. The live and virtual auction took place in our exquisite new gallery space at 37A Somerset Road in De Waterkant. Buyers joined us for in-room bidding, by telephone or through our real-time online bidding platforms.  
As pandemic restrictions eased, we looked forward to welcoming new and old clients, friends and followers to our new gallery spaces in Cape Town and Johannesburg for immersive exhibitions. Fortunate to have grown in recent years, the move to stand alone spaces in De Waterkant, Cape Town and 32 Bolton Road, Parkwood in Johannesburg mark significant milestones for our company, our employees, and our clients, who will all benefit from these two specially designed spaces where our team hosts world class exhibitions, live in-person auction events and one-on-one consultations.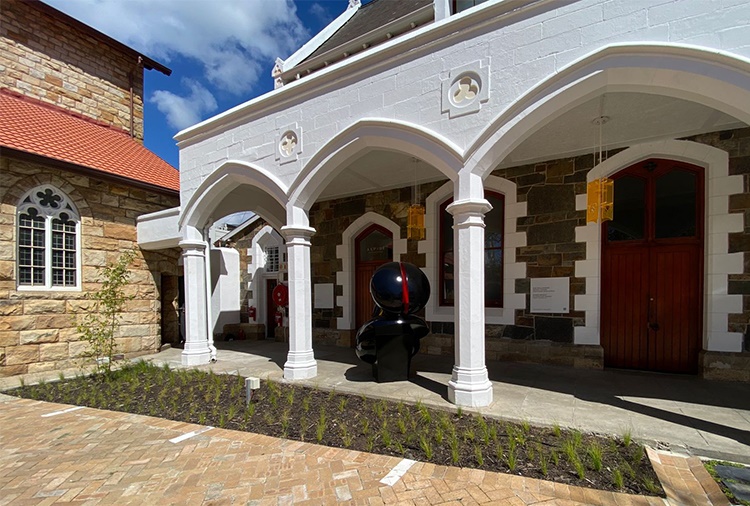 New offices in Cape Town, 37A Somerset Road in De Waterkant
Art, Life and Love: The Collection of Nwabisa Xayiya

In October, Aspire Art Auctions was honoured to present Art, Life and Love: The Collection of Nwabisa Xayiya, a single-owner auction.
Nwabisa Xayiya was, over the past decade, a leading figure amongst Johannesburg's most noteworthy art collectors, art industry influencers and socialites. She was an inspirational voice within a new generation of art collectors looking to transform and grow the contemporary art market by enlarging the space and growing the positive influence that collectors have in our society.
Delivering outstanding results and setting numerous new auction records, history was made and new benchmarks were established in this auction. The live sale achieved a sell-through rate of 96%, with over 40% of the works selling well above high estimate. 200 registered bidders from South Africa, Nigeria, the USA and UK, Ireland, Norway, Germany and France participated in the auction of which 20% were new and first-time buyers with Aspire.
The unparalleled results we achieved for the auction affirmed new confidence in the art market and indicated a return of positive economic activity. An early William Kentridge drawing Landscape with crouching figure (from 1986) realised R2,048,400. A striking mixed media work Intlambo yochulumanco by Nicholas Hlobo achieved R1,479,400 – a new world auction record for the artist. An abstract ink and pastel drawing by Ernest Mancoba stole the show when it sold for six times its high estimate at an impressive R933,160, also setting a new world auction record for this much-celebrated artist who is widely regarded as South Africa's first professional Black modern artist.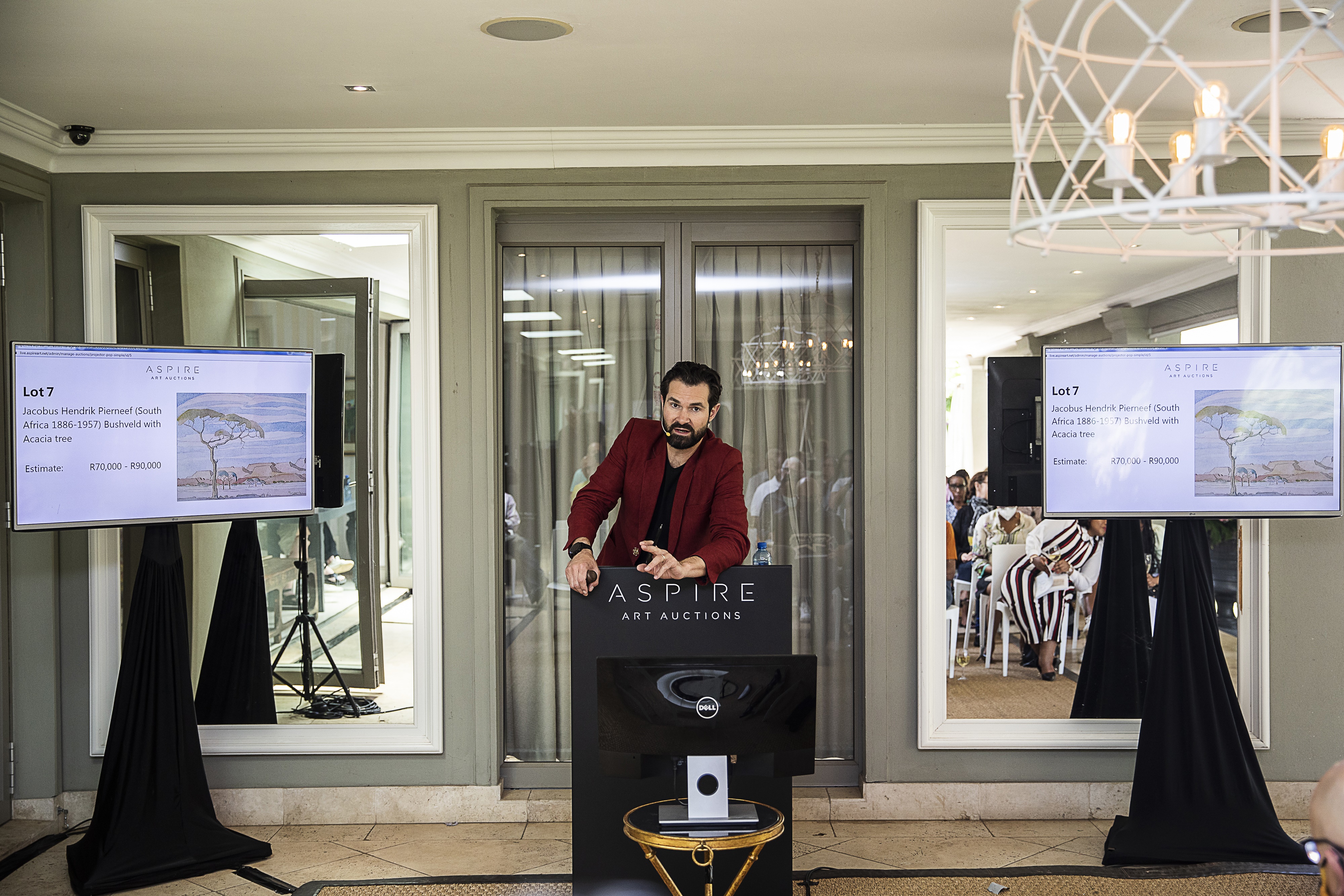 Live auction: Art, Life and Love:  The Collection of Nwabisa Xayiya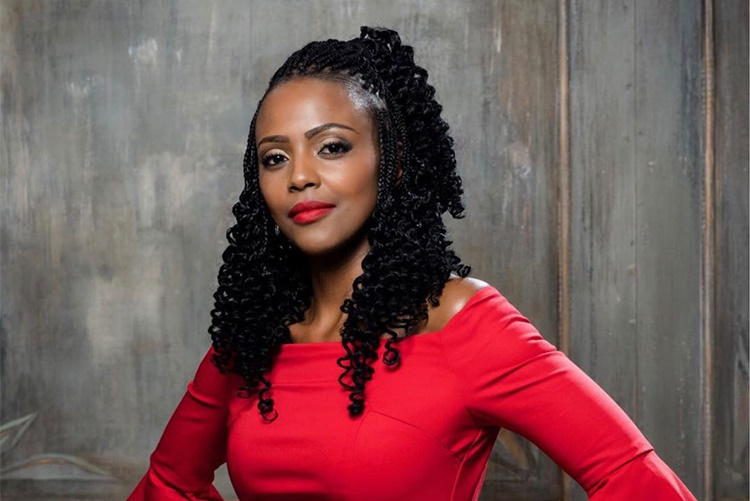 Nwabisa Xayiya
A Grand Finale
Our final live auction of 2021 took place last month on 30 November in our new office and exhibition space in Johannesburg. We presented a chic and curated selection of 77 lots, featuring outstanding works by South African modern masters and leading contemporary artists.
 
With 15% of the works selling above high estimate, and a solid 70% within estimate range, the auction delivered robust results – indicative of a selective, yet resilient buyers' market. Bidders from South Africa, the United Kingdom, the United States, Canada, Italy, Spain, Germany, Lithuania, Tanzania and Algeria participated in the auction.
It was exciting and encouraging to note that over 50% of the buyers were first-time buyers with Aspire. This indicates an increase in local and international collectors seeking the selection and range of artworks that Aspire brings to auction, as well as our continuing commitment to develop the global market for modern and contemporary art from Africa.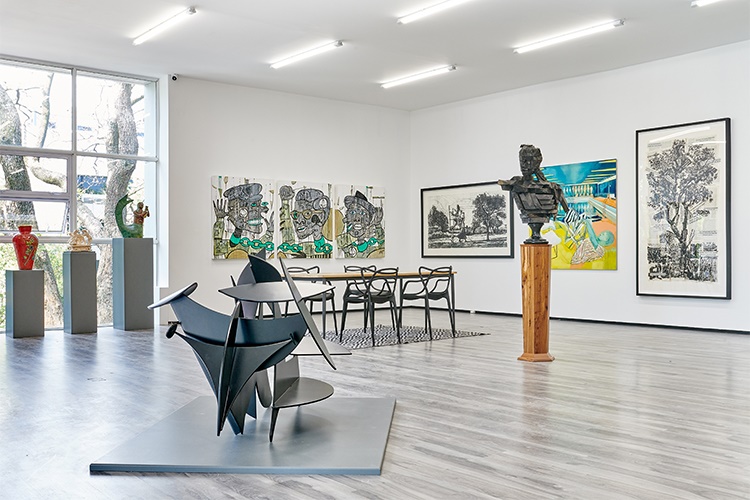 New offices in Johannesburg, 32 Bolton Road in Parkwood
Looking Ahead to 2022
With 2021 now almost behind us, we are excited to turn our focus towards the new year with our first live auction in Cape Town scheduled for the 16th of March.
Thank you for your continued support throughout this year.  It remains our passion and pleasure to assist you in art and collaborate in building collections of value.
Sincerely,
Ruarc Peffers
Managing Director, Aspire Art Auctions