Welcoming the change of colours of the new season, Aspire Art presents SHADES: AUTUMN 22, a Timed Online art auction taking place from 19-26 April 2022. We've created a strong collection of exceptional and innovative works by local art world favourites for easy collecting.
Our art specialists have picked their favourite works from the collection.
Which are your favourite works from the collection?  
My favourite works are selected from our Words category (lots 143-168) in our timed online auction.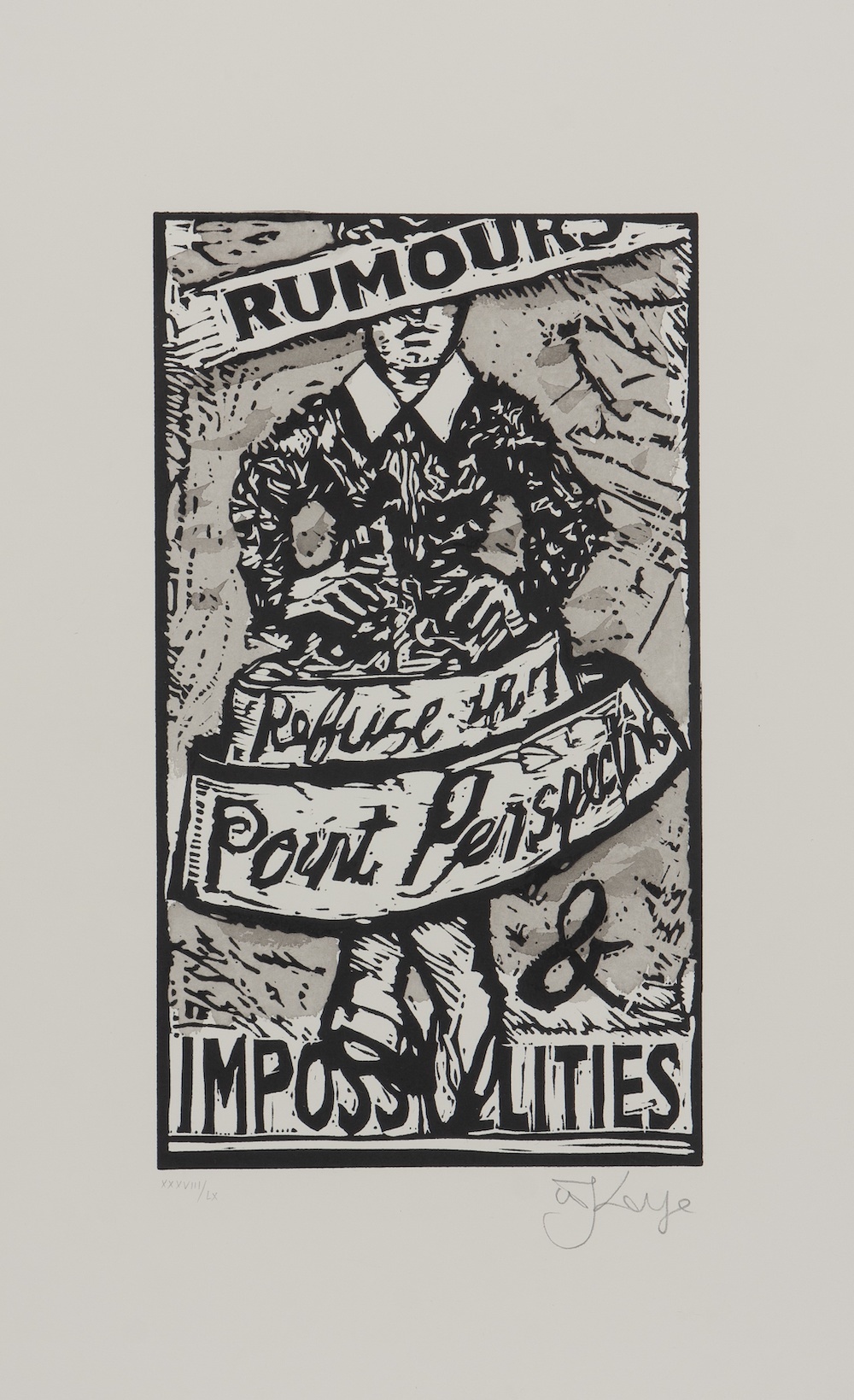 Lot 151 | William Kentridge, Rumours
Estimate ZAR20 000-30 000
Rumours (lot 151) is one of a small series of six linocuts William Kentridge created at the David Krut Workshop in 2010 and is the harbinger of the large colour screen-print titled Rumours & Impossibilities subsequently created with Malcolm Christian at the Caversham Press.
It is well documented that linocuts had been rare in Kentridge's oeuvre until this point, and that he first started to experiment with the medium in 1976 when he produced the now-iconic image of his grandfather reclining in a deck chair on the beach wearing a three-piece suit while on holiday in Muizenberg.
His inclusion of the text 'Refuse the 7 Point Perspective' is about his conviction that space can be occupied by different focal centres and viewed simultaneously from multiple viewpoints within a convincing narrative. A fact which emanates from his years of art direction in films and theatre, as well as through constant drawing.
Subsequent to this, Kentridge's mastery of the medium became clear, and is expertly demonstrated in Warren Siebrits's new publication Domestic Scenes which illustrates the 55 seminal works that he produced for the titular project and goes a long way in conveying the unparalleled brilliance of William Kentridge as printmaker.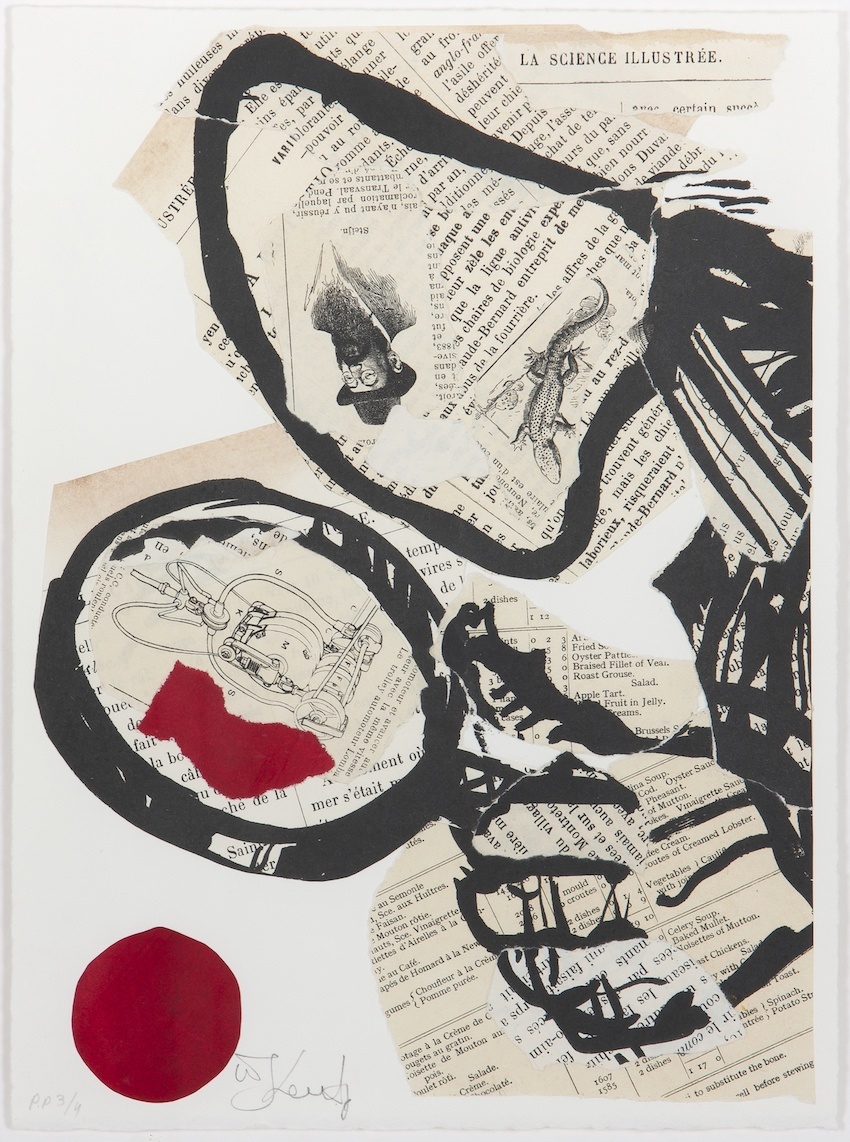 Lot 150 | William Kentridge, Nose with Magnifying Glass
Estimate ZAR40 000-60 000
Rumours is based on some text found by Kentridge while doing research for his production of the Shostakovich opera, The Nose, which links to my second choice, Nose with Magnifying Glass (lot 150) of 2008. Shostakovich's opera was based on the short story by Nikolai Gogol, and Kentridge's version of the theme was commissioned by the Metropolitan Opera, New York, to premiere in March 2010.
The story of the Nose follows the adventures of the pompous Russian government official, Kovalyov, who wakes up one day to find that his nose has left his face and gone walking around St Petersburg. In William Kentridge Nose, Kentridge explains the story, and its relationship to the prints, as follows:
"In 1867, Nikolai Gogol published his short story The Nose. The story is about a middle-ranking Russian bureaucrat, Collegiate Assessor Kovalyov, who wakes one morning to find his nose missing. In its place is only a 'pancake- smooth expanse'. The narrative follows Kovalyov's attempts to locate and re-attach his nose. Anton Chekov described The Nose as the finest short story ever written.
Kovalyov wanders the streets of the city in search of his nose and eventually catches a glimpse of it entering a cathedral. He follows it inside and tries to reason with it and persuade it to return to him. But his nose is now a higher-ranking bureaucrat than he is and will have nothing to do with him. As The Nose goes its own way, Kovalyov is left to contemplate 'that ridiculous blank space' again.
This set of prints follows—or makes—the journey of the independent Nose."
This is a meaningful story loaded with reference and significance, and is as relevant to our contemporary South African society as it was to Russian society of the late 19th century. The series of prints reflect on music, ballet, the history of Western art and the various fortunes of the Communist parties, which resonate as much in South Africa as in the Soviet Union.
Best advice for starting your art collection?
Get your feet wet. You have to start somewhere. You may love what you buy until the end of your days. You may grow out of it in a couple of years. Buying art from a reputable company means that you can always take it back to sell it for you again. So, just start. Don't over-think it. It's an amazing journey which you're bound to love, so the sooner you start, the sooner that journey begins.